A pocket suburb that's cozied up next to Glendale and Surprise, Peoria offers fun in the sun as well as the stars.
Paddle and splash, munch on peanuts and popcorn, or blast off into outer space: the choice is yours in Peoria. Well, actually, you don't have to choose – you can do it all!
It's easy to see why Money Magazine listed Peoria as a 'Top 100 Place to Live.' The New River Trail runs through town and offers multi-use trails for running, walking, horseback riding and cycling near the water's edge. Lake Pleasant, which is well-deserving of its name, offers more water recreation – many outfitters have kayaks and canoes available for rent. Or let someone else navigate on a riverboat cruise.
If you're more comfortable on the green than on the water, check out the city's five golf courses. And each spring, a pair of sports teams gather here: The Peoria Sports Complex is the spring training home for the San Diego Padres and Seattle Mariners.
View the Visitor's Guide.
More to Explore Near Peoria
Cities
Glendale, a booming city just northwest of Phoenix, knows how to honor the past while loving today's thrills.
Cities
Discover Surprise, Arizona and the unexpected features including pro baseball and a top-notch zoo.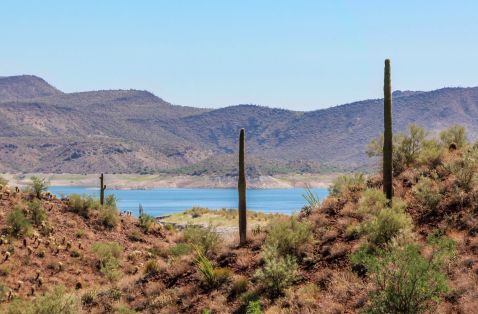 Enjoy the sunshine by the cool waters of Lake Pleasant, located an hour north of Phoenix, AZ, and a must for outdoor recreation with boating,...