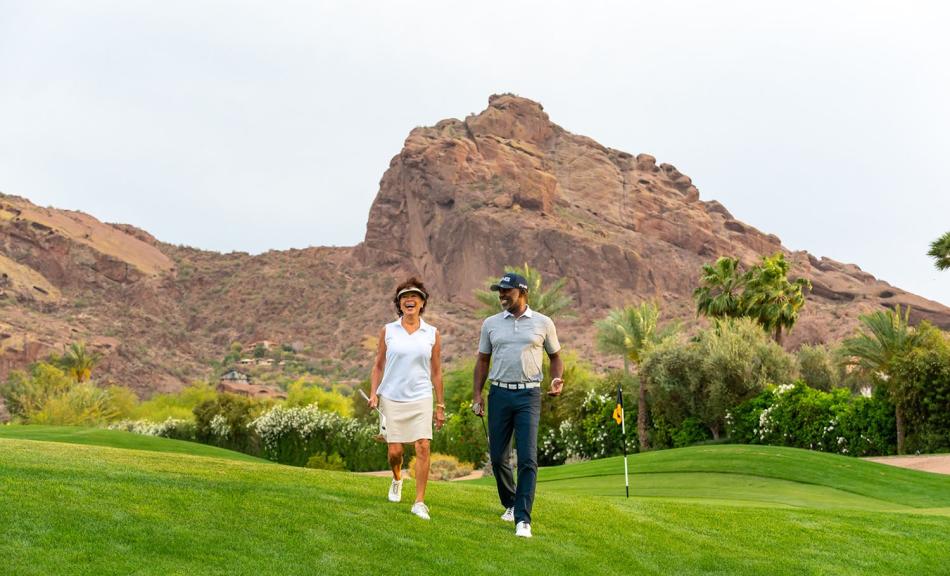 5 Tips for Your Arizona Golf Trip
For those seeking a golf trip destination that has it all, there's nowhere better than Arizona.
The Grand Canyon State receives more than 300 days of sun each year and offers a tremendous diversity of scenery: from classic desert views to unexpected high-mountain landscapes. All this variety makes it a no-brainer for world-class golfing, year-round.

Here are our top five tips for an unforgettable golf trip.
1. Work with the weather, not against it.
Don't be fooled by the misconception that Arizona is too hot in the summer—much of the state enjoys perfectly moderate temperatures, year-round. This is particularly true in northern Arizona and select areas in southern Arizona, such as Sierra Vista.

When heading outdoors, be sure to check the weather app. Even if it's a "sun symbol" all day, it's wise to prepare for unexpected surprises like fast-moving thunderstorms that roll through on summer afternoons. In addition, when you're at nearly 7,000 feet elevation in the cool air of Flagstaff, you'll want to be liberal with the sunblock and hydrate more than usual to combat altitude sickness. (A rare and easily-prevented occurrence.)

Central and southern Arizona, home to golf meccas such as Phoenix, Sedona, and Tucson, are where Arizona gets a hot reputation during the summer. The following rules of thumb will set your trip up for success:
Golf early in the day
Be vigilant about your hydration
Don't skip that sunblock (a hat is a helpful accessory, too).
If you forget to set your alarm, don't fear. The arid landscape of the southwest means that Arizona's dry heat is much more tolerable than humid locales. Plus, discount green fees on select courses make the midday heat a real breeze.
2. Keep a keen eye on the terrain.
Arizona greens have another advantage: In practically every case, they're surrounded by stunning scenery that contrasts with the grass beneath your feet to jaw-dropping effect. Take one look at Sedona's fairways and you'll see what we mean. But, this beauty also comes with a set of unique challenges to keep in mind.

Rogue swings can send unassuming golf balls into treacherous terrain filled with cacti, rattlesnakes, and even Gila monsters. Talk about hazards. Of course, in the northern region of the state, you are more likely to run into elk off the fairway. No matter where your Arizona golf trip takes you, exercise caution when fetching errant balls or to get a better angle on that photo. In addition to respecting the wildlife, see "Appreciate AZ" for more info about how to safely enjoy appreciate and Arizona's great outdoors.
3. Incorporate the Grand Canyon (and Route 66) into your trip.
It would be a shame to travel all the way to the Grand Canyon State without visiting its namesake. A visit to Grand Canyon National Park can be incorporated easily into a week-long (or even shorter) golf trip thanks to Arizona's easy access points.

Just over an hour's drive from Flagstaff, the Southern Rim is almost too close to not visit. What's more, you'll travel on part of the iconic Route 66 as you journey northward. Talk about checking two bucket list items off at once. For those looking for even more outdoor time, Arizona also has more than 30 state parks and monuments that are worth a visit, too.
4. Don't miss one of Arizona's quirky courses.
Arizona is home to some particularly noteworthy golf courses that aren't to be missed. Try out the Short Course at Mountain Shadows in Scottsdale, where a throwback design requires conscious putting.

Or, spend the day on the Rancho Course at Tubac Golf Resort & Spa, 45 minutes south of Tucson. You might recognize it from the 1996 movie "Tin Cup," but don't bother telling the locals. The cows who frequent the course are perfectly content to leave patties on the green, whether or not it's Hollywood-famous.

Finally, you might want to experience a part of the sport's living legacy at TPC Scottsdale Stadium Course, home to the Waste Management Phoenix Open—the largest spectator golf event in the world. Attend in person in February, or visit any other time during the year to tee off on this historic fairway yourself.
5. See the pros putt in person.
Each year, the top golfers in the world congregate in Arizona to compete—further solidifying what a great destination this is to golf, year-round. If you enjoy watching the experts, we recommend planning your trip around one of Arizona's many annual tournaments. Most are located nearest Phoenix, such as the aforementioned Waste Management Phoenix Open—a favorite for spectators. Alternatively, the Cologuard Classic in Tucson is a great option for those who want to combine their trip with a visit to Saguaro National Park to see world-famous cacti that are a true symbol of the American Southwest.