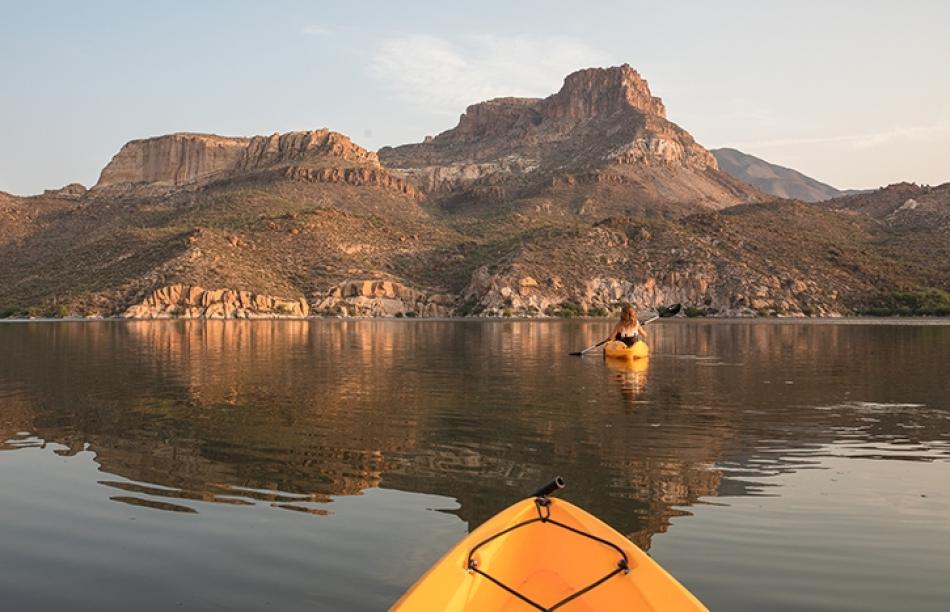 5 Amazing Alternative Adventures in Arizona
Explore the most underrated places in Arizona. Whether it's crowds, triple-digit temperatures or last-minute closures, it's wise to have a few options in mind when planning a road trip in Arizona.
The following blog was written in partnership with Visit Arizona and Elisabeth Brentano.
Earlier this year I created an epic itinerary in Tonto National Forest, but due to travel restrictions, I had to switch my schedule just days before the adventure began. Fortunately, Arizona is home to all kinds of natural wonders, so creating an alternate route didn't take much effort -- and it introduced me to several amazing, lesser-known parks and public lands in the state.
Rent a cabin at Roper Lake State Park
Watching a sunset storm at Roper Lake State Park, from the deck of the Hummingbird Cabin.
The eight air-conditioned cabins at Roper Lake State Park are just steps from the water, making them the perfect summer retreat. The cozy structures share pit toilets with several non-electric campsites on the park's Gila Loop, but showers and flush toilets at the neighboring Cottonwood Loop are just a short walk away. Though camp stoves are not permitted inside the cabins, there are picnic tables and charcoal grills outside. The mattresses are clean and in great shape, but don't forget to bring your bedding from home! The cabins, which can be reserved online via the Arizona State Parks website, have a maximum capacity of four adults, and no more than six individuals total, including children.


The air-conditioned Hummingbird Cabin sleeps up to six adults.
Kayak at Apache Lake
A peaceful sunrise paddle on Apache Lake.
Apache Lake Marina & Resort has a hotel, a campground with RV hookups, plus a few designated areas for tent campers keen on snagging a lakeside site with a view. The on-site store has food, beverages and souvenirs, and during the summer the Apache 88 Bar & Grill is open Friday through Sunday, serving up casual fare like pizza, sandwiches and salads. Kayaks are available for rent, along with stand-up paddle boards, Jet Skis and a 20-foot pontoon boat, and gas is available at the marina dock. While Lake Powell and Lake Havasu tend to get loud and crowded in the summer, Apache Lake is an entirely different scene, with much less traffic on the water.

Arizona State Route 88 northbound is still closed between Fish Creek Hill Viewpoint to Apache Lake Vista, so Apache Lake is only accessible via SR 88 southbound (aka Apache Trail), which requires 12 miles of driving on a narrow dirt road. A 4x4 vehicle is not necessary, but big rigs are advised to use caution. While it's definitely a trek (especially for those coming from Phoenix, who used to have much easier access), the current detour certainly helps thin the crowds, especially on the weekends.
Stay at a ranch in the White Mountains
For a more low-key adventure, relax at a working ranch near the charming town of Greer.
While driving along Arizona State Route 260, I was blown away by the lush, verdant landscape. The White Mountains top out at 11,400 feet on the sacred summit of Mount Baldy, and hiking next to a meadow of wildflowers on the East Baldy Trail was the perfect way to explore this area on foot. If you're looking for a more leisurely route and want to kick back at a luxurious cabin with a hot tub, consider booking a stay at the X Diamond Ranch, which offers six spacious units loaded with amenities. Rates depend on the guest count, but for two individuals, pricing ranges between $140 and $175 per night pre-tax, and for groups of four, pricing ranges from $200 to $245 per night. The ranch is just a 20-minute drive from the town of Greer, and 15 minutes from Eagar.
The main courtyard at X Diamond Ranch.
Owner and innkeeper Wink Crigler booked us dinner reservations at Molly Butler Lodge & Restaurant (which was established by her grandmother in 1910), and as soon as we dug our flatbread into the spinach artichoke dip, we knew we had to reserve a spot the next night. Our steaks were phenomenal, and we also noticed the "Wink" burger on the menu, clearly an homage to Crigler, whose family has lived and ranched in the area since the 1880s. In addition to supplying the restaurant with her delicious range-raised beef, Crigler also sells cuts at the ranch.
Learn about Hopi history at Homolovi State Park
Admiring ancient petroglyphs from one of five short trails in Homolovi State Park.
Homolovi State Park is home to four 14th-century pueblos built and inhabited by the ancestors of the modern-day Hopi tribe, two of which visitors can see from short, well-maintained trails. The Tsu'vo Trail leads to several petroglyphs, as well as milling stone areas. Over 300 archaeological sites have been identified within the park boundaries, and the museum features a collection of pottery and other ancient artifacts. It's important to be respectful of these sacred sites, so please stay on marked trails and refrain from touching the petroglyphs or any of the structures. The park is also an excellent spot for wildlife watching, so keep your eyes peeled for everything from collared lizards to wild burros.

Homolovi State Park also has a campground with 51 sites, most of which have electrical hookups and water, and include both back-in and pull-through parking to accomodate large rigs. The nightly camping fee, which ranges between $18 and $30, includes day use in the park.
Explore Little Painted Desert County Park
Taking in the view of badlands just steps from the road at Little Painted Desert County Park.
Petrified Forest National Park has over a dozen short trails and viewpoints, making it an ideal spot to visit in the summer. The one-mile Blue Mesa Trail weaves right though colorful badlands, and all of the vistas on the northern stretch of Petrified Forest Road are easily accessible to folks more interested in roadside scenery. However, unless you're backcountry camping with a permit, you can't access the park at sunset or sunrise, as hours are 8am-5pm. Fortunately the nearby Little Painted Desert County Park offers equally impressive views, and it's open 24 hours a day. The park is no longer maintained by the county so you won't find facilities here, but there are plenty of turnouts on the dirt road above the badlands. A 4x4 vehicle is not necessary, and if you park and take just a few steps from your car, you'll be rewarded with views like the one above.

As far as accommodations in the Winslow area, La Posada Hotel is the best spot in town. The hotel also doubles as an art museum, and you could easily spend an hour admiring the paintings, decor and gardens before checking into your room. The Turquoise Room is open for breakfast, lunch and dinner, and after taking a peek at their phenomenal menu, you won't want to dine anywhere else.
More from Elisabeth Brentano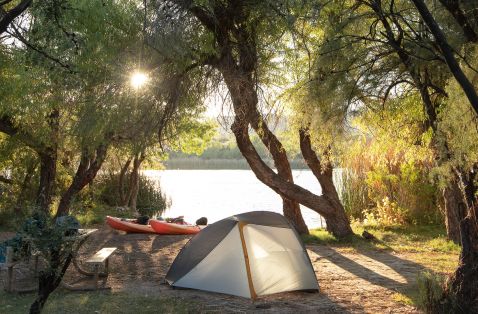 Outdoor Adventures
Southern Arizona is home to stunning landscapes, and its sunshine and dry heat make for ideal car camping weather.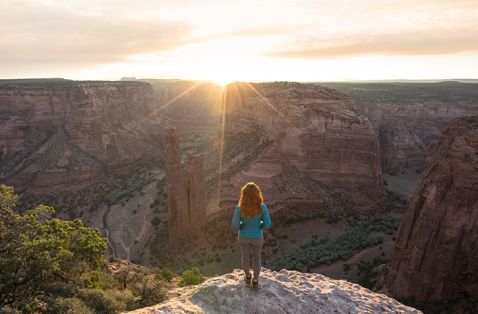 Outdoor Adventures
Arizona's diverse landscapes make it the perfect outdoor playground, and I'm always stumbling across new parks and charming towns in the Grand...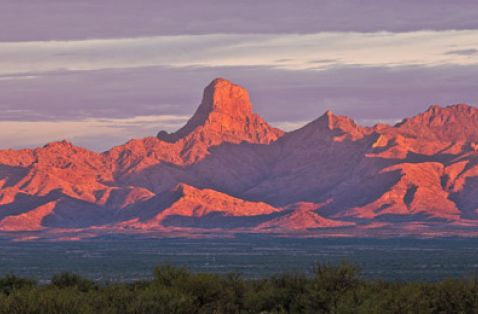 Outdoor Adventures
Arizona may be the Grand Canyon State, but there are a wealth of equally impressive landscapes far beyond the world-famous national park. If...