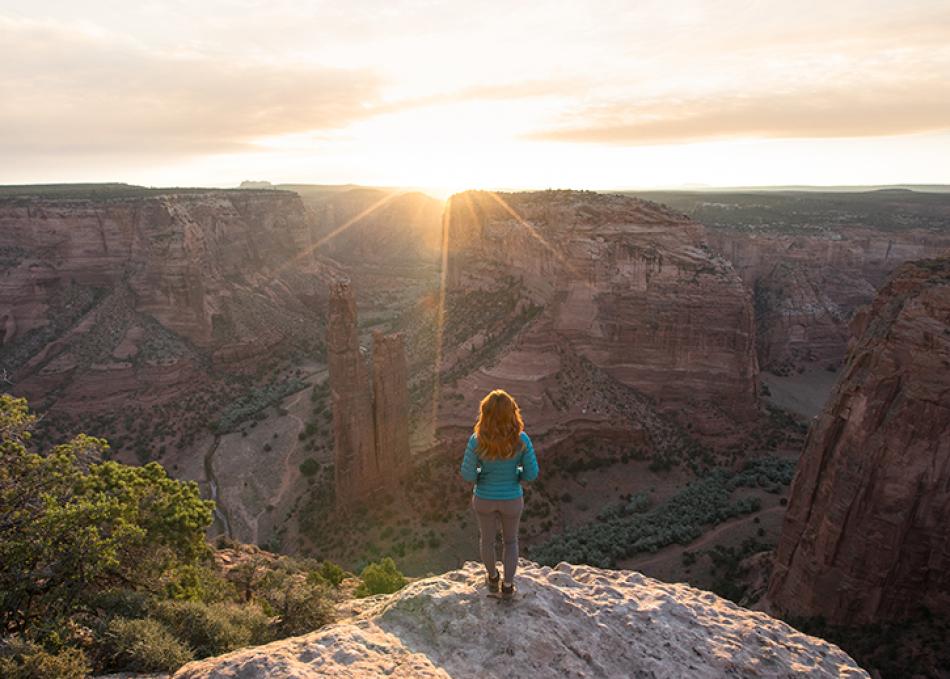 Arizona Travel Tips for Solo Women on the Road
Arizona's diverse landscapes make it the perfect outdoor playground, and I'm always stumbling across new parks and charming towns in the Grand Canyon State. As a woman who frequently travels solo, here are some tips for safe and stress-free adventures, plus a few notes on how to explore these areas responsibly.
Elisabeth Brentano worked in partnership with Visit Arizona to create this blog.
Plan ahead & prepare
When planning a road trip, I structure my route around a few major points of interest, and I fill in the gaps with day hikes, scenic drives and stops in small towns. Beyond the Visit Arizona website, regional tourism websites, like Visit Tucson, are excellent resources, along with the Arizona State Parks and Trails and Recreation.gov pages. Booking websites and travel blogs (BearfootTheory.com is a personal favorite) can also help you compile a list of worthy options. I often conduct Google map searches for campgrounds and hotels, which is how I discovered The Strawberry Inn, a charming, beautifully remodeled property a few miles up the road from the small town of Pine, Arizona. Since it's not near a major travel hub, it is truly a hidden gem tucked deep in the Tonto National Forest.
If I can't find the information I need online, I'll call local ranger stations and tribal land management agencies. Not only do they have updated information about everything from road conditions to permits, but they can provide recommendations on local lodging. I always hire guides for climbing and canyoneering, and I've found that many local outfitters are happy to share some of their favorite spots if you know how to ask. (And yes, there is a right way to ask.)
Off the main highway and exploring roads less traveled in Saguaro National Park, thanks to a tip from a local ranger.
Once I have a list of areas and activities that interest me, I'll finalize my route and see where reservations might be a good idea. While the goal is to create an itinerary with as many awesome stops as possible, it's also important to make a note of nearby gas stations and hospitals, especially if you're planning a more challenging backcountry adventure.
Invest in essential gear
If you already have a first aid kit, extra clothes, blankets, water, food, paper maps, and a satellite communication device, you're off to a great start. If you don't, these are items you'll want to consider getting. You will be more comfortable in a potentially stressful situation, and a satellite device can make all the difference in how quickly a first responder or tow truck can find you. While it is the most expensive piece of gear on the list, if you're planning on visiting remote areas with nonexistent cell service, it is an absolute must. I have never regretted shelling out $500 for my Garmin InReach, and I recently used it to coordinate an emergency tow out of a sandy canyon in the middle of the desert.
Investing in a few important pieces of gear can make your adventures more enjoyable, and better prepare you for anything you might encounter.
I have an air compressor and jumper cables, but earlier this spring I found myself with a dead truck battery in the middle of the sprawling, 118,000-acre Buenos Aires National Wildlife Refuge. I was fortunate to have a neighboring camper jump me, but if he hadn't been one spot down, I would have had to wait for someone to message me back on my Garmin and call for roadside assistance … or walk two miles in the searing desert heat to the nearest road for phone service. After that incident, I picked up a portable battery jumper, which is rechargeable and can jump a battery about 15 times per charge. On that note, having a small charger for mobile devices (bonus points if it runs on solar panels), is another great addition.
Most of the other "emergency" gear in my truck is what I'd normally bring with me on a camping trip, like a headlamp and a portable camp stove. However, if you're new to the outdoors and putting together a kit for your first big outdoor adventure, these are essentials that will serve you well on the road and on the trail.
More notes on safety
If you're traveling solo, it's worth thinking about how you would defend yourself if threatened or attacked, either by a human or a wild animal. I often carry bear spray with me when I hike, and I have a firearm in my vehicle. These are two measures that make me feel much more comfortable when I am in the wilderness by myself, but only you can determine what form of personal protection is best for your needs. Knowing when to exit a situation that might make you feel uncomfortable is just as important as having the means to defend yourself. Always listen to your gut, and consider having a backup plan if you need to move camp in the middle of the night. I provide friends and family with a copy of my itinerary (and backup options), and on the rare occasion that I relocate, I try to send at least one person an updated location pin.
It may be tempting to post your dreamy trip photos on social media right away, but consider waiting a few days, as not to disclose your exact whereabouts in real-time.
While technology is useful for sharing locations in emergency situations, I am very cautious about what I post on social media. For users with private accounts, this is a nonissue, but plenty of folks publish their photos publicly. If you use hashtags or location tags, you never know who you might reach. If I'm meeting someone from the internet, I do so in a public place during the day, and I always keep a friend or family member in the loop. If a stranger asks where I'm headed, I give vague answers and flip the conversation around to ask about them, before making my exit strategy.
Minimizing your impact on nature
While visiting parks and public lands, you may have noticed signage asking visitors to practice Leave No Trace (LNT). The Seven Principles of LNT encourage outdoor recreationists to plan ahead and prepare, travel and camp on durable surfaces, dispose of waste properly, leave what you find, minimize campfire impacts, respect wildlife and be considerate of other visitors. While staying on the trail and picking up litter are fairly intuitive, proper disposal of human waste may not be, especially for those new to the outdoors.
The North Rim of the Grand Canyon boasts jaw-dropping views of the Colorado Plateau, and it generally isn't as crowded as the South Rim. The majority of the campsites in the surrounding Kaibab National Forest are primitive (i.e., they do not have bathrooms), so it is essential that visitors take the initiative to keep these areas clean.
The first step for successfully handling your business outdoors is making a toilet kit. Mine consists of a trowel, baby wipes, TP, hand sanitizer, small plastic bags (for packing out dirty toilet paper, wipes and tampons), and waste alleviation and gelling (WAG) bags. For solid human waste, the best practice is to dig a 6-8 inch cat hole at least 200 feet from water sources and cover it with the original dirt when you're done. However, in some desert and high alpine settings with fragile ecosystems, visitors are required to use WAG bags. WAG bags contain chemicals that help neutralize human waste, and if used properly, they can be disposed of in any trash receptacle, though some land management offices have designated bins for them. (While this may be redundant to some readers, there has been a significant increase in human waste on public lands across the United States, so I hope that sharing this information will encourage visitors to be more mindful of their impact.)
With much of the western U.S. experiencing a record drought this year, it is also essential that travelers understand campfire safety basics. Checking with local land management agencies about fire restrictions is the first step, and if fires are permitted, be sure to only use designated fire pits or previously existing fire rings. LNT recommends only using downed wood that is the size of your forearm, and if you're going to purchase wood, make sure it's local, as not to bring any invasive pests with you. A properly extinguished fire is completely drowned in water (not dirt), and the remnants are either scattered over a large area away from camp or packed out. Bringing your own fire container is always encouraged, and if you don't truly need a fire, consider skipping it.
If you'd like to learn more, the Leave No Trace Center for Outdoor Ethics website is an excellent resource, and local ranger stations are always happy to answer your questions.
Visiting with respect
Beyond cleaning up after yourself and minimizing your impact on the environment, treating local communities and fellow travelers with respect is key. Consider supporting small businesses and really taking the time to soak in a place, rather than passing through with a checklist of Instagram-worthy photo ops. If we see destinations as communities rather than commodities, I believe it will deepen our connection to these places and inspire us to care more about protecting them.
Enjoying a moment of sunset solitude at the Alamo Canyon Campground in Organ Pipe Cactus National Monument.
Beyond observing local laws (stay on designated roads and don't consume alcohol on tribal lands, to name a few), we also need to have awareness of others in outdoor spaces. When on the trail, downhill-facing hikers yield to those hiking uphill, and if you're hot on someone's heels, either ask to pass or take a breather to give yourself more distance. While developed campgrounds provide clearly numbered spaces and parking, dispersed campsites do not, and most are set up with the goal of giving campers more privacy. In some cases, individuals have taken it upon themselves to create new campsites in close proximity to larger, established sites. This is illegal in some areas, and it can also harm ecosystems and annoy fellow campers. If you pull into a questionable site on the edge of a larger, established site, try to put yourself in the other camper's position. How would you feel if a stranger pitched a tent so close to your site you could hear them snoring? If it would bother you, consider finding another spot. Or, ask the campers if they're OK with it. If you're courteous and quiet, there is a very good chance they might be.
Leave room for spontaneity
I crave structure, but I also like being able to wander. When you make reservations for one night and have a solid list of walk-up options for the next two nights, it gives you the flexibility to explore new places without stressing about staying on schedule. Every once in a while I modify my itinerary and leave town early, but more often than not, when I make a change, it's to stay for a few more days.
The charming town of Ajo is home to dozens of colorful murals and a handful of mom-and-pop restaurants, making it a great stop for travelers exploring Organ Pipe Cactus National Monument.
When I first visited Organ Pipe Cactus National Monument in 2018, my friend and I topped off on gas at the quirky Why Not Travel Store and made our way to Ajo for lunch. We fell in love with Oasis Coffee, and after downing iced lattes and pastries, we took a leisurely stroll around town to check out the murals. We had planned on hiking in the monument that day, but thanks to triple-digit temperatures, we were happy to ditch our proposed schedule and amble around town. As we kicked back in our camp chairs to watch the sunset, we marveled at how this perfect and completely impromptu day had unfolded. When you leave room for this kind of spontaneity, the magic of Arizona will always find you.
Outdoor Tips
More to Explore in Arizona