Lake Havasu State Park
With year-round ideal weather, Lake Havasu State Park makes a splash with its beautiful beaches and nature trails and an abundance of things to do like boating, wildlife viewing, fishing and camping.
Located in western Arizona on more than 900 acres, including 2.5 miles of shoreline, Lake Havasu State Park is a beach oasis in the desert, making it the perfect year-round destination.

In the spring, relax on the water and view the colorful wildflowers on display in the mountains surrounding the lake. In summer, join locals and visitors as they flock to Lake Havasu State Park's cool waters for some hot fun. And in the fall and winter, camp out under the stars or catch hundreds of hot-air balloons fill the sky during the annual Havasu Balloon Festival and Fair in January.
Things to do at Lake Havasu State Park
Prepare for a day of fun on the water in your own boat or rent the equipment you need from the park's on-site concessionaire, Wet Monkey Powersport Rentals. Two boat ramps (Lot 2) and one personal watercraft boat launch (Lot 1) get you in the water and on your way.

Beginners and experienced anglers will find a world-renowned fishing destination at Lake Havasu State Park, which boasts largemouth, smallmouth and striped bass. Non-fishermen will enjoy the challenge of the area's awesome hikes, such as the 1.75-mile Mohave Sunset Trail, which follows the shoreline, or a casual stroll through the Arroyo-Camino Interpretive Garden. These trails provide the best opportunities to see local wildlife—burrowing owls, roadrunners, desert cottontails, and coyotes are some of the commonly seen mammals and birds.
North of the state park lies a birder's paradise—Havasu National Wildlife Refuge, which has 300-plus species of birds living in its lush landscape. Mesquite Bay, which falls within the refuge, is a fishing pier providing solitude from surrounding boat docks.
Events at Lake Havasu State Park range from Arizona State Park's Family Campouts instructional series to bass fishing tournaments and the annual Official Lake Havasu Balloon Festival. Be sure to check their calendar for upcoming events.

"The whole west coast of Arizona is a great place to come and see. No matter what time of year you come out, we've got something for you to do."

– Dan Roddy, Park Manager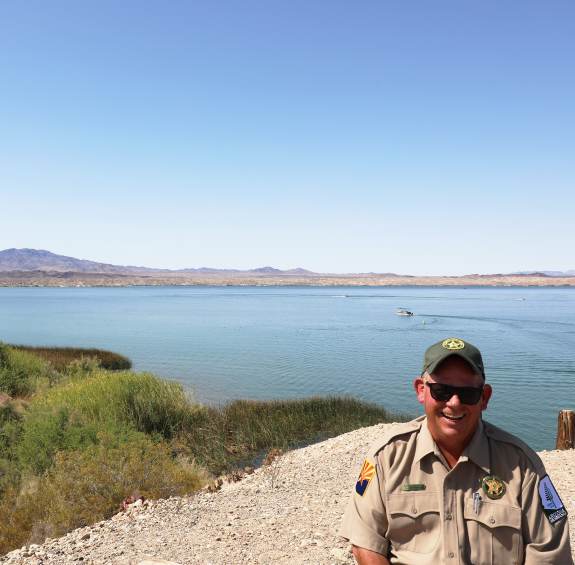 Places to stay near Lake Havasu State Park
Visitors can camp right near the shore of the lake at one of 54 RV and tent campsites on-site at the park. Those looking for a less rustic experience can book one of 13 two-to-three room rustic cabins; however, reservations are required and spots can fill up quickly for the $5/night cabin stays.
For those on a boat, the lake has many remote camping spots located along the water, all of which are first come-first serve.

Nearby in the town of Lake Havasu City, there are many hotels, resorts, and restaurants.
More to Discover Near Lake Havasu State Park