Lake Havasu State Park
Arizona's west coast serves up big surprises, including a state park on the banks of a reservoir formed by the Colorado River.
Lake Havasu has all the hallmarks of a desert mirage. The approach leads through rocky, arid, unforgiving desert that reaches an incredible expanse of blue-green water and palm trees. As visitors explore the watery retreat, more Easter eggs appear: 26 small-scale replicas of famous lighthouses from around the world. And just up the road, the London Bridge! There is a lot packed into this magical, remote destination that hosts water adventures year-round.
A Day at the Beach
The sandy shoreline and cool, fresh water of the Colorado River make Lake Havasu State Park a favorite destination for outdoor enthusiasts. Set up a picnic under a ramada at the day-use beach, splash around in the water and explore nature trails that lead to viewpoints overlooking the lake. The Mohave Sunset Trail runs through the center of the park along the shoreline and often brings roadrunners, quail and coyotes into view. Venture outside the park for more low-desert hiking and fat-tire biking that bring the mountains surrounding the lake into play.
Events at Lake Havasu State Park range from Arizona State Park's Family Campouts instructional series to bass fishing tournaments and the annual Official Lake Havasu Balloon Festival. Be sure to check their calendar for upcoming events.

"The whole west coast of Arizona is a great place to come and see. No matter what time of year you come out, we've got something for you to do."

– Dan Roddy, Park Manager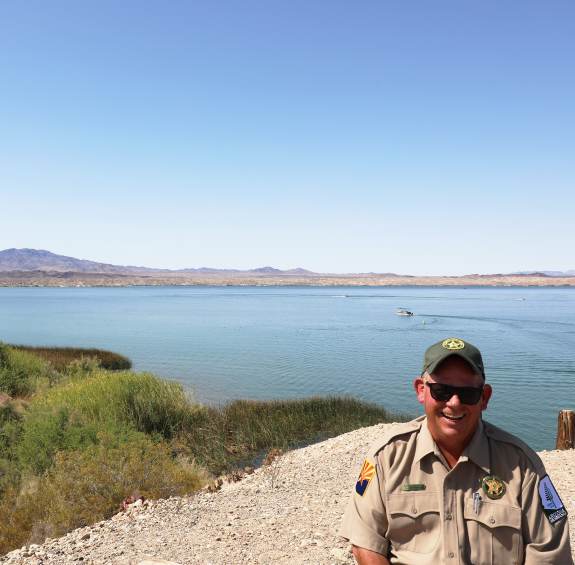 Get on the Water
Access to water makes Lake Havasu one of the most popular recreation destinations on Arizona's west coast. All types of motorized and paddle-powered watercrafts are allowed on the lake. Visitors have plenty of surface area to spread out and waterski, wakeboard and jet ski. Visitors from the area can bring their own watercrafts, while visitors from afar can rent a boat on-site from Wet Monkey Powersports Rentals. Keep the water in view during an overnight stay at fully equipped RV sites, tent sites and camping cabins situated right on the water's edge.
Hit the Town
The area also has activities for visitors keen on getting more out of their vacation than R&R. Just south of the park, Lake Havasu City is a popular visitor destination on Arizona's west coast with outfitters that offer year-round helicopter rides, skydiving excursions and hot air balloon float trips. No trip to the Lake Havasu area would be complete without walking across the London Bridge, which once spanned the River Thames and was reconstructed here piece by piece in the 1970s. The shops and eateries that sprung up around the bridge create an English village vibe that visitors find brilliant.
For More Information
699 London Bridge Rd
Lake Havasu City, AZ 86403
(877) 697-2757
More to Discover Near Lake Havasu State Park