Relax at a top-notch spa and golf resort, discover petroglyphs, and visit endangered species in natural habitats, all just 20 miles from the heart of central Phoenix.
It's a bird… It's a plane… It's an F-16 jet cutting through the air above Luke Air Force Base – the largest training center for F-16 fighter pilots in the world.
Although impressive, Luke Air Force Base isn't Litchfield Park's only claim to fame. The town also holds one of Arizona's first golf resorts, The Wigwam Golf Resort and Spa – a four-star resort. Originally called the Organization House, the resort was built to house visiting executives from Goodyear Tire in Akron, Ohio.
In 1916, Goodyear Tire and Rubber Company sent Paul Litchfield, one of their junior executives, to purchase 16,000 acres of land to grow the Egyptian long-staple cotton needed for the production of their tires. Litchfield ended up growing to love the area and turned Litchfield Ranch into the headquarters of what would eventually become Goodyear Farms. The town was officially named after him in 1926.
Residents and visitors alike enjoy the town's close proximity to White Tanks Regional Park – named for the natural water tanks once used by resident American Indians. Evidence of these early inhabitants can still be seen today in the petroglyphs and rock carvings throughout the park.
The equally close19,000-acre Estrella Mountain Regional Park offers camping, hiking, and horseback riding, as well as golf at the Tres Rios Golf Course.
Wildlife World Zoo, Aquarium & Safari Park is also within the boundaries of Litchfield Park. It is a natural habitat for endangered species and has the largest collection of exotic animals in Arizona. See a rare white alligator, an electric eel, and baby animals in the Baby Animal Nursery.
More to Discover Near Litchfield Park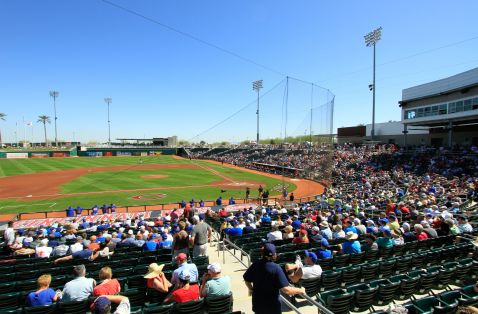 Cities
Catch a Cactus League Spring Training baseball game and enjoy desert living in one of the fastest growing cities in the United States.
Cities
Glendale, a booming city just northwest of Phoenix, knows how to honor the past while loving today's thrills.
Cities
Discover Surprise, Arizona and the unexpected features including pro baseball and a top-notch zoo.