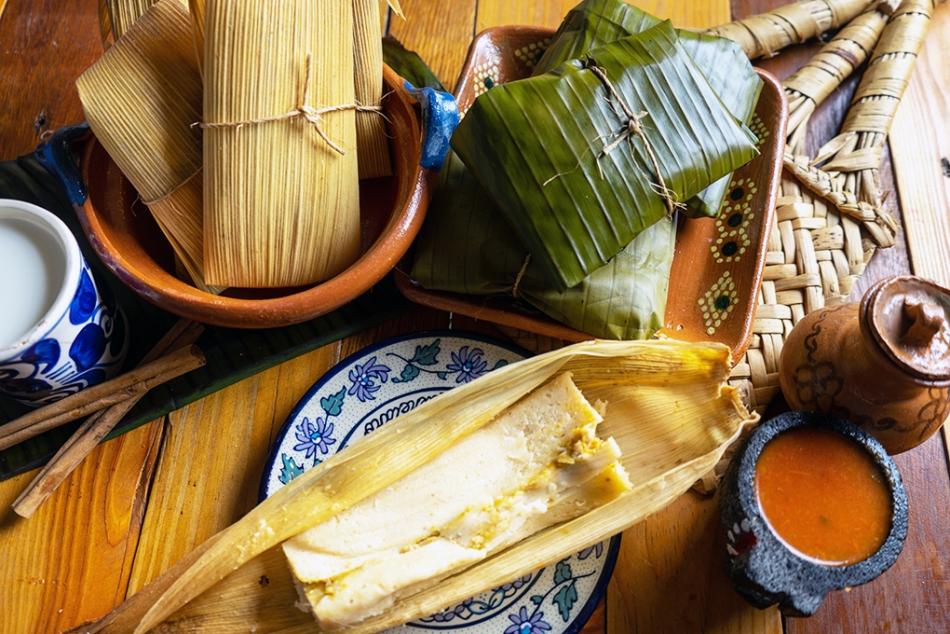 Eat & Drink
What's a Tamale, Anyway?
While eaten year-round, tamales are truly celebrated during the holiday season when families unite to make, eat and share them.
We unwrap the mystery of Arizona's unofficial delicacy.
The holidays are filled with food traditions—some of them cultural, others religious and a few just because "this is what we always do." In the Southwest, we're no strangers to cheese logs and mince pies, but a regional favorite is the Mexican tamale.
Rich in tradition, tamales—better yet, tamaladas, which is the labor-intensive practice of making them—evoke family, ritual and cherished memories in most Hispanic cultures. While eaten year-round, tamales are truly celebrated during the holiday season when families come together to make huge batches of them to share or exchange.
Traditionally, a tamale consists of rich corn dough (called masa) wrapped in a corn husk and then steamed, served hot and drizzled with a spicy sauce. But with the recent trend of tamales transitioning from simple street fare to fine dining, makers are bucking convention by experimenting with new ingredients, flavors and fillings.
If you're looking to join the ranks of certified tamale lovers, here are four great places to score some of the best tamales Arizona has to offer:
The Tamale Store: Phoenix
What do you get when you bring four strong women from the same family together in one kitchen? An amazing tamale made with a mother's love.
Martha Castilo and her daughters Pauline, Maria and Caroline opened The Tamale Store in 2008 after Martha spent five years perfecting her tamale recipe. If you're looking for traditional tamales made with lard, however, you won't find them here. That's because Castilo's recipe uses a blend of canola and olive oil, and is free from shortening, preservatives, gluten, trans fat and soy.
Tamales are available for purchase at the family's small storefront in north Phoenix and come in a variety of flavors, including the popular red and green chile pork tamales, Arizona cornbread with Colby jack cheese, and the vegan-friendly cilantro black bean.
El Charro Café: Tucson
You'll be hard-pressed to find a restaurant more steeped in Tucson food traditions than El Charro Café. Opened in 1922 by Monica Flin, also known as Tía, the restaurant is the country's oldest continuously operated, family-owned Mexican restaurant. Today, Flin's grandniece Carlotta Flores runs the restaurant, where she's been making her aunt's tamale recipe for more than 40 years.
El Charro serves traditional fresh corn tamales, as well as ones stuffed with pork carnitas, chicken tomatillo, and red-chile beef. For the holidays, the restaurant offers its special Christmas tamales made with corn and red chiles, and dessert tamales including a pumpkin pecan offering served with a cranberry orange sauce or caramel dulce de leche sauce.

LAS HERRADURAS MEXICAN RESTAURANT: YUMA
Once considered a quick pit stop between Phoenix, Tucson and San Diego, Yuma is fast becoming a destination for some of the best Mexican food in the country. Case in point, the burrito at Chile Pepper. In 2015, Thrillist.com dubbed it one of the best burritos in the nation.

But when it comes to tamales, the place to go is Las Herraduras Mexican Restaurant. Unlike other restaurants where the tamale offerings are plentiful, there's only the No. 14 on the dinner menu. It can't get as perfectly simple as two red beef tamales covered with red chili and shredded beef. The tamales are soft, moist and savory, with a hint of sweetness to the masa.
TUCSON TAMALE COMPANY: TUCSON
Inspired by the time-honored tradition of families gathering to make tamales for the holidays, Tucson Tamale Company owner Todd Martin opened his restaurant in 2008. Since then, he and his dedicated crew have been turning out more than 20 varieties of tamales a day.

Meat lovers will appreciate the generous helpings of green-chile pork, green-chile chicken, red-chile beef and chipotle beef in their tamales, while vegetarians won't be able to get enough of green chile and cheese, chile relleno, vegetable curry, and black bean tamales.

Tucson Tamale Company has three locations in Tucson, where diners can eat in or take their tamales to go, fresh or frozen. The restaurant also ships tamales to anywhere in the U.S., bringing holiday tamale joy to loved ones near and far.