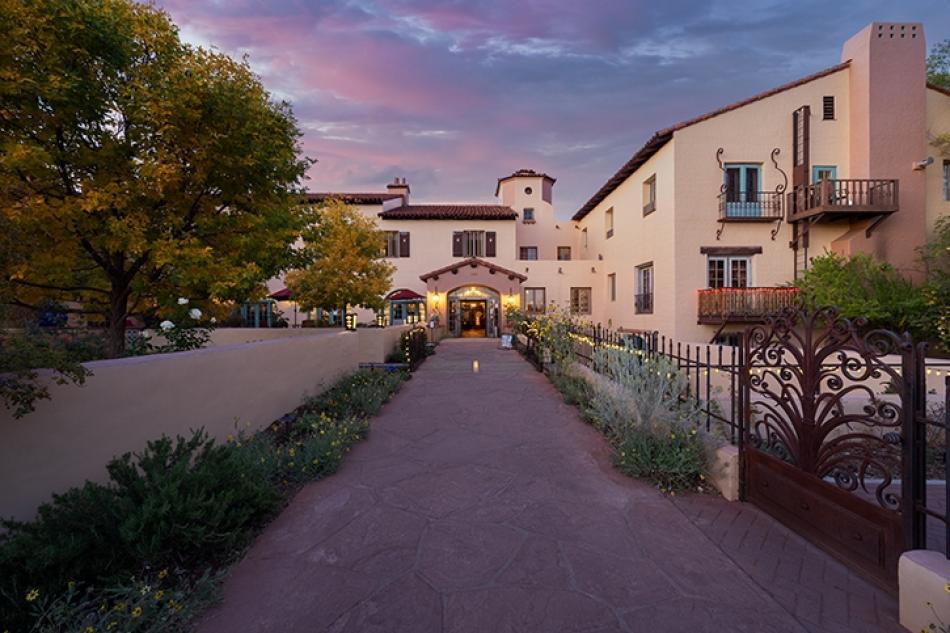 Awesome, Original Eats
Variety is the spice of Arizona's most unforgettable culinary destinations. The food might spotlight Southwestern flavors like prickly pear and buffalo, or downhome fare like cowboy chili and farm-fresh date shakes. And the standout settings are just as diverse: Here, you can dine in a cave, on a steamboat, beside a burbling creek or amidst the ghosts of gunslingers.
La Posada, Winslow
A completely kind of different Route 66 experience awaits in Winslow at La Posada—an antique-adorned 1929 hacienda designed by Mary Colter for the Santa Fe Railway Company. The hotel's highly acclaimed Turquoise Room restaurant celebrates Southwestern ingredients including tepary beans, prickly pear, bison and Navajo churro lamb. Stop in for a meal, and be sure to stroll through this architectural masterpiece, which has hosted such guests as Albert Einstein, Amelia Earhart and John Wayne.
Jadi To ho Restaurant, Page
You wouldn't expect to find the world's largest floating restaurant in the middle of a landlocked desert, but Arizona is full of unexpected encounters. Jádí To´ho Restaurant near Page floats at Antelope Point Marina on Lake Powell, so diners can cruise up to the eatery in a car or in a boat. Snag a seat on the patio and sip a prickly pear margarita while watching waves lap up to sienna sandstone formations.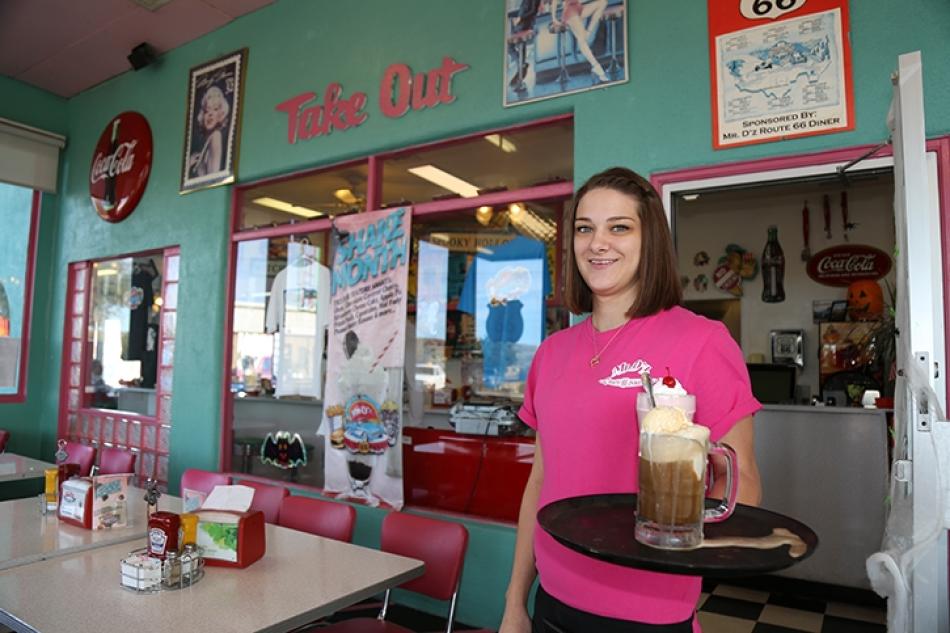 Mr. D'z Route 66 Diner, Kingman
With its turquoise and pink facade, checkerboard floor and automobile memorabilia, Mr. D'z Route 66 Diner near Kingman takes kitsch into overdrive. And that's exactly what travelers seek along the Mother Road. Play some1950s tunes on the jukebox, slide into a booth, wash down a bacon cheeseburger with a homemade root beer and bask in the nostalgia.
The Grotto at Grand Canyon Caverns, Peach Springs
Few restaurants boast walls that are 345 million years old. Then again, few eateries are tucked away in a network of caves 210 feet underground. That's what makes The Grotto at Grand Canyon Caverns near Peach Springs one of the most remarkable culinary experiences on the planet. Diners descend 21 stories in an elevator, tour the caverns, then sit at one of four tables to enjoy comfort food surrounded by craggy, otherworldly geology.
Grand Canyon Lodge Dining Room, North Rim
The Grand Canyon's North Rim is the more serene and sylvan sister of the popular South Rim, and its 1928 lodge melds seamlessly with the setting, thanks to native wood beams and Kaibab limestone walls. In the Grand Canyon Lodge Dining Room, it's worth the wait for a window seat, where you can drink in forest-fringed canyon views while digging into trout or buffalo tenderloin.
Desert View Trading Post & Ice Cream, Grand Canyon
Architect Mary Colter designed the Grand Canyon's Desert View Watchtower, a monument inspired by the Ancestral Puebloan people who lived on the Colorado Plateau around 800 years ago. After exploring the tower, pop into Desert View Trading Post & Ice Cream to peruse handmade American Indian jewelry, baskets, wood carvings and rugs. Then grab an ice cream cone or homemade fudge and stroll along the South Rim, savoring sweet views of the canyon.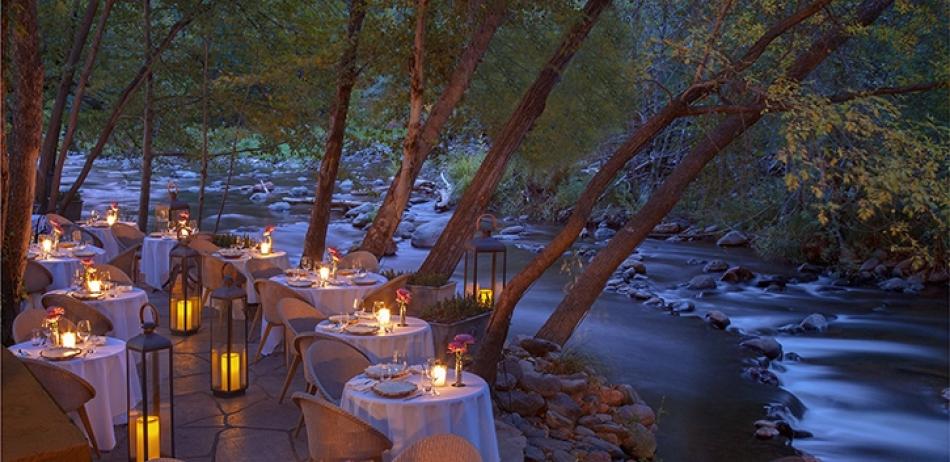 Cress on Oak Creek at L'Auberge de Sedona, Sedona
Picture the most romantic dining experience imaginable and you may conjure something like Cress on Oak Creek at L'Auberge de Sedona. Linen-draped tables are set on the banks of a serene, herbal-scented stream. Candles and lanterns set the sycamores aglow. Executive Chef Franck Desplechin invokes intoxicating flavors like lobster with chorizo oil or smoked chocolate soufflé. The setting is so sublime you may be inspired to start the next morning on the sun-dappled patio with a breakfast banana split.
Mariposa Latin-inspired grill, Sedona
When you're in Sedona, it's impossible to take your eyes off the paprika-and-chile-colored rocks. Fortunately, at Mariposa, you don't have to. The expansive patio sits atop a bluff overlooking miles of majestic mountains against an ever-changing sky. The scenery is as sensuous as beloved Chef Lisa Dahl's South American-inspired dishes, like wood-fired chorizo or beef empanadas with chimichurri.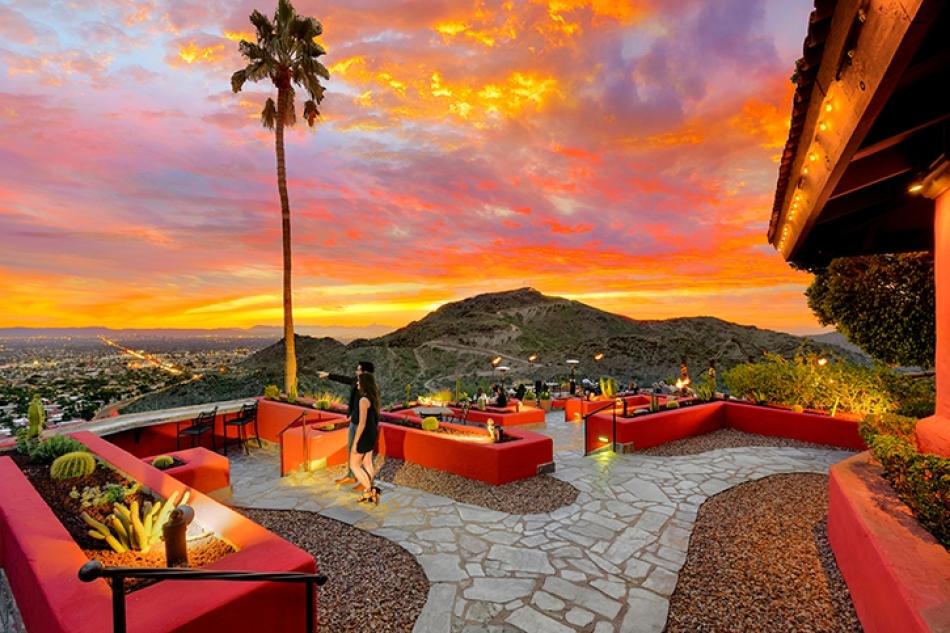 Different Pointe of View, Phoenix
Perched atop North Mountain in Phoenix, Different Pointe of View commands jaw-dropping views of the surrounding peaks and sunsets that give way to glowing city lights. But this beloved gem isn't just about patio panoramas and floor-to-ceiling windows. Thanks to exceptional service and Mediterranean-meets-Southwestern fare (think: guajillo-seared pork with roasted green chile-cilantro hummus), it's the Valley's longest consecutively awarded AAA Four-Diamond restaurant.
From the Farm, Yuma
From the Farm in Yuma is the place to visit if you're hankering for a taco, a date shake and an antique lamp. This quirky stop combines a farm stand offering local produce and honey, a charming tearoom, a vintage emporium and an outdoor grill shaded by a corrugated metal roof. With its shabby chic decor and vast mountain views, it's easy to see why it's also a popular wedding venue.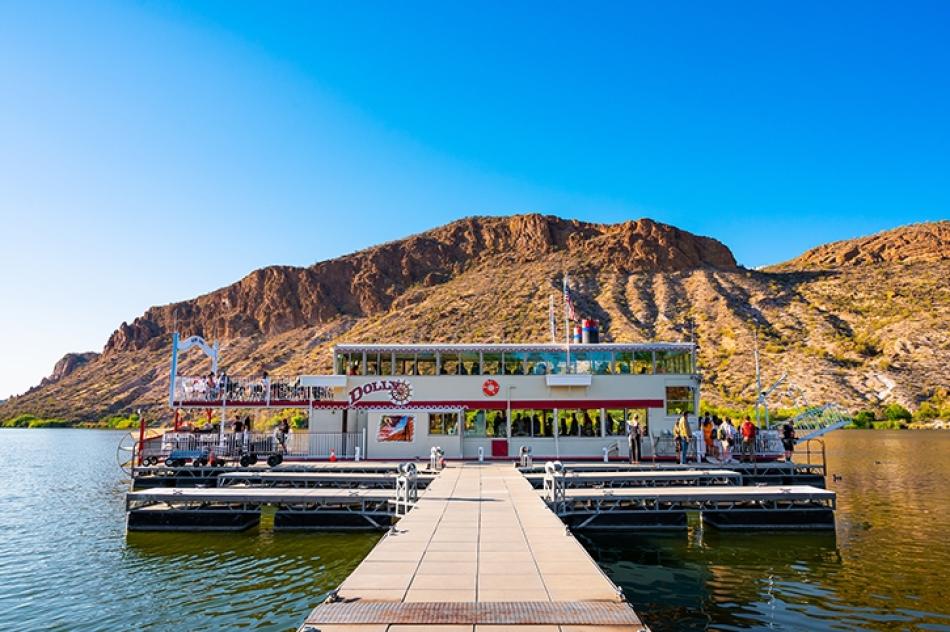 Dolly Steamboat Dinner Cruise, Apache Junction
Tortilla Flat is the launching point for The Dolly Steamboat dinner cruises, a Huckleberry Finnesque voyage in the desert. As the old-fashioned sternwheeler plies Canyon Lake, keep an eye out for bald eagles and bighorn sheep balancing on the cliffs. Or choose an astronomy dinner cruise and gaze at constellations and planets with astronomer Steve "Dr. Sky" Kates.
Big Nose Kate's Saloon, Tombstone
At Big Nose Kate's Saloon in Tombstone, history buffs can belly up to the bar where the Earps and Doc Holliday knocked back whiskeys. That long wooden bar is one of the only things left from the original building, the sumptuous Grand Hotel, which hosted many of this Wild West town's most famous gunfighters before it burned down in 1882. The current saloon—named after the brothel madame who was Holliday's longtime companion—keeps that cowboy spirit alive.
The Palace Restaurant and Saloon, prescott
A bar with a curiously similar history is The Palace Restaurant and Saloon in Prescott—Arizona's oldest frontier saloon. The Earp brothers and Doc Holliday also drank at this Whiskey Row watering hole. This 1877 saloon was also destroyed in a fire. And the wooden bar was also salvaged from the burning building when patrons carried it across the street. People do say that in a fire you save the thing most dear to you, and it's a good thing they did.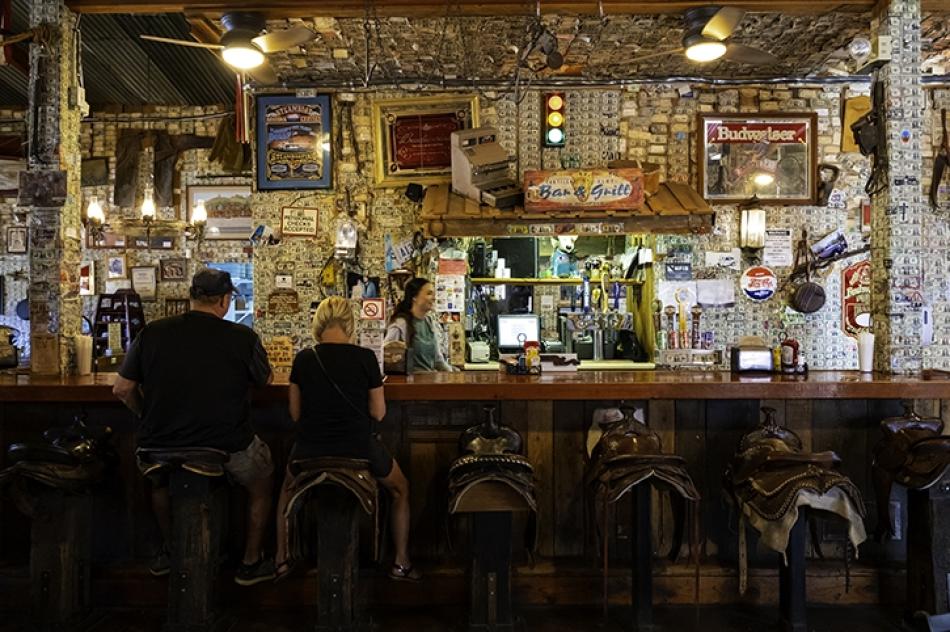 Superstition Restaurant & Saloon, Tortilla Flat
Drive the scenic Apache Trail east of Phoenix, past the cerulean waters and golden cliffs of Canyon Lake, and you'll find yourself in Tortilla Flat, a tiny Old West town with a population of six. Road trippers and bikers beeline here for burgers, spicy chili and prickly pear gelato at the Superstition Restaurant & Saloon, famous for its saddle barstools and 350,000 signed dollar bills papering the walls.
Article originally published in the 2021 Arizona Official State Travel Guide by Miles Partnership.