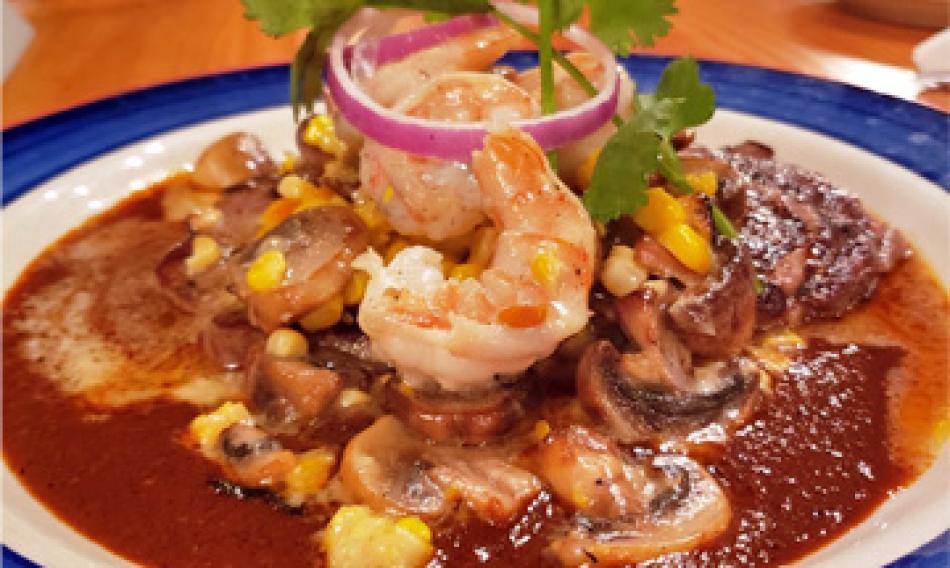 Eat & Drink
5 Super-Secret Arizona Food Menus
Phoenix Bites blogger Taryn Jeffries dishes on Arizona's secret menus—where to go and what to order when you want to dine "off-book."
Certain restaurants are all about the "secret" menu, those delicious dishes and surprise chef concoctions that only those in the know are aware of. But thanks to social media, some of these off-menu items aren't so secret after all. Here are five restaurants in Arizona—from fast-casual eateries to elegant fine-dining establishments—where hidden culinary delights await diners who know to ask for them.
Los Sombreros
Scottsdale
This cozy Mexican restaurant is like stepping into your abuela's dining room. If your grandmother is anything like mine, she'd cook you anything you want for dinner, even if it wasn't what she planned. So maybe the mole poblano looks appealing to you, but you're also craving a bit of surf and turf; simply ask, and the staff at Los Sombreros will whip up their Los Surf & Turf Ribeye Mole, which consists of an 8-ounce ribeye topped with mole and a smattering of mushrooms, corn, onions and shrimp. It's low-key delicious.
Pita Jungle
Statewide locations
Pita Jungle's secret, off-menu Medchilada and rice
Founded in Tempe by Arizona State University grad students more than 20 years ago, vegetarian-friendly Pita Jungle is beloved for its fresh, healthy Mediterranean menu. You can go for favorites such as gyros, falafel and the restaurant's many varieties of hummus. But if you're looking for something less than traditional, ask for the Medchilada, Pita Jungle's take on an enchilada. It's a hearty mix of grilled chicken and mixed beans in lavash bread, topped with cheddar and wood-fired before it's sided by brown rice, greens, tomatoes, pico and tzatziki.
Pomo Pizzeria
Phoenix and Scottsdale
The first thing that comes to mind when talking about Pomo is the handmade pasta and certified Napoletana pizzas. What you might not know, though, is that behind the spotlight of pizza and pasta exists a special salad with healing properties. You just have to know what to ask for. The Fregola is packed with veggies that boost bone health, digestion and detoxification. The salad is loaded with semolina pasta, greens, fennel, black olives, cherry tomatoes, cucumber and a bright lemon vinaigrette. This secret salad is so robust and flavorful you'll hardly suspect its healthy.
Mastro's City Hall, Mastro's Ocean Club and Mastro's Steakhouse
Scottsdale
For most diners, the decadent menu at all three Mastro's restaurants is reserved for special occasions. Between the extraordinary service, luxe ambiance and elegantly hearty cuisine, it would seem that there is no way to improve upon the Mastro's experience—but that's only because you don't know the secrets. Ask for "the Bruno" and you'll get two sautéed sea scallops with garlic butter perched atop your steak. Ordering "the Maxwell" delivers three sautéed shrimp and shrimp butter loaded onto a steak of your choice. If you want next-level decadence, request bone marrow butter or a tower of caviar.
Sauce Pizza & Wine
Statewide locations
An extra cheesy pie—Sauce's own mac and cheese pizza
If Sauce is your go-to for fast-casual Italian fare, I'm about to blow your mind. Founded in Arizona with locations in New Mexico and Texas, Sauce is known for thin-crust pizzas and bowls of noodles. But imagine this: gloriously silky mac and cheese carefully ladled onto a chewy pizza crust. That's what's going down if know to request it. For a bit of a splurge, order a pizza pie layered with mozzarella, fontina and basil and topped with—wait for it—the secret mac. Cheat day can't come soon enough!