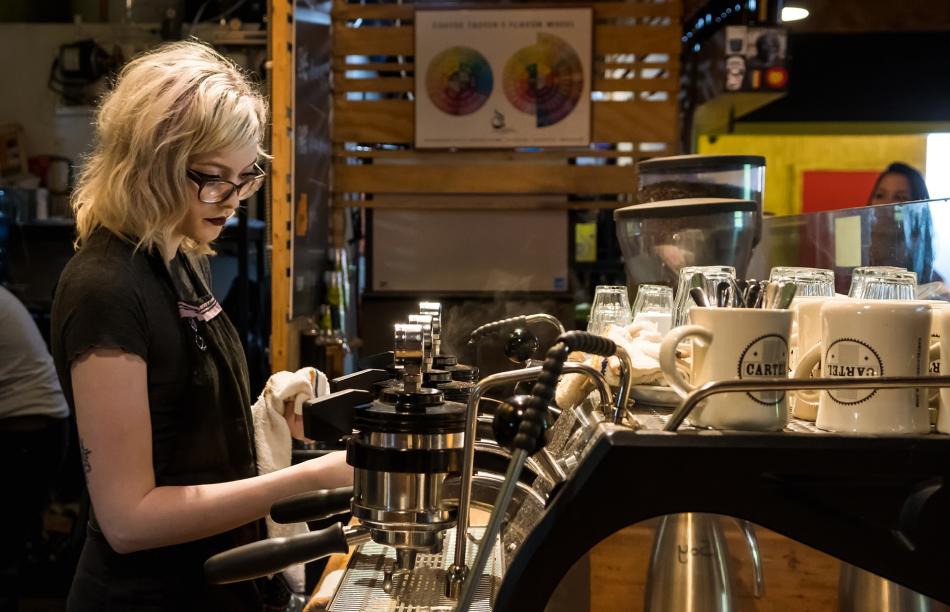 Top Coffee Shops & Cafes in Arizona
Arizona's coffee culture may not be as widespread as our neighbors in the Northwest, but we do have our share of coffee shops serving up a café experience that's as memorable as their brews.
COFFEE IN PHOENIX METRO AREA
Cartel Coffee Lab
In Tempe, the Arizona State University crowd predominates at Cartel Coffee Lab, which has a minimalist interior design scheme and a stripped-down, straightforward coffee-and-tea menu. It can be difficult to find a seat here, but the award-winning, house-roasted coffees make it worth the trouble. You can also find satellite Cartel coffee houses across the state, including multiple locations in Phoenix, Tucson, Scottsdale and Paradise Valley—all with similar industrial decor and chill vibes.
Driftwood Coffee
With an Instagram-friendly exterior and contemporary museum-like interior (white exposed beams, bold art on the walls), Driftwood Coffee's ambiance sets the tone for a morning grind that's anything but boring. The menu includes "speedy" drinks, such as drip coffee and nitro cold brew, for those who don't have time to linger, and "slow" beverages like French press coffee worth waiting for. Driftwood Coffee is located in Old Town Peoria, and a second location with a different name—Reap and Sow Coffee—can be found inside the legendary music venue, The Rebel Lounge.
Futuro
You'll need to pay attention to spot this new-ish coffee spot, tucked away in a stark white, nondescript building just off of downtown Phoenix's Roosevelt Row with only the word "Palabra" painted on the front. Inside Futuro, the minimalist white theme continues, punctuated by contemporary art and art books arranged throughout the space. Signature drinks include coffee flavored with local raw honey, citrus, and stoneground cacao. Pair your coffee with a plate of tamales or pozole (offered only on Sundays).
Mythical Coffee
In Phoenix's East Valley, discover the mythic. Mythical Coffee in Gilbert forgoes the industrial and wood-inspired aesthetics of their caffeinated peers, opting instead for a breezy white and bright space accented with neon lights and mint green tiles. Their drinks are as playful as their decor, with seasonal flavors such as Lemon Poppy and Banana Colada lattes, and the Sonoran Sour—a rum-aged cold brew shaken with agave and lime juice.
Peixoto Coffee
From the Peixoto family farm—Fazenda São José da Boa Vista, located in the highlands of the state of Minas Gerais, Brazil—Peixoto Coffee beans travel directly from South America to downtown Chandler. The moody coffee shop has a modern design and lots and lots of plants. Try your coffee black, or go for a more colorful creation, such as a purple lemonade made with lavender purple syrup, green matcha, or a blue latte, which gets its hue from butterfly pea flower and blue matcha.
Songbird Coffee & Tea House
If it wasn't for the sign outside, you might feel obligated to knock on the front door of Songbird Coffee & Tea House. Located in a 1904 bungalow in the Roosevelt Row Arts District—and still very much sporting a homey, lived-in look—Songbird's vibe is more laidback hangout than early-morning rush. Grab an espresso, tea or even kombucha and stay awhile. The chances of running into a poetry reading, local music set or dance performance are high.
COFFEE IN TUCSON AND SOUTHERN ARIZONA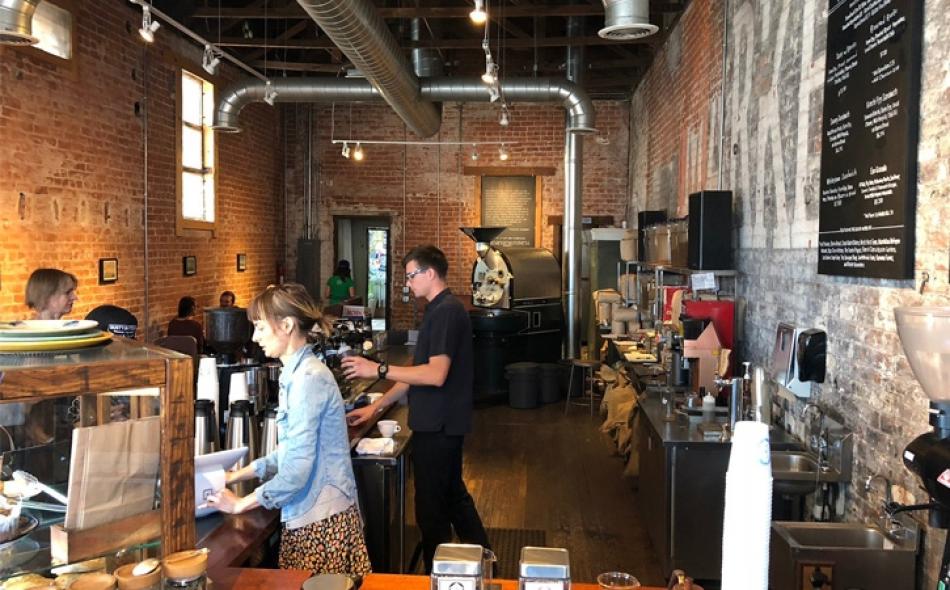 Exo Roast Co.
Known for its commitment to small-batch producers and direct trade coffee, Exo Roast Co. embodies the community-oriented feel of its products at its downtown Tucson and Barrio Viejo coffee shops. Cozy, wood-clad and warm, the environment at both Exo locations is welcoming whether you're searching for solitude or meeting with a friend to catch up over cappuccinos. No matter where, when or why you go, don't miss the chiltepin cold brew.
Presta Coffee Roasters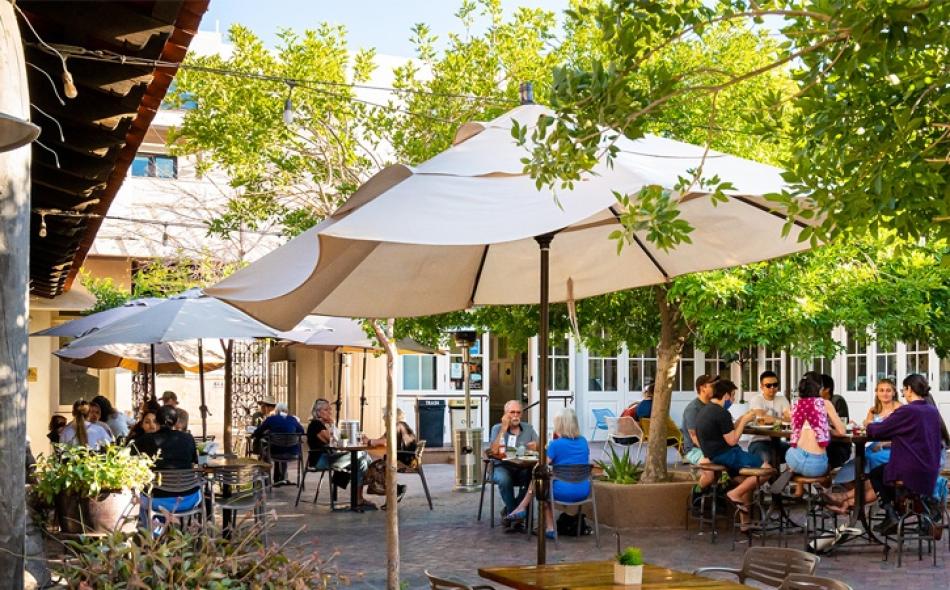 Presta's three locations—at the Mercado San Agustin, off Fourth Avenue, and just north of the University of Arizona on First Avenue—have the same coffee, but different ambiances. Go to the Mercado San Agustin to be a casual observer; there's always something going on in the central courtyard. At the First Avenue location, the mood is industrial and modern. Off Fourth Avenue, you're likely to run into a friendly dog or a familiar face.
Bisbee Breakfast Club
The Bisbee Breakfast Club serves up java, along with eggs, omelets and other morning fare. Its generous portions, vintage interior and homemade, sky-high cream pies are what keep bringing guests back. Trendy? Maybe. Classic? Always. The BBC also has locations in Chandler, Marana, Mesa and Tucson, but you'll want to visit the original, located on the lip of Bisbee's Lavender Pit Mine.
Old Bisbee Roasters
The scent of freshly roasted coffee beans lures you to an open window on 7 Naco Road, right at the entrance to the heart of Old Bisbee. You've arrived at Old Bisbee Roasters, where beans come from sustainable, grower cooperatives and small-batch makes for coffee made with care. You're likely to run into Seth, an enthusiastic redhead, offering free shots of espresso (ask him about how Old Bisbee Roasters' got its start with just a simple cast iron pan). Due to its location, this is often a first or last stop on visitors' route through Old Bisbee.
COFFEE IN NORTHERN ARIZONA
Firecreek Coffee Company
Though its flagship store may be in Flagstaff, Firecreek Coffee Company's popularity has expanded the business to Cottonwood, Sedona and an architecturally stunning location in Phoenix's Arcadia neighborhood. And why not? Single-origin and custom blends transform a cup of coffee into an immersive experience, thanks to Firecreek's focus on mindful batches. Sit. Stay. Sip.
Macy's European Coffee House
If a coffee shop could be a sweater, this would be your favorite wool pullover. The warm woods and friendly company make Macy's Coffee House in Flagstaff a popular spot with locals and visitors looking for caffeine and a short pause. During winter, it's the perfect place to escape the snow; and during summer, the giant windows and outdoor seating make for perfect people watching.
A Bit More
Food for Thought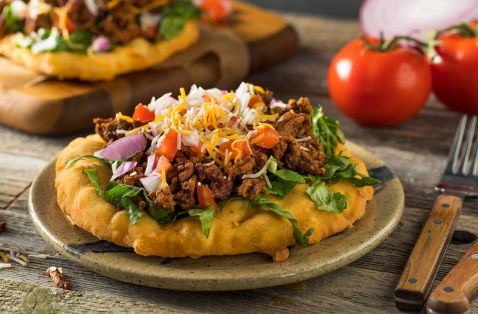 Food Worth Traveling For
Whether you prefer casual eateries or James Beard Award-winning dining rooms, Arizona serves up culinary experiences to remember. Indulge your...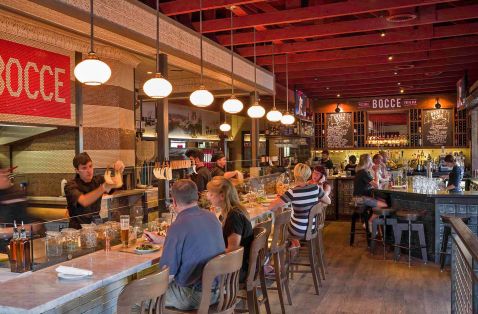 Eat & Drink
When the Verde Valley blossomed with vineyards, Cottonwood soon sprouted serious tasting rooms and great restaurants.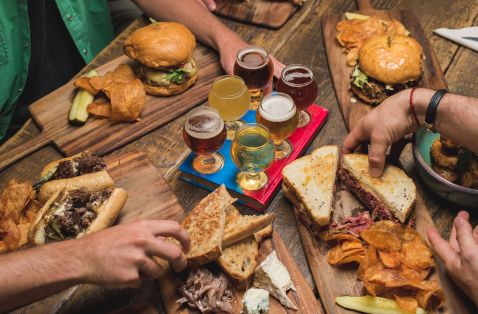 Eat & Drink
The mountain town of Flagstaff may be famous for skiing, snowboarding and hiking, but this outdoorsy enclave offers big-city culinary...