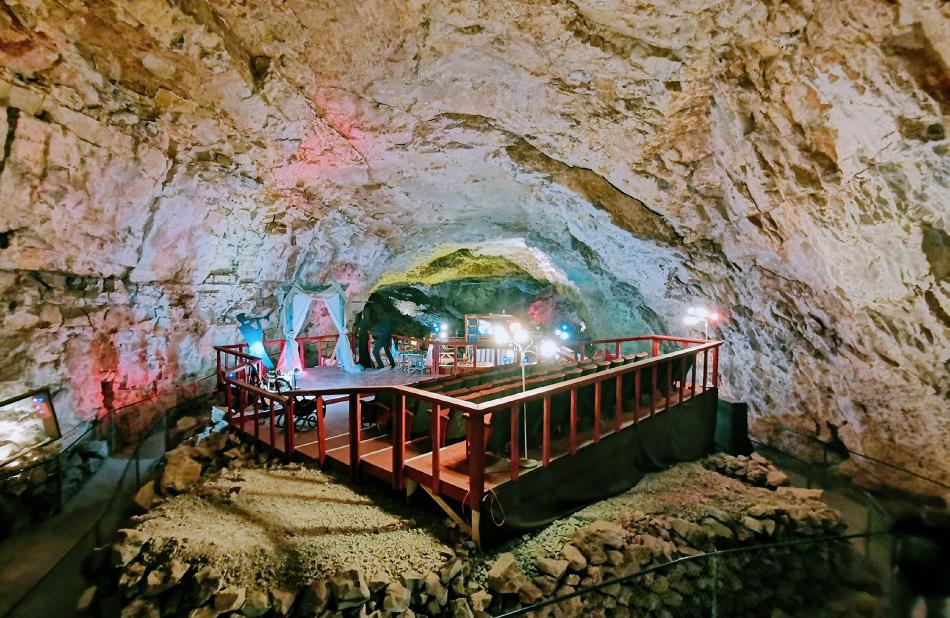 Must Do
The Hidden Gems and Secret Places of Northern Arizona
Go off the beaten path in northern Arizona with these secret places. Avoid crowds, travel through history, and get some of Arizona's wild places all to yourself.
If you enjoyed the Hidden Gems and Secret Places of Southern Arizona but want to explore more of the state, then this is for you. Discover some of northern Arizona's lesser-known experiences for a unique and memorable trip.
A quick word of advice: Many of northern Arizona's attractions are spread out and occasionally in remote areas. To make the most of your journey, we recommend you bring your own car or rent one (preferably one with four-wheel drive).
Peach Springs
The inspiration for Pixar's Radiator Springs, Peach Springs is a base camp for adventure in northern Arizona. You'll find this small town on Route 66, just 50 miles northeast of Kingman, and about three-and-a-half hours north of Phoenix. Spend the night beneath the earth's surface (more on that below) or float above the Grand Canyon on the Skywalk—you can find it all in the quaint capital of the Hualapai Nation.
Grand Canyon Caverns
AZ-66, Peach Springs

While you're in the area, Grand Canyon Caverns is a veritable treasure trove of fun for the whole family. These caverns were discovered in 1927 and have a unique history full of unlikely characters and events, including the remains of a paramylodon—a giant sloth that went extinct 12,000 years ago. Select from a number of tour options, including a ghost tour, before grabbing lunch 200 feet underground at the Cavern Grill. You may also inquire about sleeping in the "master suite" here—a particularly memorable experience after the ghost tour.
Rock Art Ranch
Rock Art Ranch Road, Winslow
It's time to find out if your rental car has a four-wheel drive. Journey down Rock Art Ranch Road where you'll discover its namesake: Rock Art Ranch. This working cattle ranch is a true northern Arizona hidden gem that out-of-towners seldom visit. Before you hit the dirt road, be sure to ring up Brantley Baird, the owner and proprietor of the ranch, who has lived on the ranch since 1948. For a modest sum of $35, Baird will take you on a personalized tour of his home. You'll view well-preserved ancient petroglyphs, ancient ruins, and a small museum with American Indian and pioneer artifacts. (Phone: 928-386-5047 or 928-288-3260.)
Apache Death Cave
Route 66, Winslow
The Apache Death Cave, located on Route 66 between Flagstaff and Winslow, is equal parts fascinating and spooky. Here, in 1878, more than 40 Apache Indians were killed after a series of bloody skirmishes with the local Navajo along the Little Colorado River. The Apache evaded detection by hiding underground in a cavern large enough to conceal the warriors and their horses until they ultimately were discovered by the Navajo tribesmen. Today, the cave and surrounding land are considered cursed and believed to be haunted, but brave visitors can enter with caution, keeping in mind the principles of Appreciate AZ.
Vermilion Cliffs National Monument and The Wave
1000 US-89A, Marble Canyon, AZ 86036
Chances are you've seen or heard of The Wave; a remarkable natural rock formation popularized in recent years on social media. But did you know there's a lot more to see in Vermilion Cliffs National Monument? Nestled between Kaibab National Forest and Glen Canyon National Recreation Area, this 280,000-acre monument is stunning throughout. With endangered California condors overhead and sandy roads below your tires, this is one seriously special place that beckons to the modern-day adventurer. (Note: Permits are required for The Wave and are only available through a lottery system four months in advance.)
Shash Dine Eco Retreat
Page
Billed as a "5 Billion Star Hotel," the Shash Dine Eco Retreat just outside of Page isn't your average bed and breakfast. Forget four walls and a view. Instead, this traditional Navajo hogan has been beautifully hand-crafted with earth and logs. Located in the Navajo Nation on a working sheep ranch, visitors are surrounded by the raw beauty of Arizona as well as some of its most popular destinations, including Antelope Canyon, Horseshoe Bend, Lake Powell, and the Grand Canyon. For more information, see Visiting Tribal Lands.
Arizona Hot Spring Trail
Willow Beach, AZ

Some of Arizona's most secret places are only accessible by foot. The 5-mile round trip Arizona Hot Spring Trail is a prime example. While far from secret, this remote hot spring is typically a quiet retreat thanks to its off-the-grid location near Lake Mead. You'll walk along a rocky arroyo towards the Colorado River where, just before reaching the banks, you'll be rewarded for your efforts with a plunge in a sizable natural hot spring. For safety precautions and additional route-finding information, visit the official Arizona Hot Spring Trail website.
Delgadillo's Snow Cap Drive-In
Seligman
For those with children in tow—or who simply don't enjoy northern Arizona's more historic hidden gems—Delgadillo's Snow Cap Drive-In is the perfect place. This historic eatery and roadside attraction, located on Route 66 in Seligman, Arizona, was built by hand out of scrap lumber in 1953 during the heyday of the Mother Road. Brimming with oddities and a humorous menu including "cheeseburger with cheese," Delgadillo's is truly an iconic pitstop and photo op.
Dome Stargazing House
Williams

Arizona is home to five designated International Dark Sky Communities. Although Williams is not technically one of them, it still has significantly less light pollution than many of the cities in the lower 48 states.
Mystery Valley
Kayenta

For those visiting the cinematic rock formations of Monument Valley Navajo Tribal Park on the Arizona-Utah border, Mystery Valley is a fantastic addition. Located outside the small town of Kayenta in the Navajo Nation, this section of remote desert seems to resemble another planet. But look closely and you'll find ancient indigenous ruins, petroglyphs, and a landscape teeming with life (including wild horses). This is a sacred area and can only be explored with a guide—find one at Monument Valley Visitor Center.
Navajo Code Talkers Display
Burger King, Highway 160, Kayenta

While you might not expect a serving of history with your fast food, that's exactly what the Burger King in Kayenta, Arizona has on the menu. Here, you'll find a small museum that pays homage to the brave Navajo men who developed an unbreakable code during World War II. Using the unwritten and highly complex Navajo language, their code was an indecipherable means of communication for the United States Marines. Thanks to the extreme success and importance of their work, their efforts have only recently been acknowledged publicly by the United States government. This display is an absolute must-see for travelers passing through this region of northern Arizona. (Note: This is separate from the Navajo Code Talkers Museum in Tuba City.)
Homesteader Cabin
Fredonia

Journey back in time with a stay at the Homesteader Cabin in Fredonia, Arizona, just south of the Utah border. Perfect for travelers journeying between Zion and Grand Canyon national parks, or simply someone looking for a truly off-the-beaten-path retreat, this cabin tops our list of special stays. Located on a privately owned, 400-acre ranch, this is the ultimate in solitude. Feel like a pioneer of the Old West in this historic cabin, which has been kitted out with modern creature comforts (including high-speed Wi-Fi and a flush toilet and shower) in recent years; the perfect convenient Wild West experience.
North Rim of the Grand Canyon
Although Grand Canyon National Park is hardly an unknown destination, its North Rim is somewhat of a hidden gem. (In fact, it's estimated that only 10 percent of the visitors to Grand Canyon National Park visit the North Rim.) Don't be fooled by its proximity to the South Rim—roughly 10 miles away—the North Rim is a four to five-hour drive from its southern counterpart. Thanks to this remote quality and its higher elevation, the North Rim is the ideal destination for travelers looking for a quieter and cooler summer adventure with the same great views and access. During the winter, the North Rim closes to the public due to the snow, reopening annually around mid-May.