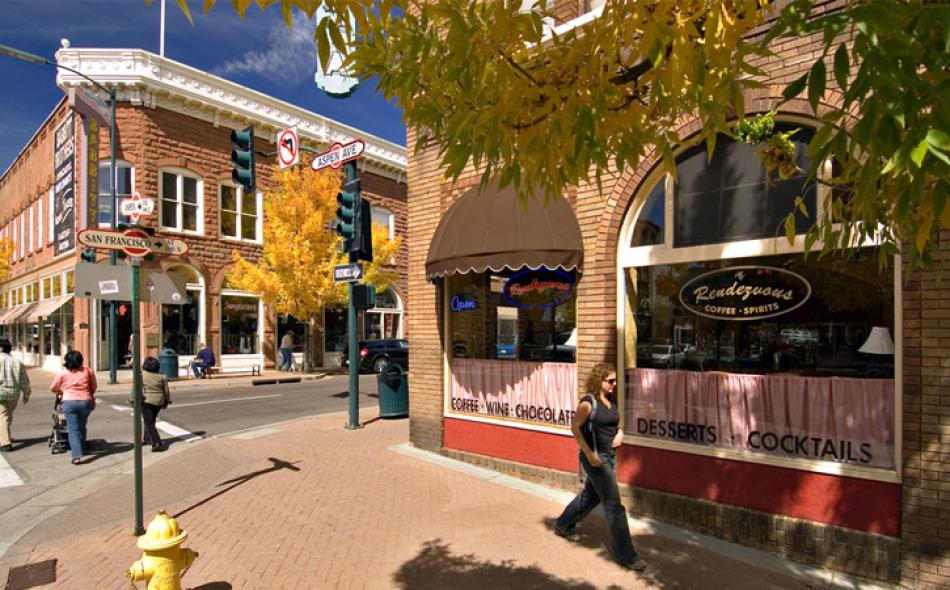 Shopping
Shop Local in Flagstaff
Home to ski resorts, hiking trails and Arizona's tallest mountain, Flagstaff easily earns its renown as a haven for outdoors enthusiasts. And its historic and walkable downtown is a favorite among shoppers on the hunt for independent boutiques, art galleries and gear shops.
Babbitt's Backcountry Outfitters
This family-owned store traces its roots back to the late 1800s when one of the five Babbitt brothers transformed his lumberyard into a general store. That same building is what houses the outdoor gear shop of today. Here you'll find everything you need to buy (or rent) gear for hiking, camping, rock climbing, skiing and more. The staff are outdoors experts themselves and they offer classes on outdoor survival and how to select the perfect pair of hiking boots.
12 E. Aspen Avenue.
(928) 774-4775

Bright Side Bookshop
There's no better travel companion than a good book, and this independent book shop is the ideal place to find your next read. The curated selection spans genres, from mystery to memoir, and includes bestsellers, staff picks and a robust offering for young readers. They also carry stationery, including cards featuring the work of local artists. Check the calendar to see if there's an author signing, reading or kid's storytime during your visit.
18 N. San Francisco St.
(928) 440-5041

Mountain Sports Flagstaff
Born from a love of the outdoors, this family business has grown into a gathering place for the Flagstaff community. Run by Mark Lamberson and his daughter Lisa, the store offers a mix of functional and casual fashion for men and women, such as puffer vests, yoga pants, dresses, t-shirts, bathing suits and backpacks. They also carry a selection of gifts and souvenirs.
24 N. San Francisco St.
(928) 226-2885

Sage Brush Trading Co.
This women's boutique offers a little bit of everything, all with a distinctly Flagstaff, mountain-chic touch. Clothing, including denim, dresses and blouses, is on-trend yet classic enough to carry you through several seasons and can be paired with fashionable hats, small leather goods and locally made jewelry. This is also a great spot at which to find souvenirs and gifts; think funky socks and cute housewares.
120 N. Leroux St.
(928) 774-3100

Sweet Shoppe Candy Store
Modeled after an old-fashioned candy store, Sweet Shoppe has everything you need to satisfy your sweet tooth. Homemade fudge comes in classic and creative flavors, including dark chocolate caramel sea salt (their bestseller); caramel apples are given a gourmet twist (try the cheesecake version); and chocolate truffles and barks make great gifts. In summer you'll find a variety of Italian gelato.
15 E. Aspen Drive
(928) 213-9000

Winter Sun Trading Company
Run by Phyllis Hogan and her two daughters, this shop celebrates American Indian art and indigenous botanicals. The gallery showcases jewelry, baskets, paintings and carvings from members of local tribes, including tapered dolls from Ferris Satala Spike; natural turquoise jewelry from Ray Lovato; weaved Hopi baskets from Renae Roy; and multimedia art from Jonah Hill. The apothecary offers tinctures made from organic, wild herbs native to the Southwest.
107 N. San Francisco St., #1
(928) 774-2884