Meet the Maker
Stephen Paul of Hamilton Distillers
In our "Meet the Maker" series, we dive into the worlds of Arizona's most skilled culinary artisans. This article takes us to Tucson to meet Stephen Paul of Hamilton Distillers.
There are certain crafts that require an artisanal touch and an experienced set of skills. In our "Meet the Maker" series, we dive into the worlds of Arizona's most skilled artisans. This article takes us to Tucson to meet Stephen Paul of Hamilton Distillers and Whiskey del Bac.
One evening in 2006 Stephen Paul and his wife Elaine were barbecuing over mesquite wood scraps from the couples' custom furniture company, Arroyo Design, and drinking their beverage of choice – Scotch. Then Elaine asked a question:
"What if you could malt barley over a mesquite fire instead of a peat fire like they do in Scotland?"
Stephen Paul got to thinking. What if you could malt barley over mesquite wood? Although she probably didn't know it at the time, with this single question, Elaine laid the foundation for what would become Hamilton Distillers, a boutique whiskey distillery in Tucson recently named one of the best whiskey distilleries in America by Esquire magazine.
An Arizona whiskey
Soon after that night in 2006, Paul got to work creating a regional, Sonoran-desert single malt whiskey. He bought a five-gallon pot still from Portugal, and five years later he purchased a 40-gallon still. He learned how to malt barley. And, in 2013, Hamilton Distillers released three whiskeys—Dorado, Clear, and Classic—each under the label Whiskey Del Bac.
Then, in 2014, Paul raised capital to install a 500-gallon system with a 5,000-pound batch malt house. This enabled him and his crew of family and friends (daughter Amanda is a co-owner) to perfect the distinctly Arizona flavor of the whiskeys, and also create larger quantities for wider distribution.
So what makes Hamilton Distillers' three styles of Whiskey Del Bac regional? For one, the wood from the mesquite tree, which is native to the Southwest. "I've always had a very strong attachment to the desert," says Paul, who moved to Tucson from California when he was 11 years old.
Then there's the local, cattle-feed barley. Finally, there's the fact that Hamilton Distillers carries out the entire whiskey-making process in-house—malting, mashing, fermenting, distilling, barreling and bottling. Does it get more regional than that?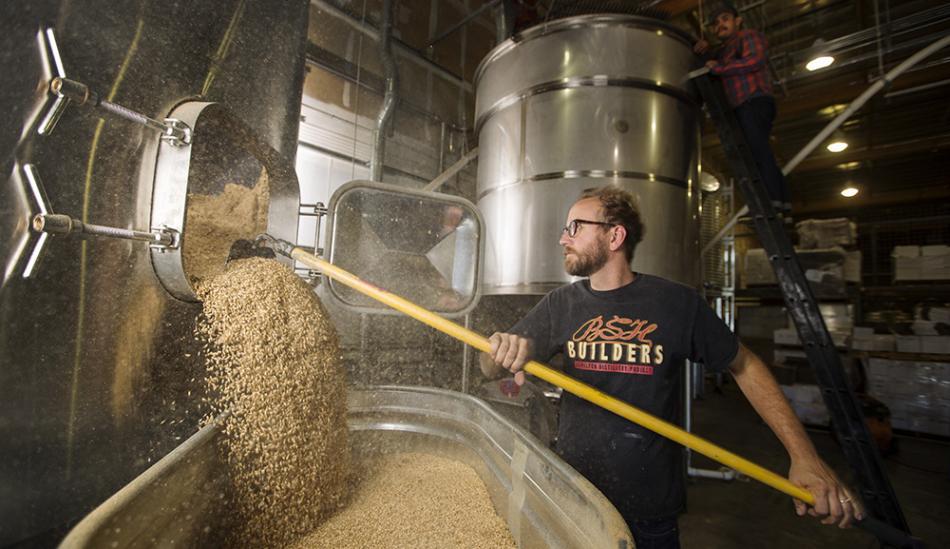 The art—and science—of making whiskey
Whiskey is made with two main ingredients: grain and water. Hamilton Distillers malts its barley by first steeping it in water and then making it germinate. In Scotland, barley is traditionally germinated on the floor, but Stephen Paul germinates his in a tank until the enzyme is created that will later convert the starch to sugar.
Next, he dries the malt in the same tank, an innovative, space-saving feature that gives Paul more control over the entire process. In Scotland, the malt is often dried over a peat fire, but Paul dries it over a mesquite fire to create the signature rich and smoky flavor of the Whiskey Del Bac Dorado.
Then the barley is milled and mixed with hot water, which activates the enzyme that turns the starch to sugar. The sugar is then fed to yeast, which converts it to alcohol, now called the "wash." The wash is distilled twice in a copper pot still, and the whiskey is aged in barrels.
A triple taste of the desert
In addition to the Dorado, Hamilton Distillers bottles two other signature whiskeys: Classic, which is unsmoked, and Clear, which is mesquite smoked.
The Classic unsmoked whiskey (Paul calls it the "control" since this was the first whiskey he ever made) has regional roots, too. Hamilton uses local water to cook the mash; he says the yeast "loves" the minerals in the water.
Drinkers can expect to taste notes of caramel, vanilla and occasionally butterscotch in the mesquite-smoked varieties and black cherry in the aged whiskeys.
Hamilton Distillers is housed in an 8,000-square-foot space in Tucson, a city that Stephen Paul says is ideal for small companies to thrive due to its supportive, inventive nature.
"Tucson is a great place to start a business," says Paul. "There's a ton of creativity here."
Get a taste
The best way to explore the flavors of Whiskey Del Bac three whiskeys is with a 1.5-hour tour of the distillery ($20), followed by a guided tasting at the community table, which sits just steps from the stills. Reservations are required and can be made online or by phoning the distillery.
A bottle of Hamilton Distillers Whiskey Del Bac costs $42–$54, and can be found at grocery stores throughout the state.