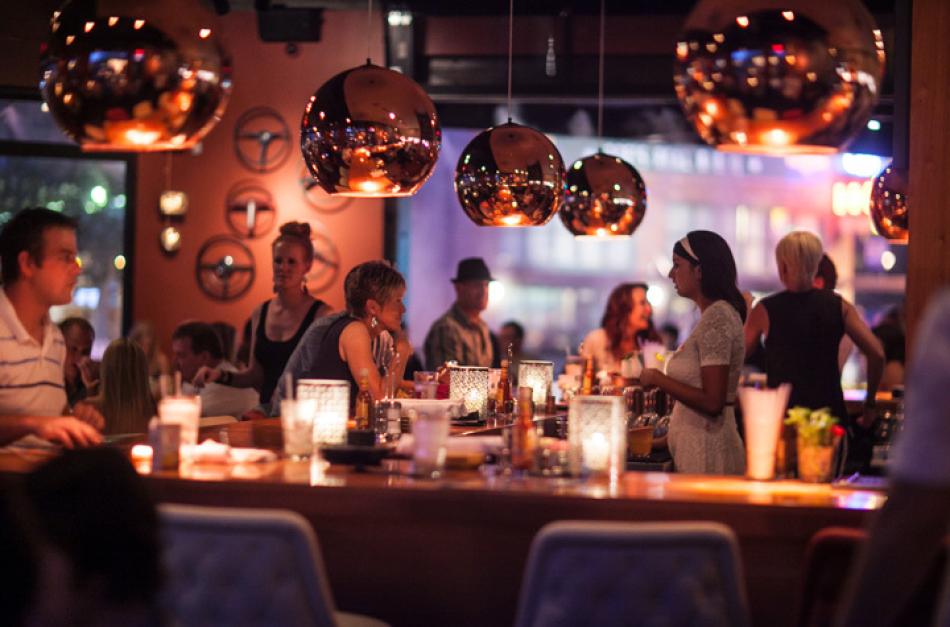 It's the Weekend. Let's Eat. Gilbert.
Over the years, Gilbert's Heritage District has transformed from a sleepy town to an exciting food hub. In one weekend, you can embrace the delicious results.
We're all about giving you reasons to travel for a good meal. "It's the Weekend, Let's Eat." features itineraries for where to dine and what to order in cities throughout Arizona. This edition takes us to Gilbert in the greater Phoenix area.

It's not exactly accurate to call the Gilbert dining scene an overnight success, even though it seems that way. Over the years, Gilbert's Heritage District has transformed from a quiet suburban center to an exciting food hub—a restaurant cluster where you'll likely run into a waitlist morning, afternoon and evening. Those who've visited infrequently might be surprised by the hubbub that's "suddenly" emerged, but locals know the dining scene has been a long time coming.
Friday: Dinner
You won't be the only people eager to trek into Arizona Wilderness Brewing Co. on a Friday night. Arrive early to take in the crowd of happy campers cheering with foam-topped craft beers and munching on share-sized meals. The menu is inspired by the great outdoors, with items like After the Hike Burger or the Arizona Trail Burger. Southwest ingredients such as green chiles and roasted red peppers find their way into most dishes. Plus, for spice fans: jalapeños, in all forms—sliced, diced, roasted, jellied, even tossed in a dressing for a side of slaw. Cool off with a signature in-house brew. Arizona Wilderness is famous for its sour beers, such as the Blood Orange Gose and Grapefruit Gose, both made with citrus from Agritopia Farm.
Saturday: Breakfast
Why limit yourself to brekkie choices from just one place? Hit up the Gilbert Farmers Market, a bustling open-air market held every Saturday morning. Market favorites include regulars such as:
Saturday: Lunch
The food at Joe's Farm Grill lands somewhere between healthy hipster and outdoor picnic; basically, no-fuss favorites that are gussied up a bit. A simple burger gets elevated with roasted red peppers, grilled mushrooms, farm-made pecan pesto and imported fontina. While there's no pasta or potato salad here, there is the BBQ Chicken Salad mixed with fresh herbs, roasted corn, poblano peppers and crispy tortilla strips. Dining at Joe's is a team effort. While one person orders, another should be ready to pounce on an empty outdoor table. This is a popular Gilbert destination, especially for families who alternate between games of tag on the grassy lawn and bites of food.
Saturday: Dinner
Joyride Taco House is more fiesta than siesta, with an atmosphere that can only be described as energetic. That same zip can be found on menu items: colorful, flavorful, impactful. Start with the guacamole, which is Joyride-ified with tomatillo, Cholula Hot Sauce, jalapeño and corn. Next, bite into the Baja Fish taco, which is composed of ridiculously fresh grilled fish (yes, in the desert), guacamole, Mexican slaw, pico gringo and white magic (Joyride's term for crema). If you aren't yet convinced that the menu is anything but standard, take a sip of one of the margaritas, including flavors such as blood orange and cucumber-serrano.
Sunday: Brunch
You'll find nothing but warmth at Liberty Market, especially at brunch. First, stop at the espresso bar, where you'll hear several orders from others for the Cortado. This Cuban latte—made with half milk, half coffee—is a creamy wake-up call. The lox and bagel—a deconstructed smorgasbord that includes house-cured salmon, capers, hard-boiled egg, chives and cornichons—is almost too pretty to eat. There are plenty of vegetarian options at Liberty Market as well, such as the breakfast burrito smothered in tomatillo and chile pequin sauces. When it comes time to order, you might be forgiving of the wait times. You'll need every minute to decide what you want.
More to Eat & Do
in Gilbert