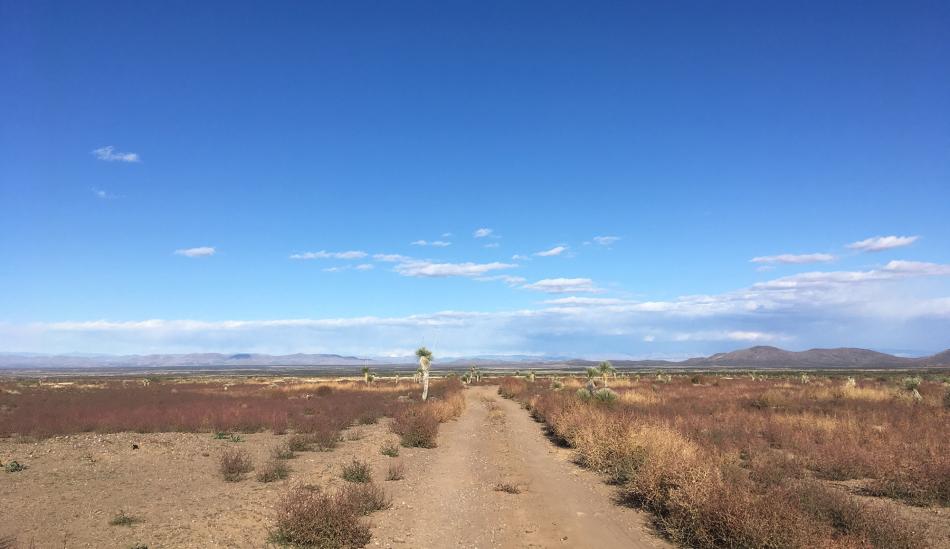 Visiting Arizona's Backcountry: Black Hills Rockhound Area
Here's your need-to-know guide to Black Hills Rockhound Area near Safford, from times of year to visit and what to pack to permits, directions and fees.
Did you know: There are roughly 640 million acres of public land for visitors to enjoy throughout the United States? These lands are managed for the benefit of present and future generations by four federal agencies, each with a unique mission:
Bureau of Land Management (BLM)
U.S. Forest Service (USFS)
U.S. Fish and Wildlife Service (USFWS)
National Park Service (NPS)
BLM lands comprise the most acreage of all public land—of the 640 million acres, 245 million are managed by the BLM. In Arizona alone, there are 12.1 million acres of BLM land—beautiful landscapes just waiting to be explored. These areas tend to be more remote and more difficult to access, with fewer amenities, but they also offer intrepid adventurers a chance to experience the wonders of nature up close and personal.
Black Hills Rockhound Area
Operated by the Safford BLM Office in eastern Arizona, the Black Hills Rockhound Area is one of the few spots in the world where individuals who hunt gems, known as "rockhounders," can easily find the semi-precious gemstone called fire agate. For those who aren't into gems, the area remains a great place to seek desert solitude and overnight in secluded backcountry with some of the most optimal stargazing in Arizona.
Getting here
Black Hills Rockhound Area is located about 20 miles northeast of Safford, two hours northeast of Tucson, or three hours east of Phoenix. From Safford, drive east for 10 miles on US 191/US 70. Just past milepost 141, turn left and follow US 191 to Cueto Ranch Road. Turn left and take the dirt road about two miles to Black Hills Rockhound Area.

BLM Safford Field Office
711 14th Ave., Safford
Hours: 8 a.m.-4:30 p.m., Mon.-Fri.
(928) 348-4400
When to go
Black Hills Rockhound Area is open year-round, but the summers can be hot and dry with temperatures reaching up to 110 degrees, and winters can be cold, with lows dipping into the 20s. The ideal time to visit is October – November and March – May. BLM Safford Field Manager Scott Cooke advises, "It is best to go in the early morning when it's a little cooler, especially if you plan on rockhounding."
What it costs
You'll pay no fees for typical day use in public lands, including for rockhounding in this area. If you choose to camp at the developed sites at the nearby BLM lands (about 45 minutes from Black Hills Rockhound Area), fees ($5/night) are required.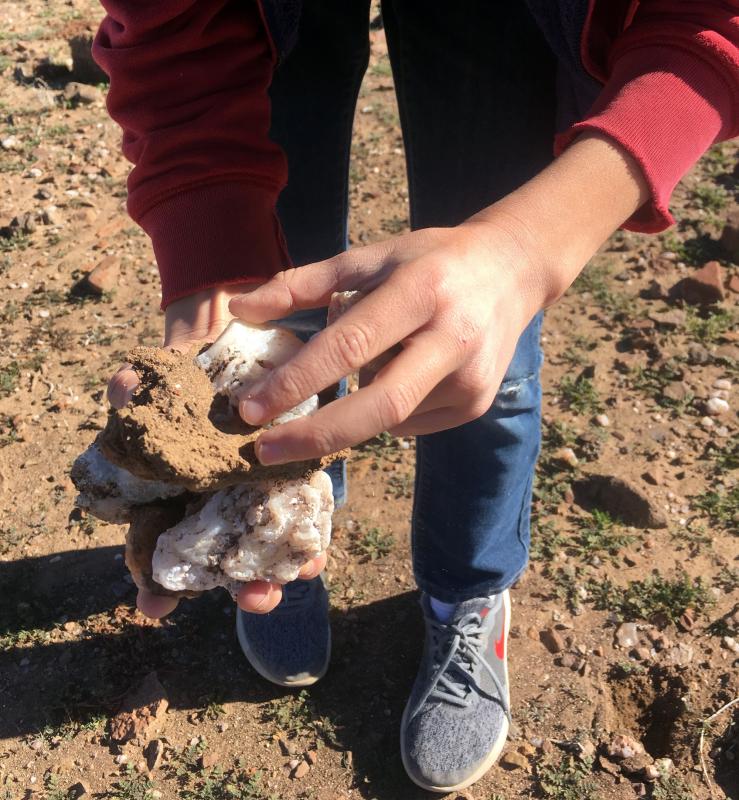 What you need and how to prep
Whether you are in the area for the day or camping overnight, drinking water is an absolute must-have—there is no potable water or power in the remote areas where rockhounding occurs. Water is available for livestock and animals, but it is not meant for human consumption. Also, be aware there are no restrooms in remote areas.

Suggested items to bring:
Drinking water
Sunscreen
Snacks
First aid kit
Wide-brimmed hat
Closed-toe shoes
Paper (non-digital) map of the area
GPS tracker
Backup charger for your cell phone
If you plan to rockhound, pack basic tools like gloves, safety goggles, a rock chisel or hammer, brushes and a pry bar.

You can access most points in a passenger vehicle, but four-wheel drive vehicles are highly recommended. Call the BLM Safford Field Office to check road conditions before heading out.

Cooke also advises visitors to check the weather, especially during monsoon season. "Heavy downpours and thunderstorms with lightning can creep up pretty quick during June, and potentially through September," says Cooke.
Things to do
Rockhounding, especially for fire agate, tops the list of activities. That's because fire agate is only found in the deserts of Arizona, southern California and central Mexico, making this the region to hunt for the opal-like gemstone.
"Fire agate is fairly small, but there's a lot of it out here so people don't have any trouble finding it," says Cooke. If rockhounders are looking for a particular shape of fire agate, that may add some time—and thrill—to the hunt.
The 21-mile Black Hills Back Country Byway shows off beautiful, rugged backcountry and serves up plenty of trails for off-highway vehicle (OHV) drivers. The byway is unpaved and steep in parts, and is not recommended for RVs and travel trailers; park in one of the lots at either end of the byway and set out on an OHV.

For those who appreciate scenic vistas, enjoy a picnic lunch in the ramadas at Canyon Overlook Picnic Area, where mountain and Gila River views greet you.

Other activities at Black Hills Rockhound Area include stargazing, hiking, bird-watching and wildlife viewing—spot quail, javelina and mule deer.
Where to camp
On BLM lands, you can choose either dispersed or developed camping.

Dispersed camping is camping in a previously disturbed site (meaning, people have camped here before and the site is already impacted) that sits off an existing road or trail and outside of a developed campground. In these areas you're allowed to camp for up to 14 days, then you must move at least 25 miles to a new site to set up camp again.

A developed campground typically has restrooms and trash removal. Some will have water access.

Since most of the Black Hills Rockhound Area is remote and untouched, there are opportunities for dispersed camping. If you prefer to overnight at a developed campground, you'll find two at BLM lands near the Black Hills Rockhound Area. You can stay up to 14 days at either of these developed sites:

Riverview Campground (50 minutes from Black Hills Rockhound Area) nestled among the Gila Box Riparian National Conservation Area, is a beautiful riparian corridor filled with winged creatures of diverse species, many of them rare. Campers can swim along four waterways: Gila River, Bonita Creek, Eagle Creek and San Francisco River. The campground has 13 campsites, plus grills, vault toilets and picnic tables. Though not required, high-clearance vehicles are highly recommended. The fee is $5/night.

At Owl Creek Campground (40 minutes from Black Hills Rockhound Area), you can sleep perched on a cliff overlooking the Old Safford Bridge. There are seven campsites, each with a picnic table, ramada and grill. Restrooms and trash cans are also available. The fee is $5/night.

Additionally, Flying W Group Day Use Area offers day-use-only recreation. Neighboring Riverview Campground, this area includes picnic tables, drinking water, restrooms, horseshoe pits, grills, a large ramada, trash cans, parking and access to Cottonwood Trailhead. You can enjoy Flying W on a first-come, first-served basis if it's not reserved. Groups can reserve the area for the following fees: $50 for 1-50 people, $75 for 50-75 people, $100 for 75-100 people.
What to expect
"The ease of access from Highway 191 is one of the things about Black Hills Rockhound Area that appeals to most people," says Cooke. (And of course, the chance to scour the land for the rare fire agate.) "The area is remote, but access isn't difficult."
Accessibility
The campsites at Black Hills Rockhound Area's developed campgrounds do not offer ADA-accessible amenities.
---
The Black Hills Rockhound Area is a unique landscape with ecologically diverse topography that is worth preserving. Adhere to the Appreciate AZ principles as much as possible so future visitors may continue to enjoy this backcountry treasure.
More to Explore
Arizona's Wild Country