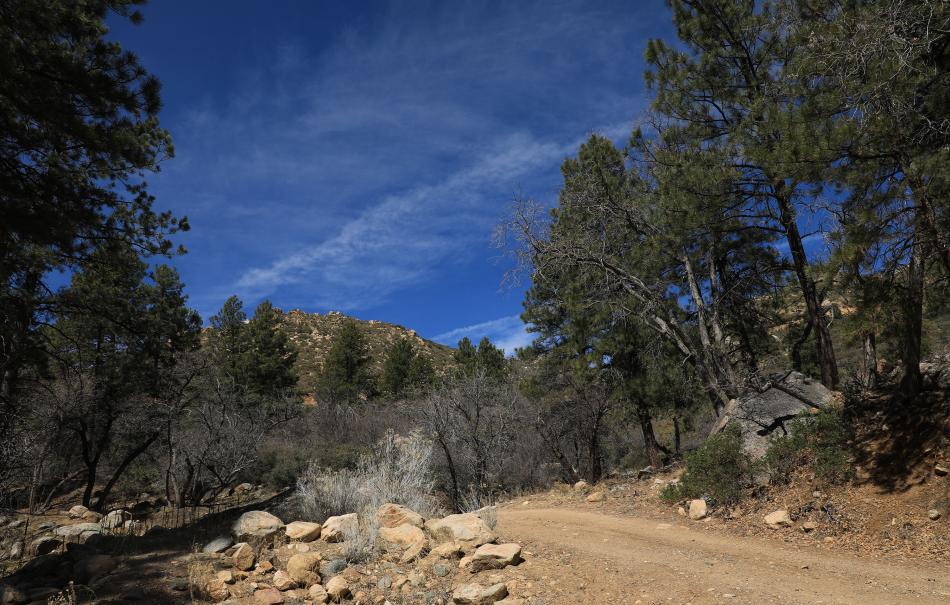 Visiting Arizona's Backcountry: Kingman BLM
Looking to explore the Grand Canyon State's vast backcountry? Here's your need-to-know guide to Kingman BLM, from times of year to visit and what to pack to permits, directions and fees.
Did you know: There are roughly 640 million acres of public land for visitors to enjoy throughout the United States? These lands are managed for the benefit of present and future generations by four federal agencies, each with a unique mission:
Bureau of Land Management (BLM)
U.S. Forest Service (USFS)
U.S. Fish and Wildlife Service (USFWS)
National Park Service (NPS)
BLM lands comprise the most acreage of all public land—of the 640 million acres, 245 million are managed by the BLM. In Arizona alone, there are 12.1 million acres of BLM land—beautiful landscapes just waiting to be explored. These areas tend to be more remote and more difficult to access, with fewer amenities, but they also offer intrepid adventurers a chance to experience the wonders of nature up close and personal.
Kingman BLM
Home to 2.4 million acres in northwestern Arizona, Kingman BLM is located south and east of the Colorado River in northwestern Arizona.

Here, the geology and topography of the land change quickly. The flora of the Sonoran Desert—saguaros, mesquites, creosotes—gives way to that of the Mojave Desert. Within a few hours' drive, you can see cactuses, a forest filled with Joshua trees, and, if you trek to the Hualapai Mountains, Ponderosa pines and limited fir species.
Getting here
From Kingman, head east to the BLM Kingman Field Office. From here, you can get detailed information to help you navigate around the backcountry.

BLM Kingman Field Office
2755 Mission Blvd., Kingman
Hours: Mon.-Fri. 8 a.m.-4:30 p.m.
(928) 718-3700
When to go
BLM lands within the Kingman Field Office are open year-round, but the best time to visit is October-April. (Keep an eye on the weather, as winter storms occasionally occur.) If you prefer to go during off-peak times, such as May through September, try visiting higher—and cooler—elevations like the Hualapai Mountains.
What it costs
You'll pay no fees for typical day use on public lands. If you choose to camp, fees are required for developed campsites; prices vary and range from $8/night to $14/night.
What you need and how to prep
The Kingman BLM sprawls across two deserts: Sonoran and Mojave. Water is a must, as well as sunscreen. Matthew Driscoll, Outdoor Recreation Planner for the BLM Kingman Field Office, also recommends packing the following items:
Wide-brimmed hat
Closed-toe shoes
Paper (non-digital) map of the area

GPS tracker
Backup charger for your cell phone
Driscoll says it's important to let people know where you're going before you head out to Arizona's backcountry. Other important prep tips:
Check weather conditions for the area you're visiting
Map driving and hiking routes
Read rules and regulations for campsites
Pay fees and acquire any necessary permits ahead of time
Additional supplies can be purchased in nearby Kingman, less than three miles west of the Kingman Field Office.
"The most surprising thing about these public lands is the diversity. ... The diversity in topography within our land lends to the diversity of experiences."

– Matthew Driscoll, outdoor recreation planner for the BLM Kingman Field Office

The BLM Kingman Field Office's backcountry showcases thick forests of Joshua trees, stands of saguaros, pinyon-juniper woodlands and more. It's home to the largest wild burro population in the country; and it offers year-round recreation thanks to its dramatic geography, from desert valleys to high-elevation mountains.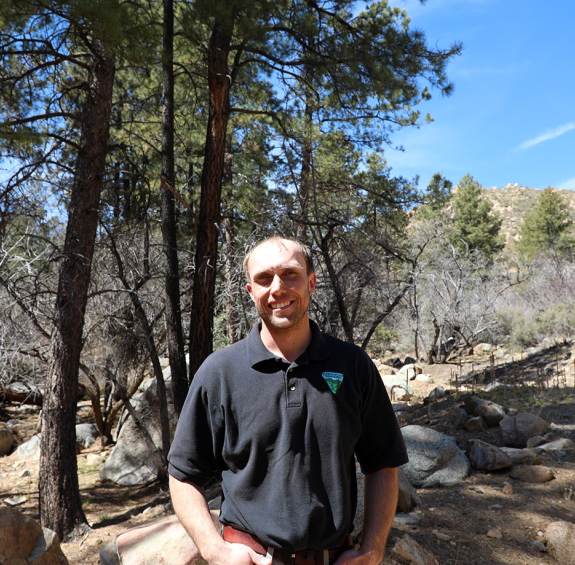 Where to camp
On BLM lands, you can choose either dispersed or developed camping.

Dispersed camping is camping in a previously disturbed site (meaning, people have camped here before and the site is already impacted) that sits off an existing road or trail and outside of a developed campground. In these areas you're allowed to camp for up to 14 days, then you must move at least 25 miles to a new site if you'd like to set up camp again.

A developed campground typically has restrooms and trash removal. Some will have water access. You can stay up to 14 days at any of these four developed sites in the Kingman BLM area:
The Burro Creek Campground off Hwy. 93 is known for being family- and sedan-friendly. There is large-RV access, and this campground has water and access to toilets. You must make reservations for group sites and a small number of individual sites; 10 individual sites are always available on a first-come, first-served basis. The rate is $14/night for an individual site and $50/night for a group site.
Packsaddle Campground sits at a 6,000-foot elevation, close to the former mining town of Chloride. Here, visitors can enjoy the shade among the pinyon pine, or hike the Cherum Peak Trail. High-clearance vehicles are recommended for this area; vehicles with trailers are not recommended. Campsites have vault toilets, picnic areas and trash collection. No fees are required.
Wild Cow Springs Campground nestles among large Ponderosa pines near the Hualapai Mountains. Summertime is popular for visiting since the temperature hovers 15-20 degrees cooler than the desert floor. Most camping and picnic areas have fire rings, grills, trash cans and picnic tables. Vault toilets (waterless and non-flush) are available. High-clearance vehicles are strongly recommended; vehicles with trailers are not recommended. The fee is $8/night, and sites are available on a first-come, first-served basis for dry camping (no running water or electricity available).
Memorable mountain views set the backdrop at Windy Point campground. The site features a vault toilet, and most picnic areas are equipped with a fire grill, rock masonry fire ring, trash can, picnic table and a level parking site. Fees for dry camping are $8/night. High-clearance vehicles are suggested; vehicles with trailers are not recommended.
Things to do in Kingman BLM
Activities in Kingman BLM are as diverse as the landscape itself: hiking, mountain climbing, biking, camping, off-road vehicle (OHV) driving, horseback riding and birding.

You can hike, mountain bike or participate in equestrian adventures on the Camp Beale Loop Trail in the Cerbat Foothills Recreation Area. You may spot desert tortoises, coyotes, foxes, Gambel's quail, doves and different types of raptors. In addition to this trail, you'll find 38.8 more miles of trails to entertain you. This area is only for day use; camping isn't allowed.

Picnicking, birdwatching and OHV driving can be experienced at Packsaddle and the Windy Point campgrounds situated above Chloride. Soak up the sight of the pinyon pine and junipers that surround you.
Accessibility
Two BLM campgrounds offer accessible amenities in the BLM Kingman Field Office. Burro Creek has one accessible campsite with a nearby accessible restroom. Wild Cow Springs has a paved accessible camping and picnicking site, plus an accessible vault toilet.
---
The BLM Kingman Field Office is a unique landscape with ecologically diverse topography that is worth preserving. Adhere to the Appreciate AZ principles as much as possible so future visitors may continue to enjoy this backcountry treasure.