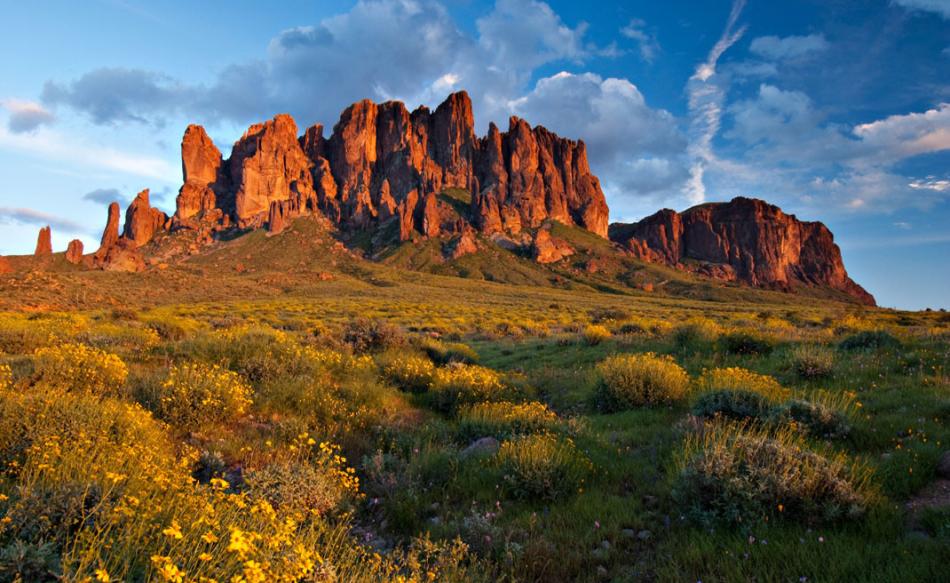 Outdoor Adventure
Arizona State Parks for Every Interest
Arizona's 34 state parks have something for everyone—from contemplative nature walks to stargazing to camping. Here's our abbreviated look at some of the more niche offerings to add to your bucket list.
All photos by An Pham unless otherwise stated.
Best Arizona State Parks for Hiking
Sedona's picturesque wonderland of red boulders is on display at Red Rock State Park, a 286-acre nature preserve. Hikers can pick from several trails—Eagle's Nest Loop, Coyote Ridge, a guided nature walk, full-moon hike and more—many of which lead to Oak Creek and the iconic Cathedral Rock. (Note: Trails often get overcrowded on the weekend, so aim to hike on a weekday for a better experience and even better views.)

Located in the Superstition Mountains on the eastern edge of metro Phoenix, Lost Dutchman State Park offers hikers plenty of trails to explore, not to mention an opportunity to seek the gold supposedly hidden in the 1870s by German native Jacob Waltz, aka "the Dutchman." You might not find gold, but on the Native Trail, you'll spot cholla, prickly pear and ocotillo cacti. Moderate trails like Treasure Loop or Prospector's View are available for semi-seasoned hikers, while advanced hikers will want to climb Siphon Draw Trail and Flatiron.
Best Arizona State Parks for Wildflowers
As you travel I-10 between Phoenix and Tucson, you can't miss the 1,500-foot distinctive rock formation of Picacho Peak State Park. The peak is obvious, but hiking the trails, especially during spring, will be nature's eye candy—a blanket of Mexican gold poppies as far as the eye can see.

For more wildflower viewing, Catalina State Park near Tucson is home to around 5,000 saguaros. Between February and April, lupine, desert chicory, penstemon and more wildflowers bloom into vibrant color. (Note: Due to fires at Catalina State Park in 2020, several trails are closed; check the website for updates.)

Check out "6 Best Spots in Arizona to Photograph Wildflowers" for more floral inspiration.
Best Arizona State Parks for Family Fun
For families who love the outdoors, Fool Hollow Lake Recreation Area is the perfect destination. With more than 120 campsites situated in a Ponderosa pine forest near Show Low, plus boating, swimming, Junior Ranger activities, a park store and a visitor center, Fool Hollow offers plenty of opportunities for family fun.

For families not too keen on "roughing it" but who would still like to enjoy nature, Dead Horse Ranch State Park in Cottonwood (30 minutes from Sedona) has cozy log cabins with heat and air-conditioning. Game night, anyone? Families can also sign up for guided horseback rides, go fishing in the lagoons or spend an afternoon at the playground, complete with a zip line.
Best Arizona State Parks for Water Sports
Water activities reign supreme at Patagonia Lake State Park in southern Arizona. A sandy beach slopes down to the shoreline, making it easy to dip in for a swim. To get on the water, rent a canoe, rowboat or pontoon from the marina. You can also put in your own boat, including motorized boats for water skiing, at the ramp. Better still, the town of Patagonia lies near one of Arizona's three wine-growing regions, Sonoita-Elgin. End your day at the lake, or take some time away, for a tasting room tour of the area's award-winning wineries.

If you want to chill waterside, bring your yoga mat to the tranquil beaches of Cattail Cove State Park or ply the calm waters of the 45-mile-long Lake Havasu with a kayak or paddleboard, available for rent at the park. This Lake Havasu City-area park is renowned locally for its sandy beaches and gets quite popular during the early summer months.
Best Arizona State Parks for Stargazing
As of 2020, there are 130 places in the world designated official "dark-sky places" by the International Dark-Sky Association. In Arizona, two state parks hold this distinction: Oracle State Park and Kartchner Caverns. This means they "possess an exceptional or distinguished quality of starry nights and a nocturnal environment that is specifically protected for its scientific, natural, educational, cultural heritage and/or public enjoyment."

Oracle State Park, located just north of Tucson, earned its designation in 2014 thanks to star-studded skies so free of light pollution that you can see the Milky Way. Stargazers should head to the American Trailhead Parking Lot for celestial viewing opportunities. Since 2010, Kartchner has been hosting nighttime astronomy programs for visitors and has achieved 99% compliance with its Lightscape Management Plan, which has improved outdoor lighting codes countywide.
Best Arizona State Parks for History
Fort Verde State Historic Park showcases the original buildings used in the 1870 and 1880s by General Crook's army in the small north-central town of Camp Verde. History buffs will appreciate that this state park near Camp Verde is considered the best-preserved example of an Indian Wars period fort in Arizona.

In Tubac, in southern Arizona, the Tubac Presidio State Historic Park preserves the ruins of a Spanish Presidio site, San Ignacio de Tubac. The on-site museum houses interpretive exhibits, and nearby sits a Territorial school from 1885—the second oldest schoolhouse in Arizona.

Back up north, near Winslow, Homolovi State Park is home to more than 300 American Indian archaeological sites from the Hopi people, many sites dating to the 1200s. A paved trail to the ruins with interpretive signage makes this a particularly appealing accessible option, too.
Best Arizona State Parks for Camping
Making its second appearance on this list is Patagonia Lake State Park for its camping options—pack your tent, drive your RV, or reserve one of the furnished cabins. Campsites come with picnic tables and fire rings, some even have ramadas. Cabins boast porches from which you can spot blue heron or whitetail deer. Amp up the adventure level by booking one of the boat-in campsites.

If you want a riverfront campsite along the Colorado River, book early at Buckskin Mountain State Park in western Arizona near the California border. There are 80 spots, many of which sit at the water's edge. While away the hours with picnics, swimming, watching wildlife, playing basketball or volleyball or simply enjoying the views along this 18-mile stretch of river between Parker and Headgate dams.
Best Arizona State Parks for Fishing
Couched in the Bill Williams River Valley, 37 miles north of the town of Wenden, Alamo Lake State Park gives anglers an opportunity to catch largemouth bass, black crappie or tilapia in the 3,500-acre lake. For a lesser-known gem, Dankworth Pond State Park in Safford—about two hours east of Tucson, and three hours east from Phoenix—features a fishing dock and quiet environs for a peaceful day of tossing in a line. You'll likely snag largemouth bass or rainbow trout in the small but mighty pond.
(BONUS) Only in Arizona: Most Unique State Parks
Ten miles north of Payson Tonto Natural Bridge State Park showcases a true Arizona treasure: the world's longest and largest travertine bridge. Most natural bridges found throughout the world are created from sandstone or limestone, which makes the travertine aspect of Tonto especially unique. You can see the bridge from any of the four trails in the park.

Witness the underground beauty of Kartchner Caverns, a living cave that discoverers kept secret for years until they could ensure its preservation. The caverns are carved out of limestone and speleothems, which have been slowly growing for 50,000 years.
---
The Arizona Office of Tourism and Leave No Trace Center for Outdoor Ethics would like to ask new and experienced outdoor enthusiasts to help us protect and enjoy natural lands responsibly by remembering to plan ahead, dispose of waste properly, leave what you find, respect wildlife and be considerate of others. For more on Leave No Trace, visit Appreciate AZ.
Featured in this Story
Arizona State Parks