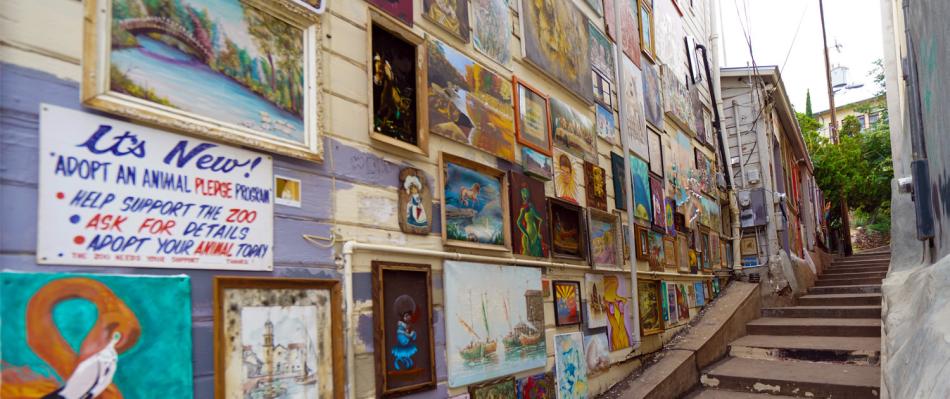 48 Hours in Bisbee
How is it that a once-raucous, 1880s mining camp morphed into—according to Sunset magazine—"the best small town to live in in the West"? Easy. Bisbee embraced its rich historic identity and built a reputation as an eclectic enclave that's the envy of small towns everywhere.
DAY 1
Get your day off to a delicious start at the Bisbee Breakfast Club, located in the Lowell district, a mile-and-a-half southeast of town, at the end of the Lavender Pit mine. Breakfast staples abound, from eggs, bacon and home fries to fluffy biscuits swimming in gravy.

If you haven't already booked your hotel, make way to the charming Letson Loft Hotel, an eight-room boutique hotel housed in the longest-standing Victorian brick building in Bisbee. It's right off of Old Bisbee's Main Street, so you'll be in the center of all the action this artsy small town has to offer.

It's time to go underground—1,500 feet underground to be exact—to see the inner workings of the historic Queen Mine. Donning a hardhat and headlamp, you'll take a tram along the dark tunnels of the mine. Book your tour in advance and make note of appropriate dress.
Unwind with Arizona wine
Who knew learning about copper mining could work up such an appetite? Enjoy fine dining at Café Roka, where chef Rod Kass uses locally sourced ingredients to create seasonal dishes. Pair your meal with an Arizona vintage from Sand-Reckoner Vineyards, Dos Cabezas WineWorks or Callaghan Vineyards.

After dinner, take a stroll to the Bisbee Grand Saloon, located inside the historic Bisbee Grand Hotel. Enjoy a nightcap (or two) while you take in the saloon's 100-year history—best reflected in the antique back bar, which dates to the 1880s.
DAY 2
Rise and shine with a light breakfast at Bisbee Coffee Company, which has occupied the small corner spot in the former Phelps Dodge building for more than 20 years. Beans are roasted daily on-site. Try the original—the Miner's Blend—while you nosh on pastries.

Work off breakfast with a little shopping. Main Street in Old Bisbee is peppered with charming stores and boutiques, including Acacia Art & Antiques for antique finds, Tumbleweed Gypsy for vintage clothing and Sam Poe Gallery for the newest piece to add to your art collection.
It's probably time for a quick bite. Fuel up at High Desert Market and Café. Enjoy European-inspired cuisine, such as hummus with feta and kalamata olives or smoked chicken with blue cheese and sliced apple on focaccia.

Continue browsing Main Street or the winding stairways around town—some filled with art, sculptures, murals and more—or head back to your hotel for a short rest to prepare for the evening.
Banshees and ghosts in Old Bisbee
Celebrate your last night in town with at Screaming Banshee Pizza, a cozy-cool pizza joint housed in a former gas station, and try the Thai Me Up, Thai Me Down, made with mango chutney, satay chicken, mozzarella, red onion, black sesame seeds, shredded carrots and crushed peanuts.

It's now time for another take on spirits as you join Old Bisbee Ghost Tour, which hosts a variety of tours that tell the haunted tales of the town's history. Go on a family-friendly walking tour through Old Bisbee's Main Street, or hunt for ghosts using EMF detectors on a paranormal experience tour. There's even a haunted pub crawl where you'll sip your way through Bisbee's spookiest bars.
Cap a fun-filled day with a cocktail at Room 4 Bar, located at the Silver King Hotel. The hotel room-turned-bar has only four seats, making it "Arizona's smallest bar." Order a drink, then enjoy live entertainment performed by local musicians.

Bonus: Before you hit the road, stop at the Jonquil Motel for a selfie at the highly photographed "Sleepwalking" mural by artist Rose Johnson.
---
If You Go