Hopi Tribe
Hopi tribal lands are sacred regions that require a bit of effort to visit. Discover how to explore this special place and leave with a deeper understanding of the Hopi culture.
Tucked within the Navajo Nation, the land of the Hopi Tribe is made up of a dozen villages across three towering mesas—named from east to west as First Mesa, Second Mesa and Third Mesa—ancient pueblo villages at the top, and more-modern communities at the base. Unlike some other indigenous communities, visiting the Hopi is possible by a guided tour only.
About the Hopi
The Hopi people trace their history within the land now known as Arizona more than 2,000 years ago, though their history as a people is far older. Tribe members identify as ancient caretakers of the earth—humble farmers who respect the land, and who have maintained their culture, languages and religion for centuries. In addition to agriculture, the Hopi people are internationally known for their artistry, and each mesa village specializes in a different discipline.
Visiting Hopi mesas
Only one village offers organized tours on Hopi lands: Walpi on the First Mesa. (Independent tour guides, certified by the tribe, can be hired to visit the other villages.) In Walpi, the first settled village on First Mesa, homes seem to jut out naturally from the top of the mesa, like a crown and the village offers expansive views from its 6,000-foot perch. The other villages here are Sichomovi and Hano, as well as Polacca at the Mesa's base.
The Hopi Cultural Center, located on Second Mesa, offers a gallery where visitors can immerse themselves in the rich history of the area and also features a restaurant and an inn. Travelers whose plans include stops at famous stops in northern Arizona, such as Antelope Canyon or Canyon de Chelly, will want to consider a stay at Moenkopi Legacy Inn & Suites near Tuba City. The hotel offers guests the convenience of booking approved guides and tours while on-site in addition to its convenient location next to some of Arizona's most stunning landscapes.
Basketry & jewelry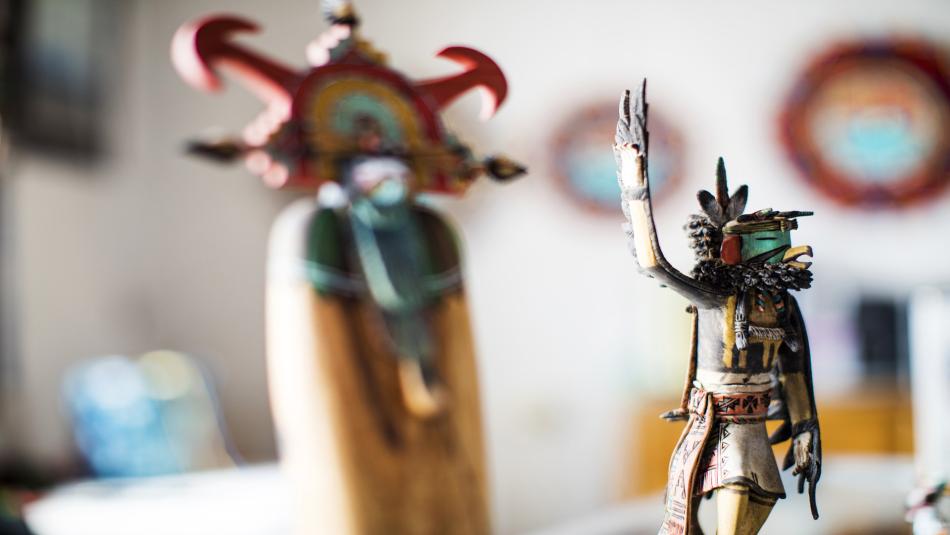 First Mesa is widely renowned for its handmade Hopi pottery, artistic paintings and Hopi carvings. The Second and Third Mesas are known for traditional Hopi clothing and textiles, wicker and coil plaques, and multicolored yucca baskets. Talented weavers, Katsina doll carvers and silversmiths can also be found at each mesa. Connect with the artisans along the Hopi Arts Trail, a collection of galleries in the villages throughout Hopi tribal lands.
Ceremonial dances
The Hopi's ceremonial dances, including the famous Snake Dance, are revered among the tribe; however, few are open to the public. The social dances (usually open to the public and often performed in a village plaza or street) are held in August and February and offer a glimpse into a cherished culture.