Fort Mojave Indian Tribe
Located along the Colorado River, the Fort Mojave Indian Tribe offers gaming, boating, fishing, and quick access to nearby Lake Havasu, Lake Mead and Laughlin in Arizona.
Located along the Colorado River, the land of the Fort Mojave Indian Tribe covers nearly 42,000 acres in the tri-state area of Arizona, California, and Nevada. The Colorado River has served the tribe well for centuries and visitors will enjoy its bounty of activities as well. The land itself is a symbol of this tribe's enduring traditions and growth from tumultuous beginnings to a prosperous future.
History & Nature
Originally known as Pipa Aha Macav, or "The People By the River," the Fort Mojave people hold a close spiritual relationship with their land. They trace their origins to the Spirit Mountain, which is the highest peak in the Newberry Mountains and located in Lake Mead National Recreation Area.
Up until the late 1800s, Fort Mojave served as a military post, and then it became a boarding school that operated until 1930. Today, the fort's ruins stand as a reminder of the once-troubled relationship between the tribe and American settlers.
Things to Do
With the Colorado River at their doorstep and Lake Mead Recreation Area nearby, the area abounds with outdoor activity. Experience the famous Colorado River by boat or cast a line from the shoreline. Lake Mead Recreation Area also offers these activities, plus hiking, and both areas offer gorgeous views for a hook, line, sinker of a good time.
In Mohave Valley, get the best of Vegas gameplay at Spirit Mountain Casino with Nevada style gaming plus a bar, grill, mini-golf course, driving range, and gift shop.
The Huukan Golf Course in Fort Mohave has a mountain backdrop alongside water hazards and bunkers that not only add some challenges but also further enhance the course's lovely views. Designed by Robert L. Baldock and Bob E. Baldock, the course offers a scenic atmosphere with just enough challenges to keep the game interesting.
Where to stay
Spirit Mountain RV Park is conveniently located in Oatman, Arizona, which is just 20 minutes away from Lake Havasu City. Spend a few chips at the Spirit Mountain Casino and see the London Bridge all in the same day!

For More Information
500 Merriman St
Needles, CA 92363
(760) 629-4591
Cities
Near the juncture of Arizona, California and Nevada, Bullhead City, Arizona, captivates visitors with its natural beauty, water activities,...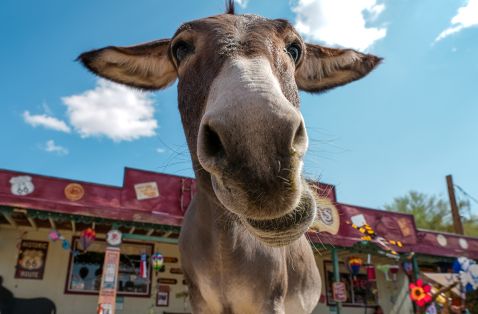 Cities
In the northwest corner of Arizona, discover a town full of rugged character…and burros.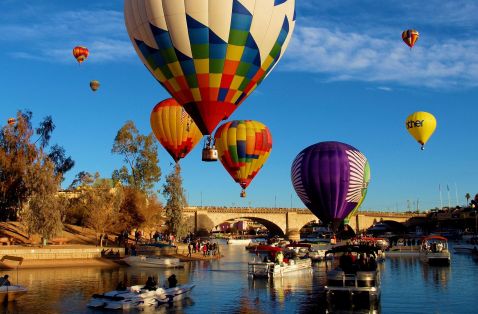 Cities
Water sports and the London Bridge - yes, the London Bridge - are the crowning jewels of this sunny city, filled with as much adventure as you...