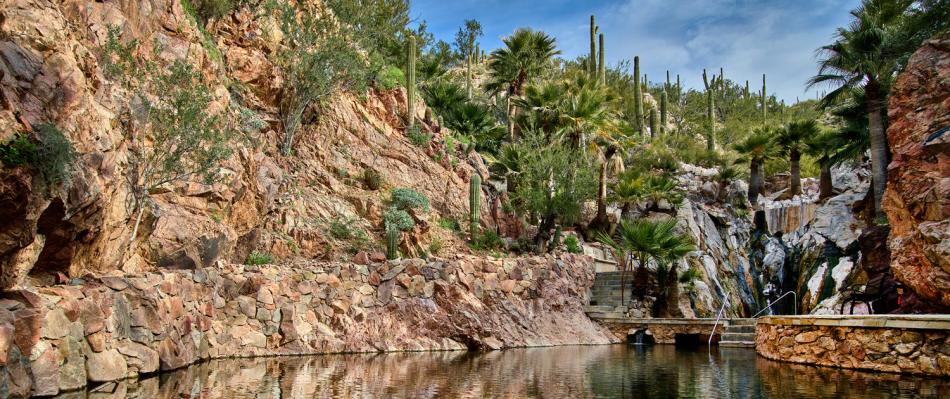 Leisure & Relaxation
7 Soothing Hot Springs in Arizona
When it comes to wellness retreats in Arizona, what could be more healing than a soothing soak in a natural hot spring?
The myriad benefits of a dip in the warm waters of a mineral pool range from stress reduction and boosted blood circulation to pain relief. Lucky for you, Arizona's wildlands boast several hot springs destinations. Here are a few where you can find rest and rejuvenation.
Arizona Hot Spring
Part of the magic of Arizona Hot Spring at Lake Mead Recreation Area is actually getting there. Visiting the spring—nestled between the narrow rock walls of a slot canyon—requires travel by boat on the Colorado River, or hiking on foot for 2.5 miles. Hikers can take one of two trails: White Rock Canyon or Hot Spring Canyon. The latter is shorter, but it's steeper. After your restorative soak, plan to sleep under the stars at the on-site campground.
If you go
From the Lake Mead Visitor Center, follow U.S. Hwy 93 east for 8 miles, then follow signs for the Arizona Hot Spring trailhead.
(702) 293-8990
$25 per vehicle for park entrance, valid for 7 days
Castle Hot Springs
Welcome to the hottest non-volcanic natural spring in the world (yes, world!). At this luxury resort tucked in the Bradshaw Mountains about an hour north of Phoenix, the pools heat up to a therapeutic 120°F / 49°C. American Indians from the Apache and Yavapai tribes first reaped the benefits long before the resort was built. Since then, celebrities, historical figures and others have trekked to this secluded spot to seek the spring's healing power.
If you go
5050 E. Castle Hot Springs Rd., Morristown
(877) 600-1137
Room reservation required; rates vary
Note: Access to the spring is for resort guests only; children under the age of 16 are not allowed.
See also: Arizona Unplugged: 5 Digital-Detox Destinations
El Dorado Hot Springs
Guests to El Dorado Hot Springs, an hour west of Phoenix, will enjoy a rustic experience—think dirt paths, overgrown vegetation and a simple, wood-framed structure built over the underground hot spring. The soak zones range in size and style, from tiny clawfoot bathtubs to roomy stone pools. Choose from public or private areas (for clothing-optional guests), and book your soak by the hour or stay overnight at the campground. (Note: The springs operate seasonally, from October 1 - June 1, and only by appointment during the summer. Call ahead to confirm hours.)
If you go
41225 Indian School Rd., Tonopah
(623) 386-5412
$15 per person per hour

Essence of Tranquility
Spend a relaxing afternoon in one of Essence of Tranquility's outdoor soaking tubs, or make it a full weekend with an overnight stay at one of the casitas or on-site camping spots with communal kitchen and patio. The facility offers five private pools and one communal pool, with temperatures ranging from 98-105°F / 37-40°C, and guests can book massages and other treatments by calling ahead.
If you go
6074 S. Lebanon Loop Rd., Safford
(928) 428-9312
$8 per person for 1 hour, $15 per person for 3 hours
Note: Smaller children are welcome but must be kept under close supervision.
Hot Well Dunes Hot Springs
Perhaps better known as an ATV recreation getaway than a wellness retreat, the 2,000-acre Hot Well Dunes does offer two hot-springs tubs for soaking. The tubs, which reach about 106°F / 41°C, utilize solar power to pump water into the pools from an underground hot spring. Keep in mind there might be others in the area riding the dunes and/or camping.
If you go
From Safford, drive 7 miles east on U.S. Hwy 70, then take Haekel Road south for 25 miles.
(928) 348-4400
$3 per vehicle per day
Note: Before you head out to the site, check the weather for rain; the road to Hot Well Dunes is prone to flooding.
Kaiser Hot Springs
This hidden hot spring features a shallow, rock-bottomed pool in Kaiser Spring Canyon near Burro Creek. Water temperatures reach a cozy 100°F / 38°C and canyon walls give way to a sandy wash. Be sure to bring food and water—no on-site amenities are available—as well as sturdy, closed-toed shoes for the three-mile round-trip hike to the spring.
If you go
(Latitude: 34.600033, Longitude: -113.46285) From Wickenburg, take U.S. Hwy 93 north, and continue 5 miles past the Burro Creek bridge. Follow the sign for Kaiser Spring Wash. Park on the west side of Hwy. 93, north of Burro Creek Campground.
Free
Verde River Hot Springs
The primitive environs of Verde River Hot Springs in between Camp Verde and Payson belie its origins as a once-famous wellness retreat. But its deep soaking pool—heated to 98°F / 37°C—and the cluster of smaller cliffside pools that overlook the Verde River make the destination a popular site. Especially for hot-springs purists, aka nudists. If you're not shy about a little skin, then you'll find that the tranquil natural beauty of this riverside spot makes it a worthy retreat.
If you go
8375 AZ-179, Camp Verde
Free
Note: There are no facilities at the springs, so bring plenty of water and food. It's at least a one-mile hike to the springs, and you'll have to cross the river, so dress (pre-springs) accordingly.