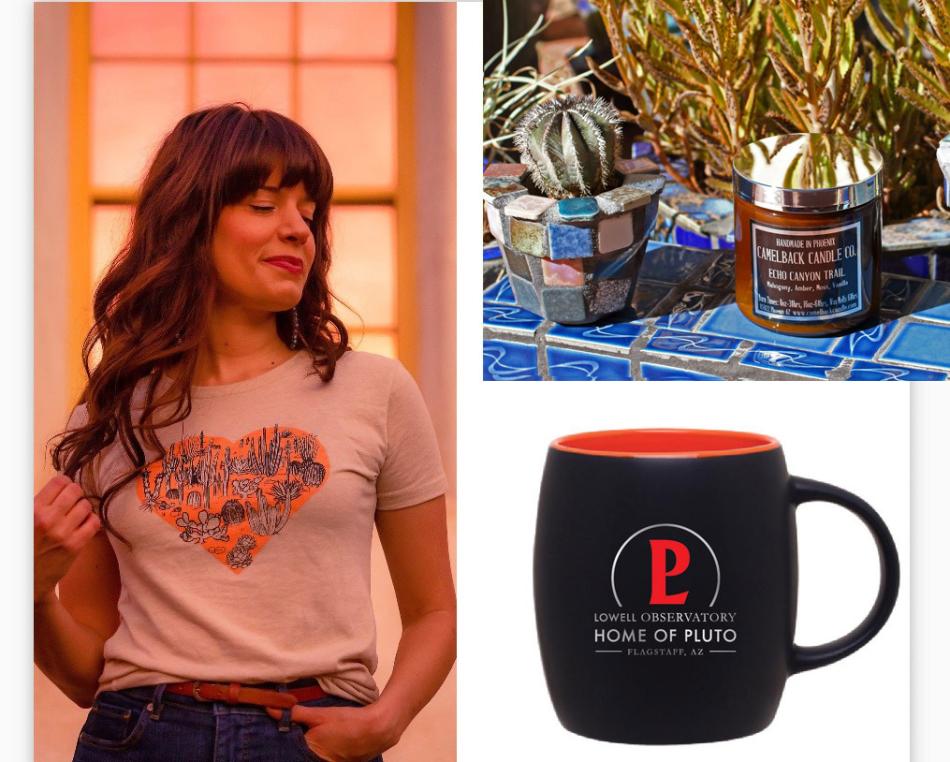 Shopping
The 10 Most 'Arizona' Gifts You Can Buy
Holidays, birthdays, or just because, these Arizona cult-fave goodies are on everyone's wish list.
If you're having wanderlust for the Grand Canyon State, or maybe feeling a little homesick for the Southwest, bring it home with these Arizona-inspired products.
Desert, Meet Rain
The most evocative fragrance for desert dwellers has to be creosote. Why? The plant's sharp, earthy scent is synonymous with rainstorms, the kind that rolls through mid-afternoon in July and wets the desert soil. Designed to hang in your shower, recreate the summer monsoons in your bathroom with a Desert Rain Creosote Bundle from Phoenix General. Each bundle is sustainably and locally harvested and ready within a week of ordering.
Cool to Be Kind
The original, ceramic bells by Tucson-based Ben's Bells are gifted only and never sold. However, you can purchase a festive Mini Bell through the organization—whose mission it is to inspire kindness—as well as ornaments that riff on Arizonan themes like birdwatching and cacti. And, really, can't we all use a little extra kindness?
Chef's Kiss
Arizona food writer Christina Barrueta invites you to level up your kitchen game with Phoenix Cooks, her Michael Mina-endorsed cookbook featuring 98 recipes from the city's most celebrated chefs and restaurants, including Barrio Café in Phoenix and Cotton & Copper in Tempe. Bonus: Order directly from Barrueta and receive an autographed copy. Make it a double: In addition to "Phoenix Cooks," pick up a copy of "Arizona Wine: A History of Perseverance and Passion," Barrueta's thorough look at the state's viticulture industry, past and present.
Burning Love
Named for some of the state's best-known hiking trails, candles by Camelback Candle Co. are produced entirely in Phoenix with scents that are intentionally unexpected. The Pine Creek Trail candle, for example, goes beyond basic pine to include citrus peel, balsam, peppermint and redwood. Check out the newest scent inspired by the creosote plant.

Looking for something big-picture? The candles from national brand Homesick express the essence of a place with enticing combinations like lime and orange flower for Phoenix, and musk, orange and lime for Arizona.
Culture Club
You can tell an Arizona insider when they're sporting a Macy's hat—Macy's European Coffeehouse & Bakery in Flagstaff, that is. Choose from three nostalgic designs. For an even truer experience, add a bag of whole beans, sourced by Macy's directly from farms across the globe. Don your hat, brew your coffee and rep the City of Seven Wonders.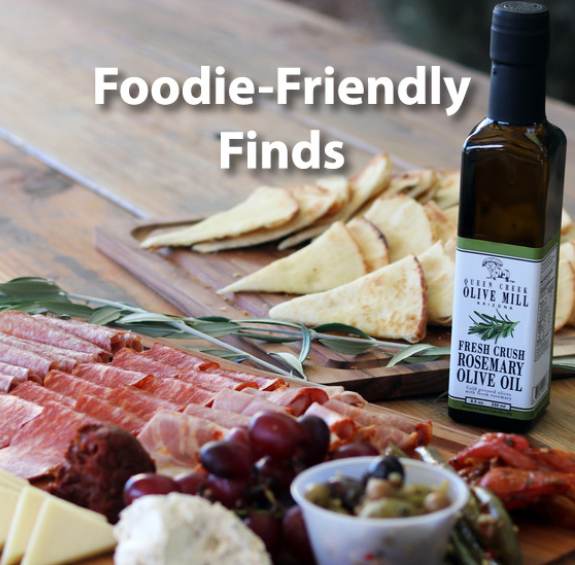 If the stomach is the way to the heart, these flavorful gifts are sure to win you some love.
Goldbelly Food Deliveries: Goldbelly partners with acclaimed chefs and restaurants to sell their food wares nationwide. Give a taste of the Southwest with a four-pack of pizzas from Phoenix's acclaimed Pizzeria Bianco or a sampler of tamales from Tucson Tamale.
Queen Creek Olive Mill: Can't decide which oil or vinegar to gift from this olive mill southeast of Phoenix? Then try the Flavors of Arizona Trio, which includes the Three Chile Olive Oil, Meyer Lemon Olive Oil and Prickly Pear Balsamic Reduction.
Cutino Sauce Co.: Phoenix-based Cutino is the last word in artisanal hot sauces. Send some of Arizona's legendary heat with a bottle of habanero sauce.
Native Seeds/SEARCH: This nonprofit seed-conservation organization preserves indigenous crops and plants of the Southwest. Pick up a bottle of Prickly Pear & Pomegranate Shrub Syrup and support its mission with every sweet bite.
Home Is Where the Heart Is
Why I Love Where I Live began with an Instagram account: Tucson transplant Kristin Tovar started photographing spots around town until she fell in love with the place and opened a store. Give little ones a head start on appreciating Tucson with a Barrel of Fun onesie that sports—what else?—a barrel cactus. And, yes, there's plenty for adults, too, from apparel to accessories and decor—all celebrating Tucson and Arizona.
Power of the Pen
Known for his lyric storytelling and magical realism, Alberto Ríos was Arizona's first state poet laureate. Pick up the National Book Award finalist, "The Smallest Muscle in the Human Body," a collection of his poetic works, for a reader in your life. Bonus points for ordering it through one of Arizona's independent bookstores.

Out of this World
Pluto may have been demoted to a dwarf planet, but it still holds a special place in Arizonans' hearts. (It was discovered by scientists at Lowell Observatory in Flagstaff.) Show your support for the underdog with a "When I Was Your Age, Pluto Was a Planet" t-shirt or a "Home of Pluto" travel mug from the observatory's gift shop. These items frequently sell out, so it's best to grab them while you can.
On the Road Again
Revered for its world-class photography, Arizona Highways boasts nearly 200,000 monthly readers. Spread the love further with a gift subscription, calendar or book. Or shop their online store full of Arizona-made and inspired products and relive your Grand Canyon State road trip dreams.
Southwest Souvenirs
Located just half an hour away from the Grand Canyon, Cameron Trading Post has showcased fine American Indian art and jewelry for more than a century. Its collections include Navajo silver, Zuni inlay jewelry, sand paintings and pottery.
The Finer Things
Arizona's three prominent wine-growing regions, driven by multiple award-winning vineyards, wineries and winemakers, offer a wide variety of wines unique to the Grand Canyon State. From vineyards and tasting rooms across the state to local shops and Arizona wine clubs, there are several ways to enjoy Arizona vino. Local photographer and designer Jenelle Bonifield created a beautiful coffee table book called The Arizona Wine Guide, which makes for a great gift!
Become a Shop-Local Champion
Shopping local makes a difference. For every $100 spent locally, $43 remains in Arizona. It's easy to be a local shopping champion by using Local First Arizona's shopping site, which connects visitors with unique gifts from more than 300 Arizona sellers.
Leisure & Relaxation
Forget drone deliveries and big-box greeters. Phoenix is bristling with indie boutiques that sell everything from locally made cocktail mixers...
Arts & Entertainment
With a twice-yearly artisan market attended by thousands and a storied street known for its quirky local boutiques, Tucson is a haven for...