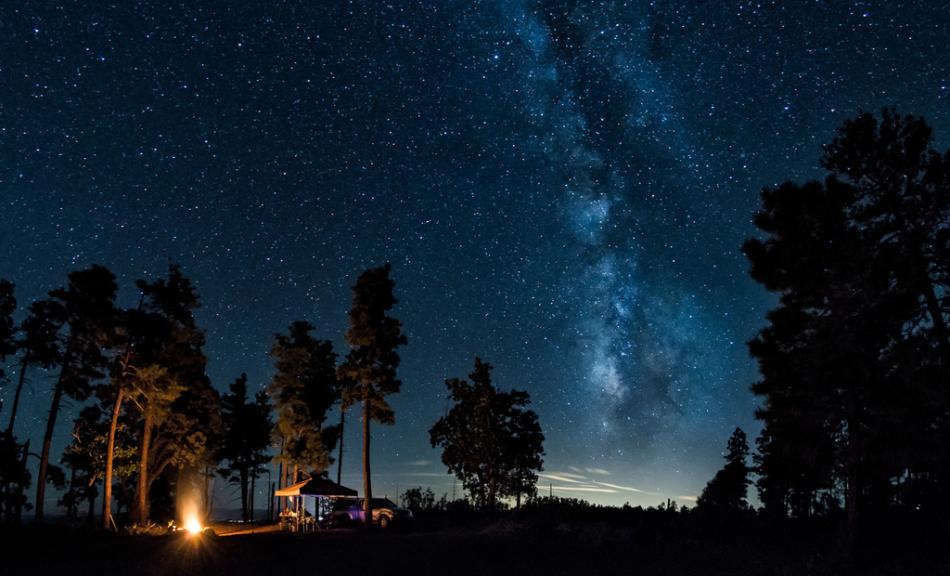 Stay & Stargaze
View astonishing starry skies at these unique accommodations throughout the state that offer stellar stargazing opportunities.
You don't have to be a professional astronomer to appreciate Arizona's amazing night skies, but a telescope, celestial map and experienced guide can certainly help. These resorts, hotels and other accommodations throughout the state offer stellar stargazing amenities like these and more.
As an added bonus, many of the following hotels and resorts have some pretty amazing daytime views, as well.
Marvel at the Grand Canyon's night skies
As an officially designated International Dark Sky Park, Grand Canyon National Park's night sky rivals the views during the day. Lodging on the park's South and West rims will provide everything you need to appreciate the stars above while relaxing closer to earth.
Hualapai Lodge
Launched in November 2019, "Grand Canyon Stargazing and S'Mores" is the latest tour offered by Grand Canyon West. Book an evening at the Hualapai Lodge in Peach Springs, near the historic Route 66, where you can purchase tickets from the concierge or front-desk staff. You'll depart with your group to Diamond Creek to observe the night sky with your personal star finder—highlighting the visible constellations and astronomical objects—and later warm yourself near a fire as you make s'mores. (Tour offered year-round.)
Grand Canyon National Park Lodges
Time an overnight stay at one of six hotels within the park operated by Grand Canyon National Park Lodges with one of the National Park Service's frequent astronomy talks (check the park's calendar for dates), or attend the annual Grand Canyon Star Party. Held each June, the weeklong event features free nightly astronomy talks, constellation tours and telescope viewing. Lodging includes the elegant and historic El Tovar Hotel, the cozy cabins of Bright Angel Lodge, and the more contemporary Kachina and Thunderbird lodges
Under Canvas
Sleep under the stars in your own safari-style luxury tent just 25 minutes from the park's South Rim. Glamping operator Under Canvas' "Stargazer" tent has a viewing window directly above its king-sized bed allowing perfect views of the stars as you drift to sleep (wishing optional). Bookings available April thru November.
Yavapai Lodge
Also located within Grand Canyon, Yavapai Lodge is a family-, bike- and pet-friendly hotel that now offers guests a "Constellations at the Canyon" package. In addition to overnight accommodations, you'll receive a flashlight and a stargazing map with a red lens filter insert to help you view the constellations and other "awe-inspiring celestial bodies." Use promo code STARGAZER to add the package to your regular stay.
Luxury lodgings to spoil yourself while stargazing
Four Seasons Resort Scottsdale at Troon North
Light from the nation's fifth-largest city makes stargazing in Phoenix-proper difficult, but you don't have to venture too far from downtown for that to change. In the foothills of North Scottsdale, resort guests can enjoy complimentary stargazing on Thursdays with a specialist and a professional telescope at Four Seasons Resort Scottsdale at Troon North.
Boulders Resort & Spa
Also in north Scottsdale, Boulders Resort & Spa offers several stargazing options. You can view planets, stars and the moon's surface with the help of the resort's professional astronomer or pick out celestial points of interest on your own using the constellation app installed on each guest room's iPad. The resort also offers starlit dinners and moonlight bicycling.
Westward Look Wyndham Grand Resort & Spa
At Westward Look—a renovated, 80-acre ranch at the base of the Santa Catalina Mountains and the oldest resort in Tucson—you can peer into deep space using the Celestron 2000 telescope near the main pool. Staff can help get you started from dusk until midnight every night. Separate Stargazer Spa Suites feature a private patio with an outdoor hot tub for viewing the night sky in serene comfort.
Accommodations for wannabe astronomers
Kitt Peak National Observatory
One of the premier stargazing regions in the country, southern Arizona boasts several observatories, including Kitt Peak National Observatory southwest of Tucson. You can tour Kitt Peak during the day or participate in an evening viewing program. But to really appreciate the facility, book an overnight stay, which allows you to stargaze until dawn. When you get tired (or when the sun comes up), you can bunk with researchers in the observatory's dorms.
More Time
Under the Stars