Motor Lodge Revivals
Historic roadside motels are making a comeback. Visit these updated beauties to add retro vibes to an Arizona road trip.
Arizona's open roads inspire visitors to get behind the wheel and enjoy the journey. And with a road trip comes the once-ubiquitous, always-charming roadside motel. See how these historic properties have been transformed — some restored to their former glory, others reimagined into hotels suited for modern travelers.
The Aloha
In Chandler, The Aloha morphed a 1950s mom-and-pop motor court on Highway 87 into a stylish desert oasis. The historic rambler holds onto its vintage charms with low-slung rooms that wrap around a plunge pool surrounded by tall palms. The original neon sign and tiki totems in the courtyard give a nod to midcentury kitsch, while coral-colored doors and sleek furnishings create today's island-chic vibe. Some rooms have kitchenettes, another motor lodge throwback. But today's travelers may prefer to hit the eateries and breweries in downtown Chandler, all within walking distance of this little time capsule.
The Downtown Clifton
Built in 1948, The Clifton is less a revival and more a decades-long passion project. The historic gem on Tucson's Stone Avenue features bunkhouse rooms that have been preserved with original design treatments such as pink and green bathroom tiles, hefty porcelain sinks, wood-plank ceilings and era-appropriate furnishings. In recent years, an expansion added more rooms and public areas like the Red Light Lounge, a hip bar and eatery beloved by hotel guests and locals alike. Within walking distance of downtown Tucson, The Clifton makes the perfect crash pad after a night on the town.
The Egyptian Motor Hotel

The original neon marquee that today promises "Rooms Booze Shows Food" marks the spot of this motor court in downtown Phoenix. In service since the 1950s, The Egyptian has updated its double-decker motel with colorful decor and added a vintage Airstream trailer for kicks. All rooms open onto a courtyard and outdoor bar area, creating the perfect mingling space. During the day, guests splash in the pool, play giant Jenga and enjoy elevated Mexican street food at the on-site restaurant, Chilte. The late-night vibe becomes more block party than roadside retreat with a courtyard stage that hosts live bands and comedy.
High Country Motor Lodge

The popularity of road trips to the Grand Canyon added many brand-name hotels to Route 66 over the years. One of them, an original Howard Johnson's in Flagstaff, has now been updated as a boutique hotel. High Country Motor Lodge preserves a hallmark of classic roadside motels: communal areas that offer comfort after a long journey. Inside, The General Store restaurant and lounge opens early and stays up late. Grab some oats on the way to a trailhead, order a hearty sandwich after strolling around Flagstaff or soak up the city's dark skies in the evening on the deck overlooking a huge lawn. Plus, the Nordic spa features a sauna and plunge pool for a full-body reboot.
Hotel McCoy
A hotel makeover on Interstate 10 in Tucson, Hotel McCoy has become as much a roadside attraction as it is a roadside hotel. In addition to offering overnight accommodations, this 1960s blast from the past also thrives as an art and entertainment space. Its revival preserved the bold A-frame entry and updated everything else for modern visitors. Murals have been added throughout the property, there is an art gallery on site and each guest room features local art. Tucson's creative side is also on display in the craft food and drink on Hotel McCoy's menu and the lineup of local performers who play in the courtyard.
The Motor Lodge

One of the innate charms—and practicalities—of motor lodges is that travelers can park their cars directly outside their rooms. The Motor Lodge on Highway 89 in Prescott appreciates this touch and left the original carports intact during the remodel of these 1930s-era cabins. Design panache is evident in the color scheme and the curated decor throughout, creating a mid-mod mashup that is undeniably homey. For food and drinks, guests can venture to Prescott's Whiskey Row just three blocks away, or stay close by with a hang at The Edison, slated to open in 2023. This sister project is turning a former convenience store next to The Motor Lodge into an upscale market with a coffee shop, restaurant and local goods.
The Postcard Motel
A drive along Arizona's stretch of Route 66 passes many places captured in time. In Seligman, The Postcard Motel is one such spot—a revived Mother Road motel. Originally called The Nomad when it was built in 1962, the former no-frills motor court has been elevated into a sleek, retro-modern throwback. The footprint remains intact, along with some of the cool mid-century furniture and design elements, but everything else has transformed Southwest kitsch into desert chic. Visit The Postcard's neighbors for a proper Route 66 diner experience; Westside Lilo's and Delgadillo's Snow Cap keep historic Route 66 alive.
The Tuxon

This former chain hotel along I-10 in Tucson embarked on a high-end rehab to create a modern experience. The result is an industrial-chic property with many features of classic roadside hotels. Three two-story buildings connected by catwalks surround the pool and public area at The Tuxon. The reception area, bar and lounge are separated from the pool by huge walls of glass—everything is in clear sight, no chance of FOMO. Hungry? Pop by The Pool Bar, where the menu of sandwiches and sharables are chef-driven and inspired by ingredients grown close by. Drivers of electric vehicles will be pleased to know that The Tuxon offers on-site charging stations, too.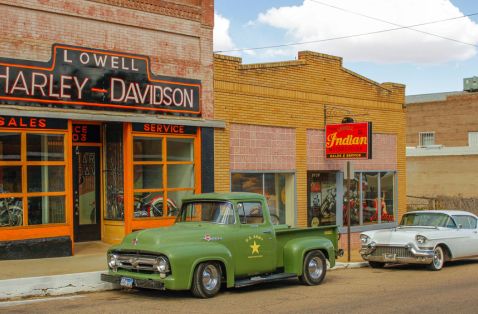 Heritage & Culture
Arizona has some cool vintage sights to explore, from neon signs and roadside motels to diners and other iconic landmarks.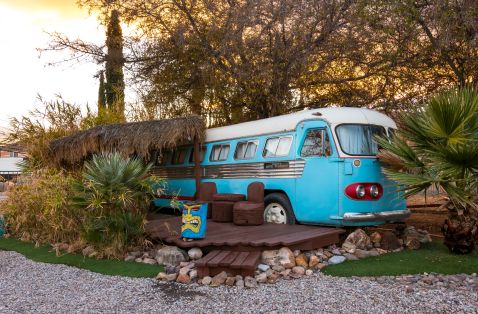 Places to Stay
From underground caverns to railroad cabooses, lodging options in Arizona surprise even the most seasoned traveler.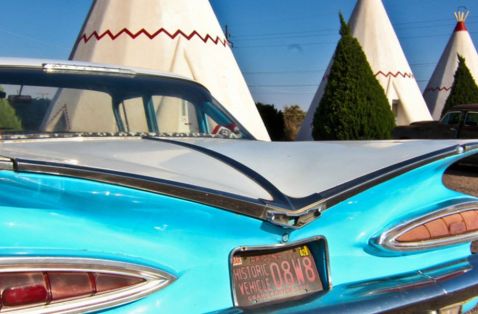 Road Trips
Find all kinds of roadside sights—odd, unexpected and one-of-a-kind— across Arizona.