Meet Chef Richard Hinojosa
A native of Texas, Hinojosa left San Antonio in 1995 to attend the Scottsdale Culinary Institute. He went on to do an internship in Southern California, then returned to Arizona to work at The Phoenician. In 2005 he moved to Hawaii, then Colorado and ultimately came back to Arizona.
Ever since Hinojosa was a child he has loved food and at a young age had an adventurous palate. At 18 years-old he got his first job in a restaurant and knew the culinary world was his calling. He honed his craft in fine dining establishments at luxury resorts including Loews Coronado Bay Resort, The Phoenician, The Westin Maui Resort and Spa, Hotel Jerome and the The Wigwam.
Hinojosa partnered with his longtime friend, Jason Morris and opened Crujiente Tacos in 2016. Located in Phoenix's Arcadia neighborhood, Crujiente has become a local favorite, an upscale taqueria with a hip vibe. The menu features a unique take on street-style tacos, the namesake "crujiente" or crunchy tacos and innovative cocktails. "I didn't want a taqueria that featured the food of just one region so I came up with all these ideas," Hinojosa said.
His creativity and use of high-quality ingredients and bold flavors have garnered rave reviews and numerous awards, including Grand Champions at The Arizona Taco Festival, "Best Margarita" in Phoenix Magazine's "Best of the Valley," and Phoenix New Times' "Best Restaurant to Take a Scenester."
"Chefs are craftsman, artists, and food is our creative outlet that we get to share with people every night." - Executive chef, Richard Hinojosa
The CRUjiente Tacos Way
Tucked into an unassuming strip mall on the southwest corner of 40th Street and Camelback Road, CRU is serving up a selection of Latin-inspired appetizers, shaking up unique margaritas, and catapulting tacos to higher levels.
The vibe of CRUjiente is relaxed and casual. Set in a long, narrow space with exposed brick and a bar along one side, the restaurant is industrial yet cozy. Patrons are met with exuberant greetings from friendly staff and shown to their seats – either high-top tables in the front or comfy booths in the back. The servers are knowledgeable and eager to make suggestions.


Hinojosa keeps to the traditional but amps up the flavor by using his creative genius and high-quality ingredients. The result is an amazing and innovative menu of inspired dishes with a unique flare.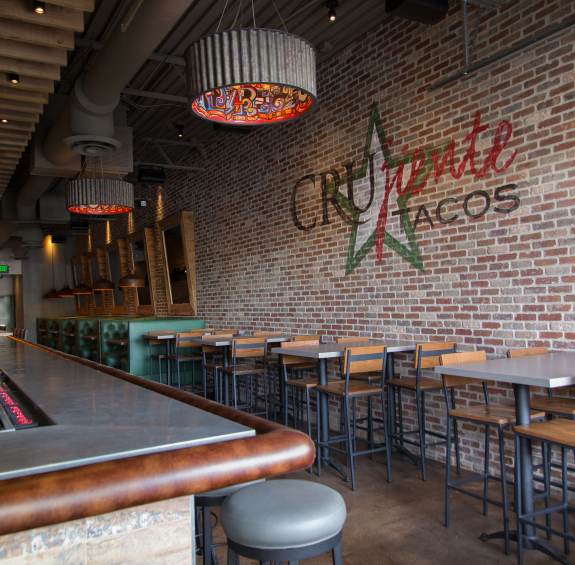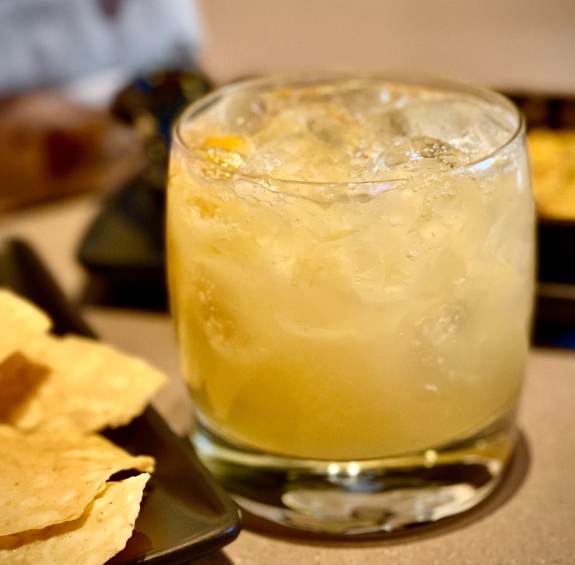 A "CRU'nch" above
The Tacos Crujientes, meaning "crispy" or "crunchy" in Spanish, are the restaurant's namesake, so they are bound to be good, but they are great! The crujientes tacos are stuffed to the brim with beef, pork, or potato, pepper jack cheese, cabbage, pico de gallo, and house hot sauce.

The real show-stoppers of the menu are obviously the tacos. It's important to note, these aren't just ordinary tacos. They are unique and thoughtfully made with high-quality ingredients and unparalleled innovation.

Wash all that deliciousness down with one of CRUjientes excellent cocktails. The bartenders are shaking up some tasty libations such as the CRU Paloma, Michelada and a slew of margaritas. The Cinnamon Margarita is not to be missed. Made with reposado tequila, fresh cinnamon, house agave and freshly squeezed lime, it is sweet, tart and deliciously spiced with the warmth of the cinnamon. CRUjiente also boasts an impressive wine list, and beers available on tap, cans and bottles.

The restaurant offers happy hour weekdays from 3-6 p.m. featuring food and drink specials. There are also daily specials and seasonal items so call ahead or check the website before visiting.
CRUjiente Tacos is a neighborhood hub and a dining destination that locals and visitors are sure to enjoy. It offers a welcoming atmosphere, friendly service and excellent food and cocktails. It's the perfect place for after-work drinks, date night dinner or a casual gathering with friends and family.
Visit www.crutacos.com for hours and menu details. CRUjiente Tacos is located at 3961 East Camelback Road, Phoenix, AZ 85018.