It's the Weekend. Let's Eat. Tucson.
We're all about giving you reasons to travel for a good meal. "It's the Weekend, Let's Eat." features itineraries for where to dine and what to order in cities throughout Arizona. This edition takes us to Tucson.
In 2005, the United Nations Educational, Scientific and Cultural Organization (UNESCO) named Popayan, Colombia, a City of Gastronomy as part of UNESCO's Creative Cities Network. Since then, 116 cities have become part of the network. Six are located in the United States, and only one is a City of Gastronomy: Tucson, in southern Arizona. What does that mean? In short, Tucson brings a good food game.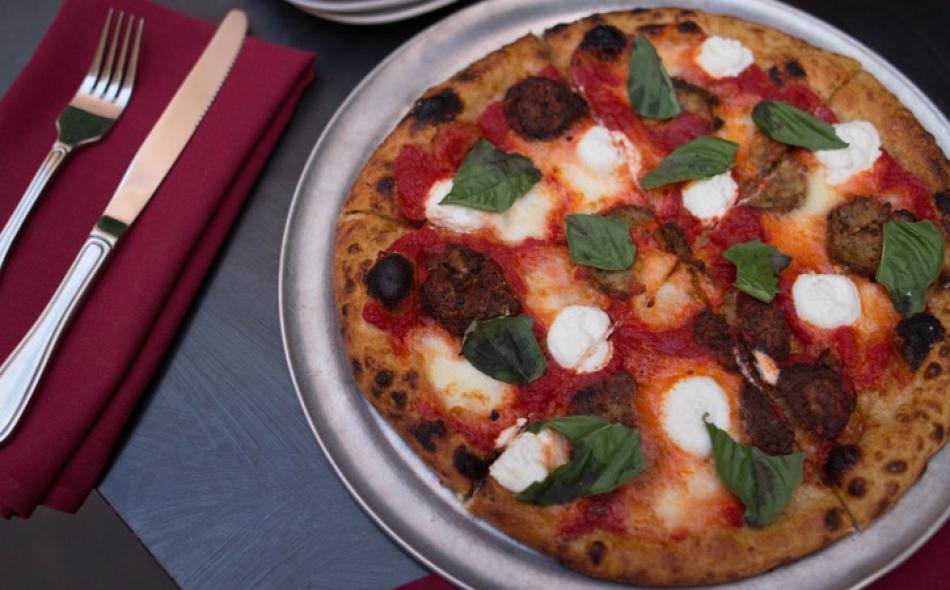 Friday: Dinner
Reilly Craft Pizza & Drink is a former funeral home that's part restaurant, part beer garden and part underground speakeasy. For dinner, start off with one of the most popular items on the menu—Brussels sprouts. They're crunchy and spicy, even sweet, thanks to the hot sauce with pecan brittle crumbs. The star of the show, however, is the meatball and ricotta pizza. You could eat the San Marzano tomato sauce with a spoon, it's so good; the globs of creamy ricotta melt in your mouth; and the garlicky meatballs adorn a golden crust.
Saturday: Breakfast
Creativity at Baja Cafe is as abundant as the appearance of the word "bacon" on the menu. The lineup changes about every two months, but the Coyote Eggs Benedict dish is a mainstay. Slice into a toasted English muffin topped with hatch green chiles, crispy jalapeño bacon and perfectly poached eggs, all smothered (in a good way) in a chipotle Hollandaise sauce. It's a little spicy, a little messy, and completely indulgent—the ideal meal after a hike or bike ride. On Instagram? Good. Browse Baja Cafe's account (@bajacafetucson) for weekly Benedict and pancake specials.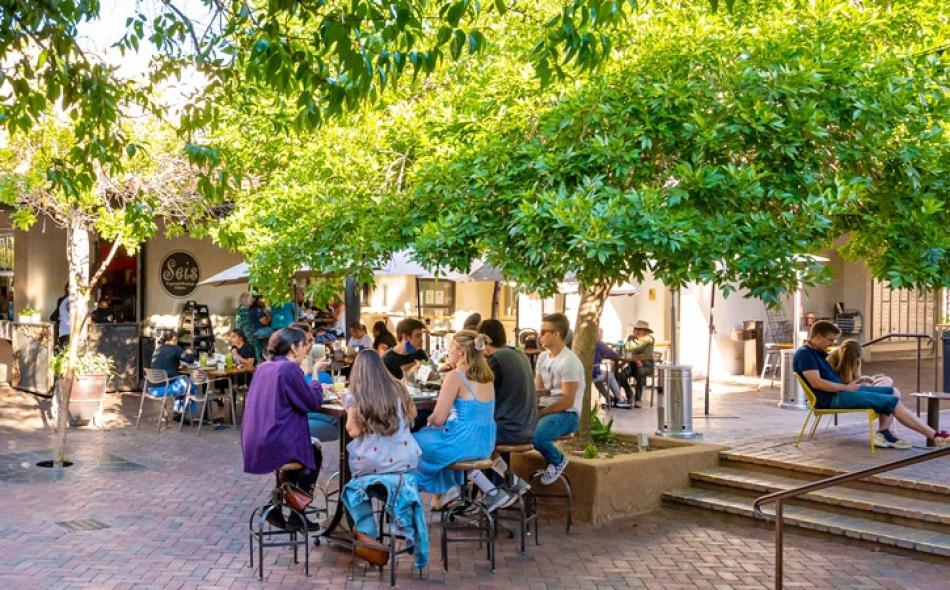 Saturday: Lunch
Seis Kitchen, with two locations in Tucson (and another slightly north in Oro Valley), features a menu that includes flavors from six Mexican regions. This means spice levels can range from mild to outstanding. Right in the middle of the spicy spectrum, you'll find the Chicken Tinga taco—shredded chicken in a smoky chipotle sauce served on an authentic corn tortilla with crema and avocado. Pair it with a Calabacita taco made with zucchini and squash—a tasty example of Tucson's UNESCO City of Gastronomy designation. Squash is a heritage ingredient of the region, grown locally for thousands of years. To transform it into calabacitas, it's simmered in a spicy tomato sauce with onion.
Saturday: Dinner
Let's say you hopped off the streetcar at Pueblo Vida Brewing Company on your way to Fourth Avenue from the Mercado San Agustin. And maybe you had an IPA (or three). What next? Well, continue up Fourth Avenue to BOCA Tacos y Tequila, where acclaimed chef Maria Mazon crafts some of the most imaginative tacos around, nearly 20 options in all. There's one with shredded pork slow-cooked in fresh tomatillo sauce, another stuffed with steak and Anaheim chiles, and one featuring a hash brown topped with a fried egg and draped in basil cilantro jalapeño crema. Chef Maria whips up her own salsas, too. Buy a few bottles to take home.
See how Chef Maria makes magic in the kitchen, and discover her favorite places to eat in Tucson in our video series "This is the Place I Was Telling You About".
Sunday: Brunch
The Cup Café in Hotel Congress is arguably the most popular spot for brunch in the city. If you had a dollar for every time someone recommended the cast-iron baked eggs (baked eggs with lots of gruyere, leeks and cubed ham), you'd be able to buy cast-iron baked eggs for the entire restaurant. But don't miss any of The Cup Café's other menu items, like the Silverside Hash, a filling dish of house-pickled corned beef, poached eggs and mustard Hollandaise. The Chilaquiles Verde, with crispy tortillas and tomatillo sauce, are worth the three glasses of water needed to quench their heat.
More to Eat & Drink
in Tucson