Visiting Arizona's Backcountry: Ironwood Forest National Monument
Here's your need-to-know guide to visiting Ironwood Forest National Monument in Arizona, from times of year to visit and what to pack to permits, directions and fees.
Did you know: There are roughly 640 million acres of public land for visitors to enjoy throughout the United States? These lands are managed for the benefit of present and future generations by four federal agencies, each with a unique mission:
Bureau of Land Management (BLM)
U.S. Forest Service (USFS)
U.S. Fish and Wildlife Service (USFWS)
National Park Service (NPS)
BLM lands comprise the most acreage of all public land—of the 640 million acres, 245 million are managed by the BLM. In Arizona alone, there are 12.1 million acres of BLM land—beautiful landscapes just waiting to be explored. These areas tend to be more remote and more difficult to access, with fewer amenities, but they also offer intrepid adventurers a chance to experience the wonders of nature up close and personal.
Ironwood Forest National Monument
Spanning 129,000 acres northwest of Tucson, Ironwood Forest National Monument protects one of the richest stands of ironwood trees in the Sonoran Desert and shows off impressive desert beauty similar to what you'd see in nearby Saguaro National Park.

Most visitors come for the spectacular sightseeing: mesquite and palo verde trees, creosote bushes, hundreds of saguaros, plus the namesake ironwood trees. You might even spot desert bighorn sheep navigating the slopes of the monument's mountains.
Getting here
Ironwood Forest National Monument is located about 25 miles northwest of Tucson and about 100 miles south of Phoenix. From Tucson, travel I-10 West to Marana. Take Exit 236, turn left on Sandario Road, then turn right on Marana Road. Drive Marana Road for about 6 miles to Silverbell Road. Continue on Silver Bell to reach the monument.

BLM Tucson Field Office
3201 E. Universal Way, Tucson
Hours: 8 a.m.-4:30 p.m., Mon.-Fri.
(520) 258-7200
When to go
The best time to visit Ironwood Forest National Monument is November – March when the weather is cooler, says Francisco Mendoza, BLM outdoor recreation planner. Summer temperatures easily top 110 degrees Fahrenheit, something to keep in mind if you're planning a visit between May and September. If you love wildflowers, consider a trip to the monument in March or April to witness the spring blooms; the ironwood trees blossom in late May to early June.
What it costs
There are no fees nor required permits to visit Ironwood Forest National Monument.
What you need and how to prep
First and foremost: Bring plenty of drinking water to Ironwood Forest National Monument, ideally two gallons of water per person, per day. Also, there is limited cell reception in this area, so be sure to share your plans—where you're going, what time you're leaving, and when you plan to return—with friends and family.

You'll find the nearest stores, gas stations and first-aid services in Marana and Tucson. Stock up on food and supplies and fuel up your vehicle before heading to the monument. A suggested packing list includes:
Food
Drinking water
First aid kit
Sunscreen
Wide-brimmed hat
Sturdy, closed-toe shoes
Garbage bags to pack out what you pack in; there are no trash cans on-site
Paper (non-digital) map of the area
GPS tracker
Backup charger for your cell phone
Officials recommend a high-clearance or four-wheel-drive vehicle, though it's not necessary.
Note: The area is a known travel corridor for illegal immigration. The BLM Tucson Field Office offers further notes on staying safe and aware.
Things to do
In addition to sightseeing, the monument offers several recreational opportunities, such as birdwatching, mountain biking and hiking.

For a scenery-rife hike, try the 1-mile roundtrip Waterman Peak Trail. The peak sits at the highest point of the Waterman Mountains and the summit offers wide-reaching views. Along the way, you'll see teddy bear cholla cacti, hedgehog cacti and saguaros. Even though it's a short trek, be sure to bring water, pack maps and navigational aids such as a compass or GPS tracker, apply sunscreen and wear closed-toe shoes.

Another popular way to see Ironwood Forest is on horseback. If you don't have a horse of your own, you can book a trail ride with Cocoraque Ranch. This working cattle ranch also organizes cattle drives in the monument.

Ironwood Forest also has a rich history dating back more than 5,000 years, and one worth exploring. Although many of these historic sites are remote and unmarked, the area contains historic ranches, ancient rock art and remnants of mining operations. Not only are there more than 200 prehistoric Hohokam sites, but three areas within the monument—Los Robles Archeological District, the Mission of Santa Ana del Chiquiburitac, and Cocoraque Butte Archaeological District—are listed on the National Register of Historic Places.
Where to camp
On BLM lands, you can choose either dispersed or developed camping.

Dispersed camping is camping in a previously disturbed site (meaning, people have camped here before and the site is already impacted) that sits off an existing road or trail and outside of a developed campground. In these areas you're allowed to camp up to 14 days, then you must move at least 25 miles to a new site if you'd like to set up camp again. A developed campground typically has restrooms and trash removal. Some will have water access.

At Ironwood Forest National Monument, you're welcome to enjoy dispersed camping throughout the BLM land as there are no developed campgrounds and no amenities. Make sure you pack in everything you need for your stay and pack everything back out, including your trash.
What to expect
While mining began with the arrival of the Spanish, it continued into the 1930s. Mining communities like Pelton, Sasco and Silver Bell once flourished in the area, and a railroad passed through. Today, you can find the Sasco's remaining rock walls off East Sasco Road, and a dozen graves in what remains of Silver Bell Cemetery.

Paved Avra Valley Road can get you almost the entire way to the Titan Missile Site, too. Not to be confused with the Titan Missile Museum south of Tucson, this site overlooks the concrete pads covering where the missiles were once housed. Interpretive signs provide information and historical context.

From time to time, the Friends of Ironwood Forest organizes volunteer workdays and educational programs. Many of these include trips to locations you otherwise would not find on your own, such as petroglyph sites.
Accessibility
There are no developed facilities at Ironwood Forest National Monument, nor ADA-accessible amenities.
---
Ironwood Forest National Monument is a protected land where visitors can see the unique flora and fauna of the Sonoran Desert and explore ancient historic sites. Adhere to the Appreciate AZ principles as much as you can so future visitors may continue to enjoy this backcountry treasure.
Saguaro National Park in Tucson features giant saguaros in their native environment, plus access to wildlife viewing, hiking and scenic drives.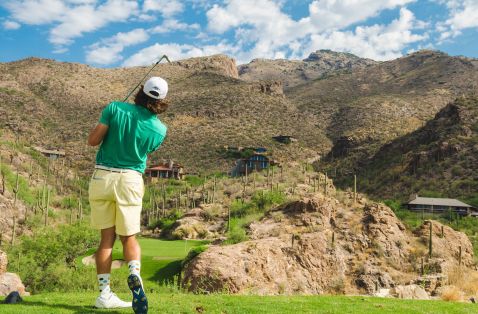 Cities
Visit Arizona's second-largest city, a UNESCO City of Gastronomy and a year-round outdoor playground. You can be secluded or social in Tucson....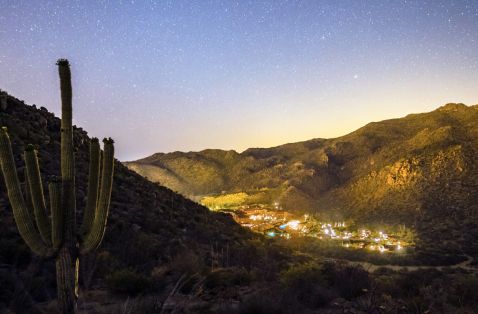 Cities
Next door to Tucson, vibrant Marana makes a great base of exploration for top-notch golfing, hiking, touring, shopping, dining and unwinding.