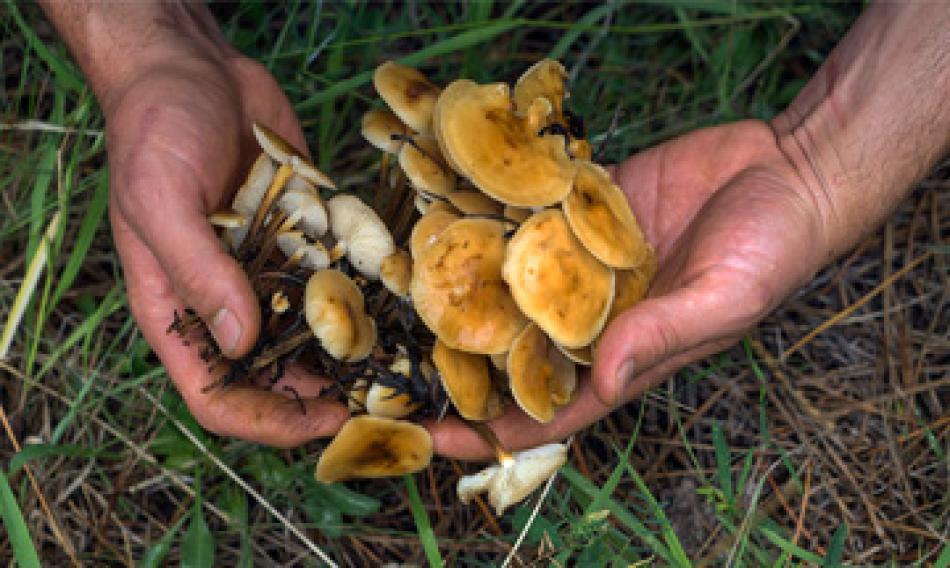 Eat & Drink
Foraging with Arizona Chefs for 'pure, wild flavor'
Arizona chefs forage everything from edible mushrooms to palo verde blossoms to craft hyper-local dishes that give diners a true taste of Arizona.
On a cool morning, Brian Konefal leads a small group through the pines and aspens north of Flagstaff. To the uninitiated, the scene seems simply like a stroll in the forest, far off the beaten path. But Konefal, chef and former owner of Flagstaff's Coppa Cafe, is a first-rate forager. He can spot wild mustard a mile away, has famously incorporated Ponderosa pine needles in butter and makes a mousse that starts with local juniper berries. (Updated.*)
"It's not enough to do food well," says Konefal. "I want to create a sense of place, a local flavor to differentiate our food. We use some ingredients that people have never seen on a plate. That's why I'm always in the forest."
Other Arizona chefs are similarly out wandering the woods or desert to forage for wild ingredients that add local character to menus. In Sedona, Jeff Smedstad, chef and owner of Elote Cafe, has been known to roam secret spots in Oak Creek Canyon and remote forest service roads between buttes and rock spires to pick high-desert goodies. Blackberries, lamb's quarter leaves, purslane and prickly pear all make guest appearances on his menu—a personalized, modern spin on the cuisine of central and southern Mexico.
"The berries and the prickly pear fruit become purées that wind up in margaritas and ice cream," says Smedstad, who opened Elote Cafe in 2007. "I use the greens, which they call quelites in Mexico, in side dishes."
He relies on "one or two trusted foragers who know what they're doing" to bring him wild mushrooms from forests at higher elevations, which he incorporates into enchiladas and quesadillas. "The mushrooms usually come in during fall, which is busy at the restaurant, so I don't have time to get out as much."
For Smedstad, who has authored two cookbooks, using foraged ingredients is simply part of his mission to know where his food originates and what stories they bring. "We believe in what we use," he says. "There's a connection, a reason behind everything we serve."

In Tempe, chef Tamara Stanger is rarely without a pair of tongs and has come to accept tiny cactus needles in her hands as a permanent condition. Stanger, co-owner with Sean Traynor of Cotton & Copper, an Arizona-centric bar and restaurant, is often scouring Phoenix-area parks and outlying desert areas for everything from prickly pear fruit to ocotillo blossoms. She makes these into jams, uses wolfberries in tarts, and adds acorns for hearty soups.
Stanger, who started seriously foraging when she was at Helio Basin Brewing Company in Phoenix, eyeballs the palo verde trees in the parking lot outside her restaurant, waiting patiently for the blossoms, which she uses as garnishes.
"I look at a plant and think, 'how can I use it?'" says Stanger, who experiments on her desert bounty with techniques such as pickling and making tinctures, stews, compotes and syrups.
While the foraged ingredients appear as specials on the restaurant menu or as garnishes and side dishes, Stanger has created full dinners using only foraged ingredients at Devour, the New York Times-lauded culinary festival in Phoenix.
"I don't understand when people say the desert is barren," says Stanger. "I see the desert as having endless food possibilities."
"Foraged ingredients add to that sense of authenticity to food. It's another way to express that we live in Arizona."
– Janos Wilder
Janos Wilder, a James Beard Award-winning chef, opened his eponymous restaurant in Tucson in 1983 and, several iterations later, launched the former Downtown Kitchen + Cocktails in 2010.
Moving to Southern Arizona more than three decades ago after stints cooking and traveling in France, Colorado and New Mexico, Wilder admits it took him time to understand the region's food and culture. But then he took to the local flavor with fervor, embracing farmers and gardeners, and heading out for desert foraging.
"I would call it 'scrounging' at first," Wilder recalls. "I would drive around my neighborhood with tongs and buckets, getting prickly pear fruit to make juice and syrup. I also collected mesquite pods and had the beans milled to make flour."
As he turned his attention in those early years to running a food truck and several restaurants, plus honing his culinary mission to "tell the optimistic story of Americans through food," Wilder began relying on other foragers to save time.
"It soon became clear that I could easily buy milled mesquite flour," he says, "and now I work with people from San Xavier Co-op Farm who harvest cholla buds and saguaro fruit."

All four Arizona chefs are wary of encouraging others to plunder desert and forest for foraged ingredients. They agree that a few rules of thumb include: Take no more than 10 percent of whatever plant you harvest, leaving the rest for reseeding and animals, and tread lightly on the landscape.
Education is key to foraging, the chefs point out. Research online, read localized guidebooks or, best yet, go out with experts—particularly when it comes to mushrooms.
Still, expect foraged ingredients to continue making appearances on menus throughout Arizona.
"Foraged ingredients add to that sense of authenticity to food," says Wilder. "It's another way to express that we live in Arizona—it's unadulterated, pure, wild flavor."
Learn more about foraging from the Arizona Mushroom Society's educational forays and Sonoran Desert gastronomy tours in Marana, north of Tucson.
*Update: An earlier version of this story referenced how Brian Konefal incorporated foraged ingredients into his dishes at Coppa Cafe. After the story was published, Expedition Foodie AZ learned Konefal chose to close Coppa (for now) while he focuses on other projects, including several pop-up dinners in northern Arizona and his food truck, Square Root Burger.
Eat, Drink and Be Wild
More Arizona restaurants, breweries and food purveyors where you can sample items made with Arizona-foraged ingredients.