Emerging Wineries: Dewey-Humboldt
Located about an hour north of Phoenix on Highway 69 is the town of Dewey-Humboldt. Here, you'll find two separate vineyards—Mogollon Vineyards and AZ Setting Sun Vineyard—at a high elevation of 4,500-5,000 feet, perfect for growing wine grapes.
Mogollon Vineyards
Mogollon Vineyards owners Keith and D'Alene Moore lived and worked in the Phoenix area while raising cattle in northern Arizona. Alfalfa crops were needed to feed the cattle, but the high-water usage of the crop made it a financial challenge with high utility prices. In search of a crop that was low water usage and higher value per acre, wine grapes seemed to make sense. Keith came across a brochure from Yavapai College in Clarkdale, in Arizona's Verde Valley. He put it on D'Alene's desk and said, "I'm going to go to viticulture school." To which she replied, "Well, I want to go!"
Keith started classes at Yavapai College in 2013 and their first vineyard was planted in the White Mountains in the town of Snowflake in eastern Arizona.
"We were the first licensed, bonded winery out of Yavapai College. My first vintage was 2015," said Keith. In 2017, they relocated to a commercial property in Dewey with 15 acres located on Highway 69. Keith, whose background is in construction, remodeled a 1949-built house on the property into a tasting room, keeping its original charm. They bought an adjacent house and built a winery.
D'Alene still uses her lessons from Yavapai College in the vineyard, and also while handling the tasting room side of the business with Mercy Clark. Mercy, Mogollon Vineyard's tasting room manager, coordinates the entertainment and music, and her background in the hospitality industry balances the team. Mercy is currently a student at Yavapai College and also lends a hand in the vineyard as needed.
With numerous regional and national wine competition awards in 2019 and 2020, the future is very bright for Mogollon Vineyards. The wines produced are from Chardonnay, Cabernet, and Syrah grapes and are served along with pre-packaged selections of charcuterie, salads, snacks and desserts, and other beverages. Future plans include a music pavilion and an event center, along with their own food preparation.
Mogollon Vineyards
AZ Setting Sun Vineyards
Also in Dewey-Humboldt, a little off the highway is AZ Setting Sun Vineyards at an elevation of 5000 feet. Owners Troy and Hollie Noreuil established their vineyard in 2015 with six acres, of which two-and-a-half acres are planted to vine.

Troy is a supervisor in the aerospace industry and Hollie is a middle school teacher, and both took classes at Yavapai College for viticulture and enology. Interestingly, Troy carpooled with Mogollon's Keith Moore for three years, twice a week, from Phoenix to Clarkdale for classes.

Hollie says, "[Yavapai College] is where we met some wonderful people on this journey of Arizona wines, like our friends at Mogollon Vineyards, where we currently make and store our wine."

A trip in 2013 to Napa for Hollie's sister's birthday triggered their passion for wine. They fell in love with the whole process, from farming to the wine-making process. Spending time visiting other Arizona wineries to hear the stories and learn what they went through helped Hollie and Troy with their journey.

One thing they like most about having their own vineyard is the people they meet.
Friends Keith and D'Alene Moore at Mogollon Vineyards have been an inspiration and influence from the collaboration they shared, as they all started their winemaking ventures about the same time, taking a lot of their first steps together. Other influences have been the past and present instructors at Yavapai College—Nikki Check and Michael Pierce.

Grape varieties grown at AZ Setting Sun are Primitivo, Albariño, Carménère, Petite Sirah, and Cinsault. Sangiovese sourced from Golden Rule Vineyards in Willcox, about an hour south of Tucson, is in the barrel and will be bottled in the fall of 2021. AZ Setting Sun Vineyard plans to eventually have a winery building and a tasting room to serve their wines and other Arizona labels.

These two Dewey-Humboldt vineyards are definitely ones to watch. Mogollon Vineyards is open with award-winning wine, food, and entertainment. AZ Setting Sun Vineyard is not open to the public yet, but it's close behind! Watch for their first vintage.

AZ Setting Sun Vineyard
Cheers!
Explore the many regions and wineries of Arizona with this digital passport.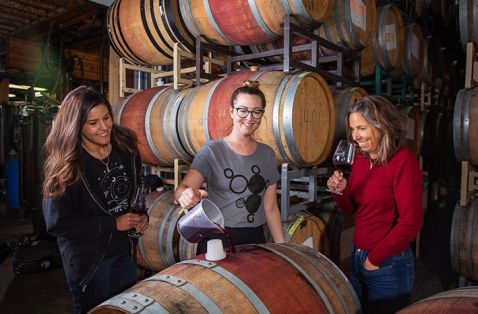 Arizona Women in Wine
Watch the paths of these three dynamic women – Gayle Glomski, Bree Nation and Lauren Maldonado – as they highlight the vitality and feminine...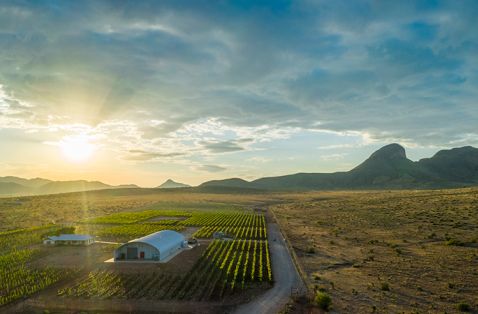 Eat & Drink
One of Arizona's fastest-growing emerging wineries is Los Milics Vineyards.