things to do
Arizona's February Signature Events
What's not to love about the Valentine State (we share our birthday with this holiday for sweethearts)? February special events in Arizona celebrate gems, film, arts–and the world-class Waste Management Phoenix Open. Read further for spectacular Arizona late-winter happenings.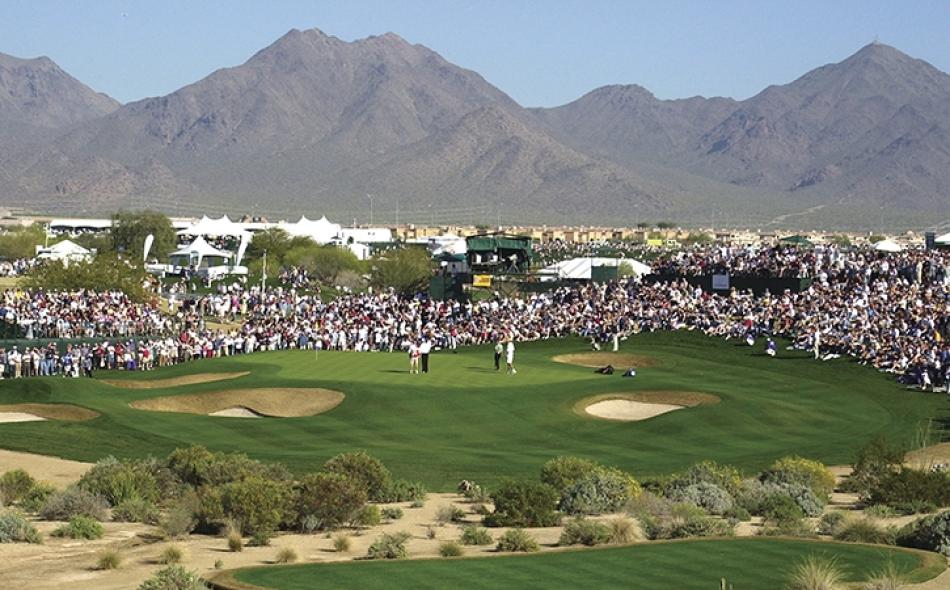 SCOTTSDALE: Waste Management Phoenix Open
With more than 700,000 people in attendance, the Phoenix Open is one of Arizona's largest spectator events and one of the PGA Tour's top events. This tournament is sponsored by the Thunderbirds and the Special Events Committee of the Phoenix Metropolitan Chamber of Commerce and is played on one of the country's most picturesque golf courses.
Info: (602) 870-0163, wmphoenixopen.com, info@wmphoenixopen.com

TUBAC: Tubac Festival of the Arts
The longest-running annual art gathering in the United States, this juried show features the work of approximately 200 visiting artists, crafters and musicians from across the country. Festival booths line the village streets, mixed among the 100 year-round shops, fine art galleries and working artists' studios. Horse-drawn trolleys shuttle visitors around the historic village, the site of the first European settlement in Arizona. The entertainment lineup includes Azteca folk dancers, mariachi music, jazz music, art demonstrations and more. Located south of Tucson at Exit 34 on I-19, Tubac is a haven for art, history and nature lovers.
Info: (520) 398-2704, tubacaz.com, info@tubacaz.com

WICKENBURG: Gold Rush Days
This celebration of Wickenburg's rich heritage has been running for 70-plus years and even received recognition as a Local Legacy from the Library of Congress. Festivities begin with a shoot-out on Frontier Street that kicks off a rootin'-tootin' western weekend of cowboys and garter girls. On Saturday morning, watch one of the largest parades in Arizona, followed by the National Senior Pro Rodeo with cowboy competitors from across the country. Families can enjoy a carnival, food booths, barbecue, a classic car show, an artisan fair, unique mining contests, gold panning and other activities inspired by the gold fever that once gripped the town.
Info: (928) 684-5479, outwickenburgway.com, info@wickenburgchamber.com

SIERRA VISTA: Cochise Cowboy Poetry & Music Gathering
This annual gathering continues the tradition of bringing a true Western expression of the "Cowboy Way" to today's audiences. Free Saturday programs include musicians, storytellers and musical groups who represent the best of the best from the western states, many with national recognition. Don't miss the Saturday night barn dance.
Info: (520) 508-9359, cowboypoets.co

GOLD CANYON: Arizona Renaissance Festival
For more than three decades, the Arizona Renaissance Festival—one of the largest in the nation—has delighted attendees as a medieval amusement park. Experience the middle ages in a giant, costumed fantasy village with thirteen stages of continuous live entertainment, a 30-acre outdoor circus, medieval arts and crafts fair with more than 200 artisans, a jousting tournament and a feast.
Info: (520) 463-2600, arizona.renfestinfo.com

LAKE HAVASU CITY: Western Winter Blast Pyrotechnics Show
For thirty years, the Western Pyrotechnic Association has held its annual convention in Lake Havasu City. Though the convention is primarily for members, the show opens to the public for one day each year. Guests can gather at Sara Park to view a spectacular display of fireworks over the Colorado River, rivaling the Fourth of July shows in U.S. major cities as the clear desert sky morphs into a spectacular kaleidoscope of colors.
Info: (928) 453-3444, golakehavasu.com/western-winter-blast-pyrotechnics-show, info@golakehavasu.com

TUCSON: Tucson Gem & Mineral Show
This is the world's largest, oldest and most prestigious gem and mineral show, and is open to amateur and professional collectors, artisans and the public. In addition to the thousands of vendors selling a variety of minerals, gems, jewelry, lapidary, accessories and other goods, some shows will host special exhibits by museums and individual collectors, lectures, seminars and children's programs open to all. Despite its name, the "Show" is comprised of more than 20 different shows and events held just prior to or simultaneously in the Tucson area.
Info: (520) 322-5773 or 800-638-8350, tgms.org, tgms@tgms.org

FLAGSTAFF: Flagstaff Mountain Film Festival
Discover an international film festival with an emphasis on thought-provoking social, environmental and adventure-related outdoor films. In addition to the films, there are panel discussions, speakers, an extreme late-night program featuring high-energy sports films, an environmental program on opening night, student films and an expanded adventure photography exhibit. Situated just one hour south of the Grand Canyon, Flagstaff's high-altitude desert setting makes a great base for outdoor and film enthusiasts to connect and enjoy the local environment along with high-quality film entertainment.
Info: flagstaffmountainfilms.org, info@flagstaffmountainfilms.org

SCOTTSDALE: Scottsdale Arabian Horse Show
Since 1955, this annual show has set the pace in the Arabian horse world, growing to nearly 2,400 of the world's most beautiful Arabians and Half-Arabians. The show brings top owners, trainers and breeders from around the world to compete for a chance at winning more than $570,000 in prize money. The show also features about 300 vendors and trade booths, tempting international cuisine, exciting demonstrations and unique educational seminars.
Info: (480) 515-1500, scottsdaleshow.com/shows/scottsdale-arabian-horse-show, arabian@scottsdaleshow.com

TUCSON: La Fiesta de Los Vaqueros Tucson Rodeo
This PRCA rodeo is America's largest outdoor mid-winter rodeo and attracts top contestants. In addition to standard events, watch performances by special acts, clowns and barn dancers. The annual parade is the world's longest non-motorized parade, with an average of 300 entries.
Info: (520) 741-2233 or (800) 964-5662, tucsonrodeo.com, info@tucsonrodeo.com

SEDONA: International Film Festival
Lovers of independent films will celebrate the best in cinematic art amid unparalleled scenic beauty. For 25 years, the festival has honored filmmakers motivated by a passion for their art, not box office revenues. There are world premieres, gala parties, and stimulating conversations. Activities include more than 160 of the best films, a "cast party," an awards lunch and small gatherings, allowing opportunities for film lovers to talk with others who share their passion.
Info: (928) 282-1177, sedonafilmfestival.com, info@sedonafilmfestival.com
Please check each event's website or social media pages before venturing out to confirm any restrictions or changes that might impact your visit.