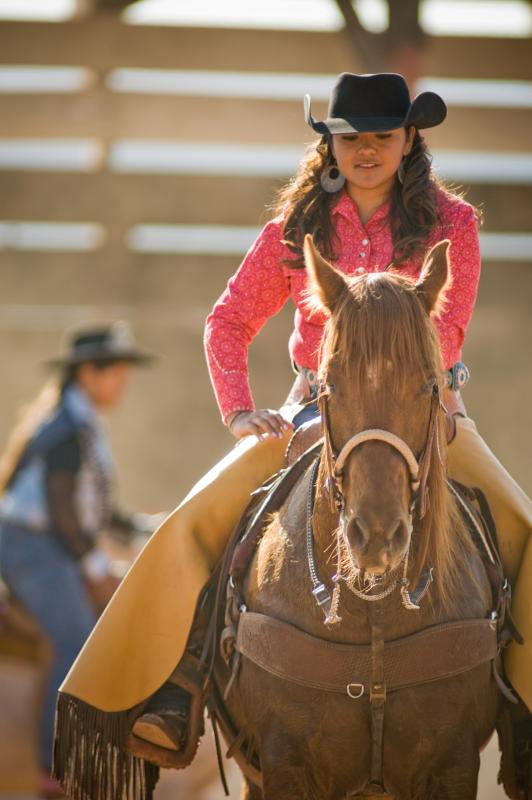 Heritage & Culture
Rodeos Reimagined
Go beyond bull riding and steer wrestling to get the true view of Arizona's Old West.
Arizona's cowboy culture makes it a natural stop for high-octane rodeos, and there are plenty of professionally sanctioned events held throughout the year. Payson, near the state's center, boasts the World's Oldest Continuous Rodeo each August, held during a festive weekend that also includes a parade and family entertainment.
But the nearly three-dozen rodeos in Arizona's cowboy country aren't all alike. Check out these unique cowboy events for a different view of ranching contests in the new, Old West.
Willcox West Fest Ranch Rodeo & Chuck Wagon Cook-off
Cowboys and cowgirls still make a living on Arizona's ranches and they still like to show off their skills. That's what makes the spring Willcox West Fest Ranch Rodeo & Chuck Wagon Cook-off so popular.
A team takes on two different bulls in a roping event at the 2018 Willcox West Fest Ranch Rodeo / Credit: Pam McNabb

Local ranches send teams to compete in contests you're not going to see at a professional rodeo. Cheer for the best at ranch sorting, calf branding and ranch doctoring: different events during which cattle, calves and other animals are separated from herds and roped and stamped with paint or a chalk mark.
Teams also try to milk a roaming non-dairy cow in one contest (this past year, longhorn cows with 6-foot horns proved quite the challenge!). In another contest, steers are culled from a herd and held down while a team member pulls off a ribbon tied to its tail. During tie-down roping, a steer is caught and tied down in the same manner as on a ranch.
Arizona's all-Indian rodeos combine cowboys and cultural traditions
Arizona American Indians have worked with horses since their introduction by 16th-century Spaniards. The all-Indian rodeos, in which all the contestants are tribal members, expand on the familiar professional format. You'll notice right away that cowgirls have a bigger presence in these rodeos, participating in roping as well as barrel racing contests.
The Tohono O'odham's 80-year-old winter Wapkial Ha:Tas (Day of the Cowboy) Rodeo & Fair held each February in Sells adds a wild horse race in which teams rope an unbroken horse from a herd, saddle it and ride it to a finish line. The bull bash event tests the contestants' ability to ride as many bulls as they can in one round.
In addition to the roping and riding events common to most rodeos, all-Indian rodeos celebrate their individual cultures with tribal nations presenting parades, powwows, frybread contests and contemporary music.

You needn't be a tribal member to attend any of the all-Indian rodeos; however, be aware when you're snapping pics: some ceremonial performances prohibit photography.
Arizona's Black Rodeo tips its hat to history
African Americans have worked the Arizona range since the 19th century, but Jim Crow laws kept black cowboys out of white-run professional rodeos. So, they created their own. The Arizona Black Rodeo Association's rodeo in Chandler keeps that heritage alive with a professional rodeo for African American contestants.
A Pony Express-style relay race is an added attraction, and a calf scramble lets kids in on the action as they try to get a ribbon tied on a young calf.
Spectators can view displays about the Indian War-era Buffalo Soldiers, and enjoy the food and clothing vendors and line-dancing entertainment.
---
Rodeo Roundup by Season
WINTER

Wapkial Ha:Tas Rodeo & Fair
Where: Sells
When: February



Arizona Black Rodeo
Where: Chandler
When: March



SPRING

Willcox West Fest
Where: Willcox
When: Late April



SUMMER

World's Oldest Rodeo/Prescott Frontier Days
Where: Prescott
When: Late June-July



World's Oldest Continuous Rodeo
Where: Payson
When: August



White Mountain Apache Tribal Fair & Rodeo
Where: Whiteriver
When: Late August-September


FALL

Navajo Nation Fair
Where: Window Rock
When: September



Orme Dam Victory Days
Where: Fort McDowell
When: November