Arizona's Best Hidden Food Experiences
Discover five-star chefs and nationally lauded restaurants tucked away in some of the state's most off-the-beaten-path locales.
It's common knowledge that Greater Phoenix, Tucson, Sedona and Flagstaff have major food scenes and are stuffed with great restaurants. But farther afield, Arizona's small towns offer secret culinary gems. Fire up your maps app and take a dining road trip to one of these acclaimed eateries.
Café Roka | Bisbee
Chef Rod Kass came to Bisbee from Phoenix in 1990 to visit — and never left. His restaurant, with a name derived from his first and last names, is housed in a three-level, 1907 storefront, and has been a gourmet destination for more than three decades, drawing guests who make a weekend out of a coveted dinner reservation. Start with the caramelized onion and fig tart, then move on to entrees like the artichoke and portobello mushroom lasagna (a longtime menu favorite), roasted duck, grilled lamb salad (the lamb earned raves in a Los Angeles Times write-up) or poblano risotto cakes gilded with a red curry coconut sauce. An Arizona-centric wine list makes an evening in the intimate eatery even more rooted in the surrounding high desert.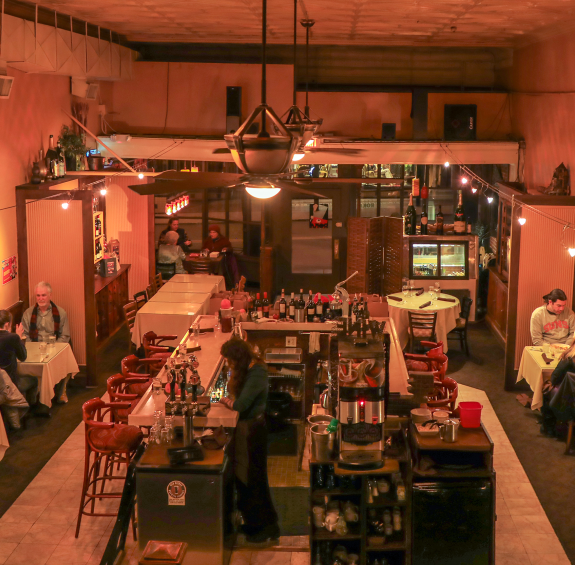 MERKIN VINEYARDS HILLTOP WINERY & TRATTORIA | Cottonwood

Longtime Verde Valley winemaker and rock star (Tool, Puscifer, A Perfect Circle) Maynard James Keenan's newest venture is a 7-acre hilltop food and drink compound. Wineries bearing his Merkin and Caduceus labels share space with a trattoria, all with indoor-outdoor seating and views of Old Town Cottonwood below and distant mountains beyond. Chef Christopher Smith keeps things fresh with ingredients culled from the Merkin gardens, greenhouses and orchards, crafting menu items like lasagna cupcakes, gnocchi with a prosciutto-sage cream sauce and pizzas, such as the Crucifixen, topped with kale, rapini and romanesco cauliflower. Save room for the house-made gelato. Sure, you can drive and park at the top of the hill, but add a fun factor by taking the tram up.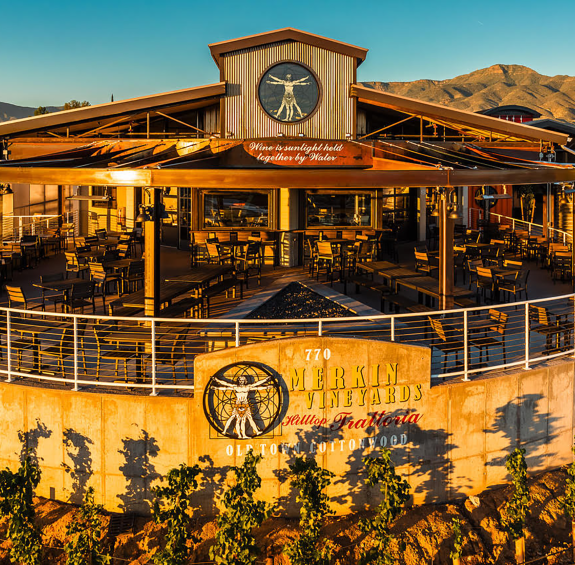 MI CASA MEXICAN RESTAURANT | BENSON
For more than a decade, this small, colorful restaurant has earned a rep for delicious dishes with a Baja California bent, thanks to Chef Santa Sutton's roots. With husband Andy Sutton at the front of the house, Chef Sutton earned a Trip Advisor "Top 25 Hidden Gems in America" mention, as well as a Trip Advisor Certificate of Excellence, for dishes like enchiladas, fajitas and the taco salad — so artfully plated that nearly everyone goes influencer and succumbs to Instagram posting. Whole-wheat tortilla wraps and Southwestern-style eggs move the menu needle into fusion territory. Save room for the top-secret-recipe carrot cake and plan to call in sick on a workday. Mi Casa is only open Tuesday through Friday; for more info, 520-254-0343.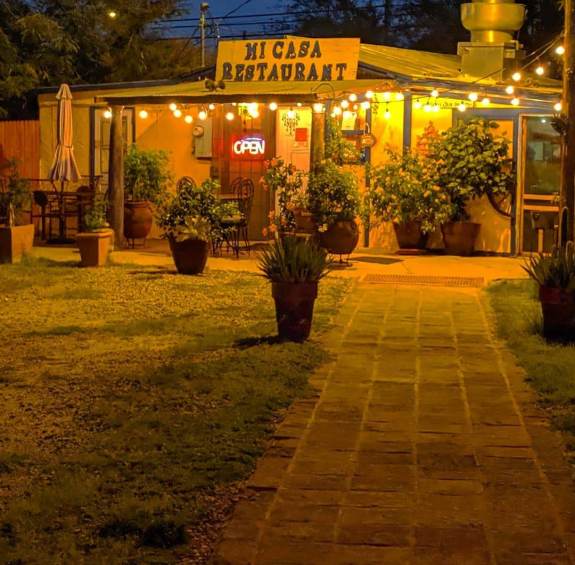 OLD COUNTY INN | PINE
After years working as a corporate chef, New York native and Culinary Institute of America grad Michael Dahling decompressed by weekending in the quaint Mogollon Rim town of Pine. He and his wife Jessie decided to make it full-time by opening a restaurant specializing in wood-fired dishes, locating it on Old County Road — hence, the restaurant's name. Day-trippers and locals alike go for the house-made bread sticks dipped in green chile beer cheese, and the pizzas, two of which are named after Townes Van Zandt's plaintive song "Pancho and Lefty" and are respectively topped with roasted pork and green chile, and roasted chicken with barbecue sauce. Cocktails and craft beer take the edge off a day spent traipsing in the nearby forest, but save room for the chocolate-coconut-macadamia cast iron cookie. And don't depart without visiting Dahling's other in-town foodie destinations: Pinewood Tavern, a laid-back pub, and Pine Provisions, a beer and wine bottle shop.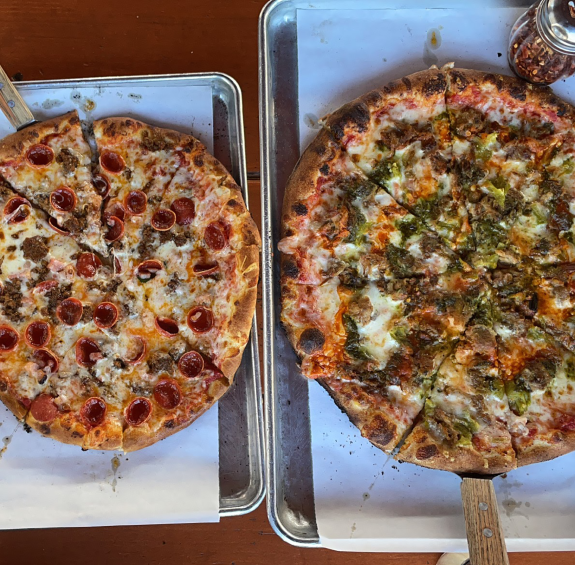 The Turquoise room | Winslow
When James Beard-nominated chef John Sharpe retired, The Turquoise Room aficionados held their collective breath. But Chef Jesus Nunez — who worked by Sharpe's side for years — has continued the restaurant's glorious menu, inspired by Native traditions and Four Corners ingredients. Located in the restored 1930 La Posada Hotel, a Fred Harvey hostelry designed by Mary Colter on the Santa Fe Railway, the restaurant features dinner dishes like free-range bison short ribs, pork carnitas and the Southwest vegetable platter anchored by a hemp tamale and wild mushroom roasted corn flan. Pace yourself on starters like Hopi hummus made with reservation-grown tepary beans or the signature soup: half cream sweet corn and half spicy black bean, served side-by-side in the same bowl. Take time for a postprandial stroll through the hotel's art-filled hallways, or better yet, spend the night and stay for breakfast.