An Architectural Oasis
Architectural Treasures
Explore buildings unique to the state, from ancient dwellings to more modern marvels. Arizona's architectural landmarks span the centuries—from pre-Columbian culture to baroque, modern to whimsical—and many are either National Historic Landmarks or on the National Registry of Historic Places.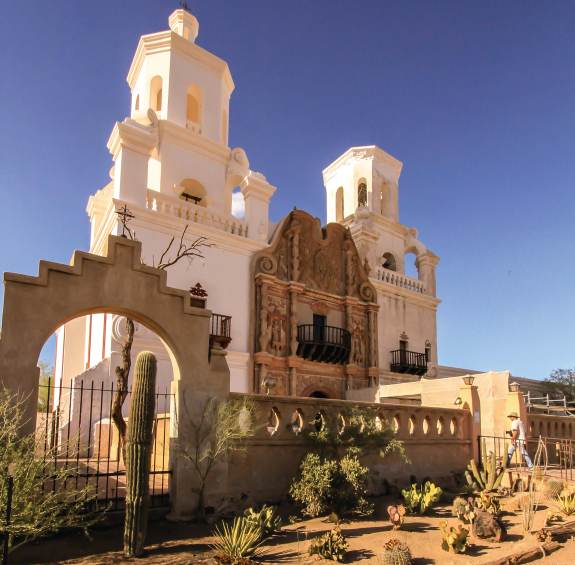 Northern Arizona
You'll find one of the state's architectural gems at Grand Canyon National Park: El Tovar Hotel. Designed by architect Charles Frederick Whittlesey, the hotel opened in 1905 touting a grand style that melded Swiss chalet and American hunting-lodge motifs. You can still spend the night, dine or have a drink at the hotel while admiring its dark log walls, lobby fireplace, and broad porches.
A Riordan rendezvous and road-trip favorite
Whittlesey also designed the Riordan Mansion, a 1904, 13,000-square-foot residence for two wealthy brothers and their wives in nearby Flagstaff. Now a state historic park, the mansion was designed as two identical homes connected by a "rendezvous room." Today, guided tours take guests through both sides and along the shady grounds.
Further east, spend the night in one of 15 vintage concrete teepees at Holbrook's Wigwam Motel along Historic Route 66. The motel, built 1950 and still family-run, is one of seven "Wigwam Village" motor courts that stretched from Florida to California during the first half of the 20th century.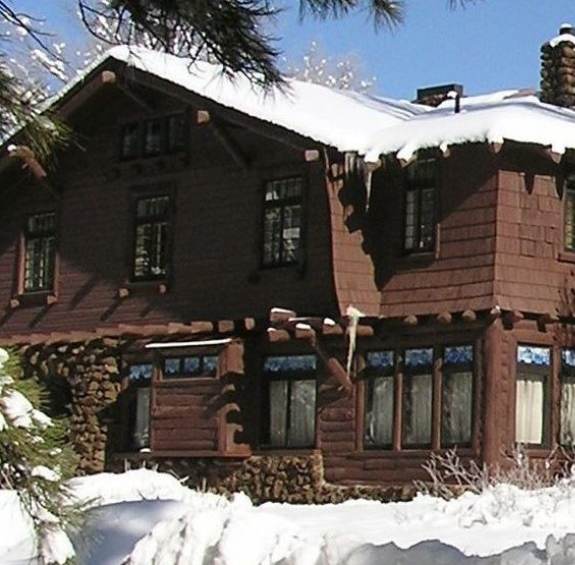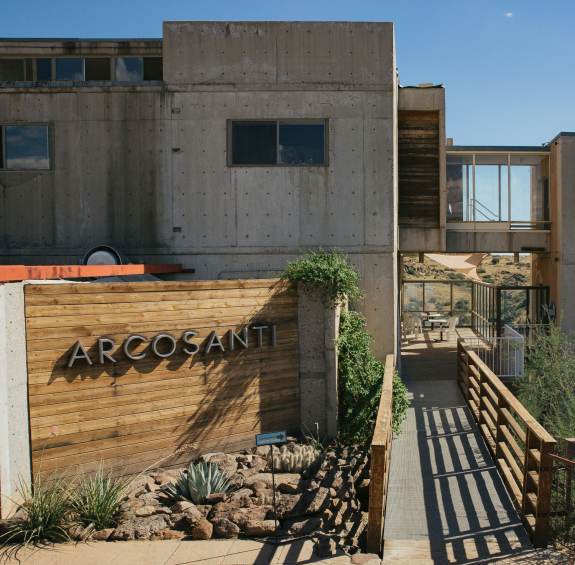 North-Central Arizona
Near Camp Verde in north-central Arizona, you'll find Montezuma Castle, a cliff dwelling once occupied by the prehistoric Puebloan culture known as the Sinagua.
Today, it's a national monument, complete with a visitors' center. Why the name? Nineteenth-century explorers erroneously thought the dwelling, which blends into limestone walls, was built by Aztecs.
Nearby, Sedona's modernist Chapel of the Holy Cross was a dream project by artist and local rancher Marguerite Brunswig Staude, who worked with the San Francisco architectural firm Anshen + Allen to build the chapel in 1956. Soaring concrete and glass walls and a 90-foot cross that's integral to the design combine to make the chapel a serene and meditative space. As part of the Catholic Diocese, the chapel is open to visitors and offers a weekly prayer service (no weddings, however).
An eco-friendly retreat
In the high desert of Cordes Junction, tour Arcosanti, architect/visionary Paolo Soleri's experimental, eco-friendly community. Founded in 1970, Arcosanti's otherworldly curved and rectangular concrete buildings were "green" long before the phrase meant something other than color. Stop by the café, buy a signature bronze wind bell or come for a concert. You can also spend the night in one of several simple guest rooms.
Phoenix Area
The early 20th century spawned unique architecture in Phoenix and central Arizona.
In 1928, Italian immigrant Alessio Carraro began building a resort castle on a desert knoll, the anchoring element of what he envisioned as an elegant community. His dreams came to a screeching halt when stockyards sprang up on adjacent land. Carraro sold his castle, which resembles a three-layer wedding cake, to the Tovrea family, which, more recently, sold the property to the City of Phoenix for use as a historic park.
Now called Tovrea Castle at Carraro Heights, the property has been mostly restored and offers 90-minute guided tours around the main floor and grounds.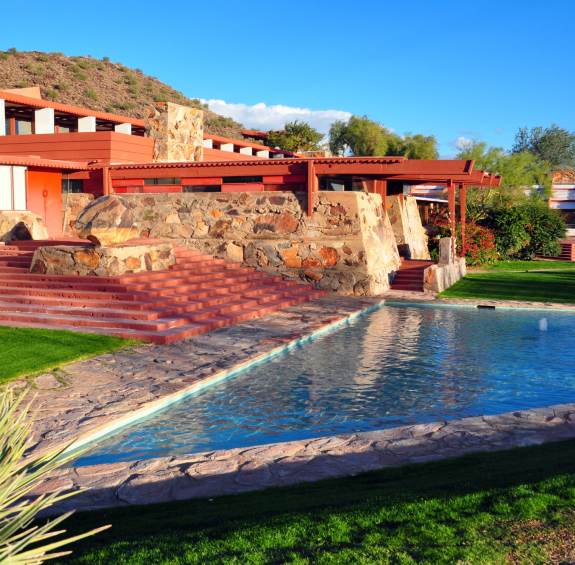 The Wright stuff
A year after Carraro started his castle, the Arizona Biltmore opened. Though Frank Lloyd Wright's name has often swirled through the halls of this luxe Phoenix resort, the official architect was Albert Chase McArthur, who studied under Wright in Chicago.

Wright, however, did serve as a consultant on the development of the hotel's distinctive blocks used for the walls. Spend the night, have dinner, take tea or make reservations for a tour.
In 1937, Wright bought 640 acres at the base of the McDowell Mountains, intent on building a winter home, studio and architecture school. His Taliesin West in what is now Scottsdale grew to be an organic desert compound, with angular buildings constructed of native stone, concrete and redwood beams. The visitors' center offers numerous tours, including nighttime views and walks to desert shelters designed by student apprentices.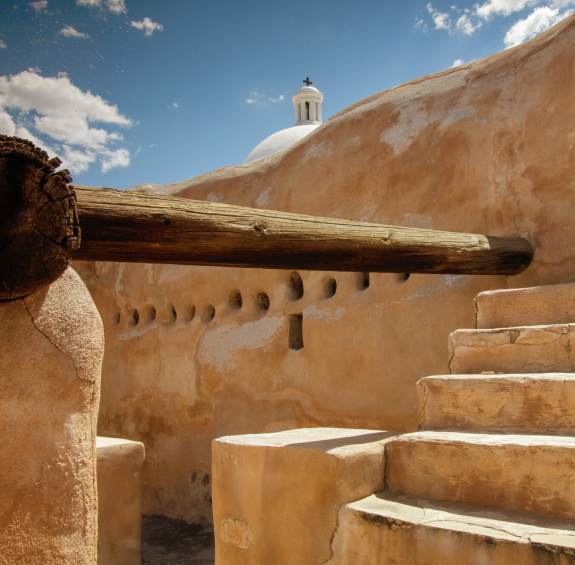 Southern Arizona
It can be said that Padre Eusebio Kino was Southern Arizona's architectural muse. The Jesuit priest and explorer traveled through the region during the late 17th and early 18th centuries, establishing a string of missions, two of which still stand near Tucson.
Missions and churches
At Tumacacori National Historical Park, visit the partially restored adobe church, which dates to 1800, and its gracious museum and visitors' center. Come back for the annual fall high mass at the church or the December fiesta.
Mission San Xavier del Bac is an active parish, with daily masses and an ongoing restoration process. Construction on the baroque church began in 1783, marked by an ornate entrance flanked by two bell towers, one of which was never finished.
Dubbed the "White Dove of the Desert" because of its whitewashed adobe walls, Mission San Xavier is open for tours. Save extra time to view the candlelit interior frescoes.
During the 1950s, Tucson artist Ted DeGrazia began building DeGrazia Gallery in the Sun, his art compound near the Santa Catalina Mountains. The first building on the compound was an adobe chapel DeGrazia designed as an homage to Padre Kino. Working with a crew of Yaqui Indian friends, he made adobe blocks on site and incorporated saguaro ribs, wood beams and rocks into the interior, where he also painted murals.
DeGrazia also built a 13,000-square-foot gallery for his art out of adobe blocks, embellished with massive gates and an entrance reminiscent of a mining tunnel. Visit the compound to see DeGrazia's art, as well as his architecture.
Recommended Content
Unbelievable Experiences