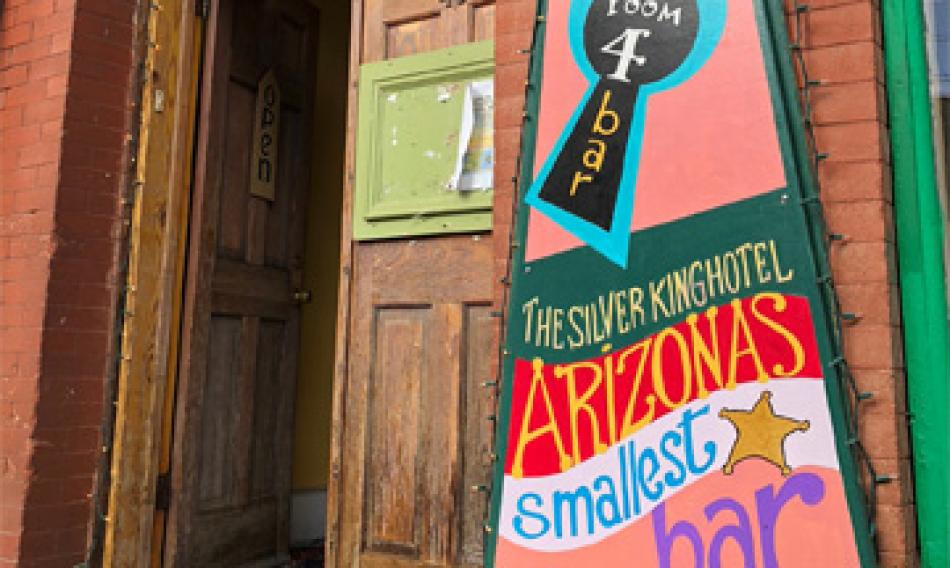 A Completely Subjective, Utterly Random, List of Foodie Superlatives
Biggest, smallest, best, spiciest. We distill Arizona's restaurant scene in this wild roundup of foodie superlatives.
This isn't your typical "best of" list. Get ready to discover Arizona's restaurants in a whole new light.
Most creative adaptive reuse
The Stockyards, Phoenix • stockyardssteakhouse.com
Not surprising: The Stockyards was once an actual cattle stockyard. Surprising: It's been a steakhouse since 1947. The key? Consistency. Stockyards' original Wild West theme made it popular when the restaurant first opened and has helped it stay popular to this day.
Most remote brewery
Barnstar Brewery, Skull Valley • barnstarbrew.com
Twenty minutes outside of Prescott, off a rutted and pitted dirt road, Barnstar feels a world away. Sip on a selection of crafted-in-house brews and nosh on homemade chili (or whatever else the owners decided to put in the crockpot that day) as you savor views of the surrounding mountains. Tastings happen Saturday and Sunday, and it's best to grab directions from the website before you embark.

Most remote winery
Rune, Sonoita • runewines.com
Nestled in rural Southern Arizona, Rune isn't the easiest place to find—it's "off-grid" by the winemaker's own admission—but it's well worth the drive. Nearly 30 acres of land sprawl to the horizon as you sit at the outdoor bar to taste some of Arizona's best wine. Winemaker James Callahan turns out single varietals that smack distinctly of Arizona's landscape—earthy and big.
Highest reviewed Arizona restaurant on Yelp
Little Miss BBQ, Phoenix • littlemissbbq.com
If you're in Phoenix for five hours or five days, make time for Little Miss BBQ. It's adored by Yelp reviewers, magazines, locals and seemingly everyone else who've ever eaten there. With a 5-star Yelp rating (from more than 2,000 reviews!), it's no wonder they needed a second location to keep up with their popularity.
Smallest bar
Room 4 Bar, Bisbee
They'd call it "Room for Four," but this is the kind of place with no space for excess. With only enough space for four stools* at the bar, seats are as rare as beverages are varied. Located on the second floor of the Silver King Hotel. *Stool may not be included.
Smallest restaurant
Tamaliza Market, Sedona • sedonatamaliza.com
There's often a line out the door at Tamaliza thanks to limited supply and high demand. There are only four or five tables. Homemade tamales, savory beans and zesty salsa (that's gone when it's gone, so get some pronto) keep diners happy, even if they have to eat standing up.
Oldest restaurant
Palace Restaurant and Saloon, Prescott • historicpalace.com
The Palace opened in 1877, back when Whiskey Row was a little more rough-and-tumble. It should tell you something that when a devastating fire destroyed many of the area's original establishments in 1900, patrons risked flame and fire to carry the Palace's bar to safety. Quickly rebuilt just a year later, the Palace's original bar is still in use today.

Most Bloody Mary bar options
The Hash Kitchen, Scottsdale • hashkitchen.com
Test out unusual combos and tried-and-true favorites at Hash Kitchen, where everyone gets to be a mixologist. There are more than 40 different toppings and flavorings at this Bloody Mary bar, from bacon-infused vodka to classic celery sticks.
Longest wait for a table (but one that's well worth it)
MartAnne's Café, Flagstaff
Every review of this restaurant warns that you'll be waiting for a long time, followed by reassurances of just how worth it the food is. If you can make hungry people who have to wait for food happy, you're doing something right. Once you're seated and settled inside this delightfully offbeat eater, order the chilaquiles.
Most Intense Food Challenge
The "Challenge Burger" at Lindy's on 4th, Tucson • lo4th.com
With six half-pound patties, one pound of Swiss and cheddar, lettuce, tomato, onion and house sauce, this beast of a burger is nothing to scoff at. If you can demolish it in 20 minutes or fewer, it's on the house. The $35 burger's nickname isn't "OMFG" for nothing.
City with the most Food Network appearances
Phoenix • visitphoenix.com
Greater Phoenix's restaurant culture has proven itself to residents, visitors and the media. From Food Network shows like "Diners, Drive-ins and Dives" to "The Best Thing I Ever Ate," the metro area has made a name for itself on television. A few to check out: La Piazza al Forno in Glendale, Sweet Republic in Scottsdale, Joe's Farm Grill in Gilbert, and The Parlor Pizzeria and Urban Cookies, both in Phoenix.
See also: "As Eaten on TV," by Edie Jarolim.
Oldest Mexican restaurant
El Charro Cafe, Tucson • elcharrocafe.com
Legend has it that El Charro is where the chimichanga was invented—a tale as old as time in a restaurant that's been around nearly 100 years. El Charro is the longest same-family owned restaurant in the nation, operated by several generations who still serve up chimichangas, which taste pretty legendary, too.
Hottest dish
Chanpen Thai Cuisine, Phoenix • chanpenthaicuisine.com

Five may seem low on the spiciness scale, but that level packs a punch. It's not unusual to wonder if eyes are watering because dishes are so delicious, or because diners may have over-committed. Think you can handle more? They're more than willing to accommodate extra spiciness if you dare.
Biggest burrito
Tanias "33", Tucson • tanias33.com

Tanias "33" offers burritos in all sizes, from small to extra-large, but the B. Rex takes the cake. It takes five tortillas to hold this baby together, and it's filled to bursting with guacamole, rice, beans, peppers, cheese and carne asada. We recommend sharing the B. Rex with friends.
Arizona city with its own Ale Trail
Flagstaff • craftbeerflg.com

Craft breweries in Flagstaff aren't a recent trend. Scattered across the city's walkable downtown, local favorites date back to 1994. Take a self-guided tour to sip on IPAs, ambers, pale ales, stouts and more.
Spiciest sauce
Suzanne's Hot Stuff, Cave Creek • suzanneshotstuff.com

When we say spicy, we mean spicy. Suzanne's Hot Stuff actually comes with a warning for kids under 17: "sauces may be unsuitable due to their hot nature." The hottest sauce—"Da Bomb-The final answer Hot Sauce"—ranks at 1.5 million Scoville units and even comes with a waiver.
Most underground restaurant

Grand Canyon Caverns Grotto, Peach Springs • gccaverns.com
Delve 21 stories into the earth to savor what will surely be your most memorable meal. At 200 feet underground, the experience at Grand Canyon Caverns Grotto is as much about American classic fare as the experience. Take the plunge! (Not really a "plunge;" there's an elevator.)
Writer Jenna Chapman contributed to this story with Ivy. Jenna has lived all over the world—Maine, Italy, Arizona—and makes it a point to discover all she can about the food scene in each place she calls home.