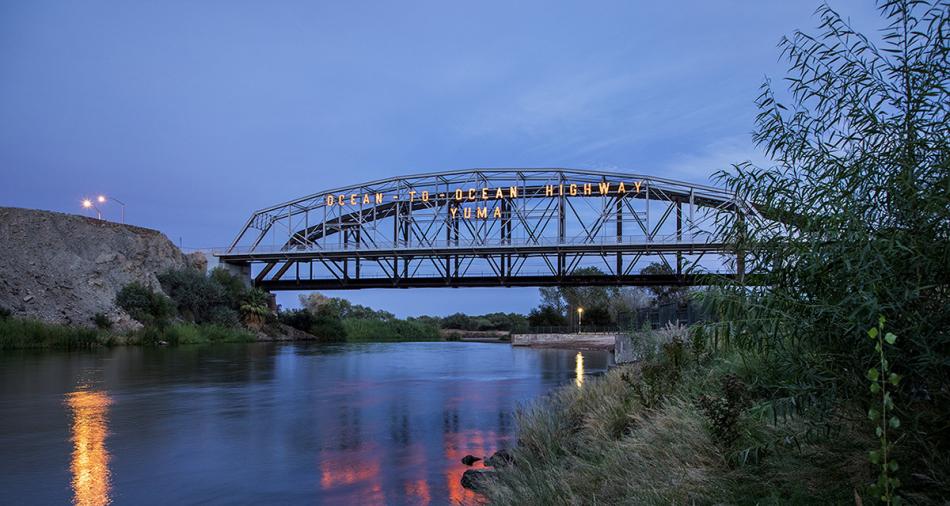 Road Trips & Tours
48 Hours in Yuma
The movie "3:10 to Yuma" isn't this city's only claim to fame. Here's your two-day guide for where to stay, eat and play in Yuma.
Yuma's known as the Lettuce Capital—thanks to its abundant vegetable production—and it holds a Guinness World Record as the "Sunniest City in the World." With a prime location overlooking the Colorado River and home to the well-preserved, Wild West-era Yuma Territorial Prison, this destination is an ideal place to explore.
DAY 1
Get your bearings and get settled
Your first stop should be the Yuma Visitor Center. Stock up on brochures and maps, and find the latest info on Visit Yuma's food tours and specialty dinners, which are a great way to experience the region's agritourism.

The Visitor Center is but a few blocks away and a short walk from the Colorado River State Historic Park, the former site of an Army supply depot that operated between 1864 and 1883. See a model of the depot as it appeared in 1872, as well as original structures scattered around the park.

Once you're acquainted with the city, check into the Historic Coronado Motor Hotel, a quaint 1938 pet-friendly hotel within walking distance of Yuma's major landmarks. Rooms are simply yet tastefully decorated—a few even feature a Jacuzzi tub and balconies overlooking the mountains.
Fresh-air feast and the great outdoors
The citrusy aroma of lemon trees surrounds the patio at The Garden Café. Breakfast or brunch at this local favorite is the best way to start your day. Swedish oatmeal pancakes, egg scrambles and homemade quiches are some of the highlights.
When you've had your fill, explore Yuma's lush parks and perhaps spot the endangered yellow-billed cuckoo. East Wetlands Park offers 400 acres of wetlands at the Yuma Crossing National Heritage Area; it's part of an environmental restoration effort that's doubled the bird population and increased species diversity. There are paved pathways suitable for all abilities, as well as no-to-low-incline trails.
Go to jail, then escape in time for dinner
Lunch is homemade tamales (available year-round), rolled tacos, or bean burritos and soft tacos at The Chile Pepper. This Yuma staple opened in the 1950s by Juan and Bessie Gutierrez and is notable for their tortillas—made fresh daily—and other made-from-scratch Mexican food.
Walk off the calories with a visit to Yuma Territorial Prison State Historic Park. At this legendary 1800s-era prison, tour the original cell blocks, guard tower and solitary chamber. In the museum, browse prison artifacts and exhibits that tell the story of the prison staff and the notorious convicts.

Toast your first night in town at the Prison Hill Brewing Company with a craft beer and conversation. Then, continue the evening at Lutes Casino, a historic establishment dating back to 1901. Despite the name, there are no card tables or slot machines; however, you can shoot some pool, order food (if you're still hungry), shop for merch, or ogle the quirky décor: retro signage, vintage photos and posters of iconic Hollywood stars.

DAY 2
Start your day with a latte or date shake
For a caffeine buzz, stop for a lavender-and-honey cold brew or a frothy latte at Cafecito; and for a southwestern treat, try the corchata, a blend of cold brew and horchata. All coffee beans are sourced from local roasters Spirit Mountain Roasting Co. and Corazon Negro.

Never had a date shake? Now is your chance. You're in date country after all. At Martha's Gardens, sip on a Medjool shake, a sweet and creamy concoction made from Medjool dates grown right on-property. While indulging, take a tour of the grounds to find out how these dates are cultivated in the desert (offered November – March only).
Browse local art and shop for souvenirs with a Yuma twist
Converted from a vaudeville house, the Yuma Art Center features a pottery studio, an artists' gift shop, four visual-art galleries and a 1912 theater. Before you leave, pick up a map for a self-guided tour of Yuma's public murals and sculptures. Don't forget to snap some photos!

Now it's time to stroll Yuma's downtown center. Stretch your legs without stretching your wallet as you shop for handmade wares and agri-centric souvenirs at Brocket Farms, Colorado River Pottery and Desert Olive Farms.
Round out your afternoon with a stop at the historic Sanguinetti House Museum and Gardens and Jack Mellon Mercantile. Named after the "Merchant Prince of Yuma" and a riverboat captain, respectively, these charming abodes are full of memorabilia and antiques, and frequently offer events such as tea time and haunted ghost tours. (The museum is temporarily closed due to COVID, but the gardens may be open if staff are on-site.)

For an elegant dinner, make reservations at renowned chef—and Yuma native—Alex Trujillo's restaurant, JT Prime Pop-up Kitchen. The menu changes regularly, but recent dishes included wild mushroom ravioli and Cabernet-braised beef short rib. If you aren't ready to end the night, order a cheap beer at Red's Bird Cage, an underground dive bar that used to be a Western Union telegraph office but was converted to a brothel-style pub in the 1970s.
---
If You Go
Brocket Farms
102 E. 3rd St.
(928) 257-1440

Cafecito
118 S. Madison Ave.
(928) 318-2299

The Chile Pepper
1030 W. 24th St.
(928) 783-4213

Colorado River Pottery
67 W. 2nd St.
(928) 343-0413

Colorado River State Historic Park
201 N. 4th Ave.
(928) 329-0471

Desert Olive Farms
224 S. Main St., Ste. 103
(602) 418-6826

East Wetlands Park
Yuma Crossing Bike Path
(928) 373-5198

The Garden Café
250 S. Madison Ave.
(928) 783-1491

Historic Coronado Motor Hotel
233 S. 4th Ave.
(928) 783-4453

JT Prime Pop-up Kitchen
714 E. 32nd St.
(928) 955-0076

Lutes Casino
221 S. Main St.
(928) 782-2192

Martha's Gardens
9747 S Ave. 9 3/4 E.
(928) 726-8831

Prison Hill Brewing Company
278 S. Main St.
(928) 276-4001

Red's Bird Cage
231 S. Main St.
(928) 783-1050

Sanguinetti House Museum and Gardens
240 S. Madison Ave.
(928) 782-1841

Yuma Art Center
254 S. Main St.
(928) 373-5202

Yuma Territorial Prison State Historic Park
220 N. Prison Hill Road
(928) 783-4771

Yuma Visitor Center
264 S. Main St.
(928) 783-0071