The Sumi'nungwa - Hopi Festival
---
---
The Sumi'nungwa - Hopi Festival showcases Native American arts & crafts, Hopi social dances & food vendors during the two-day festival.
Over 100 vendors converged on the Hopi reservation at the 2018 Sumi'nungwa - Hopi Festival with authentic Native American arts & crafts, including plenty of Native foods, and a variety of Native American social dance performances including Hopi. New! this year is the 10K & 5K footraces that will take place on Saturday, September 21, 2019 at 4:00 pm (MST) Everyone is welcome to join us during this 2nd annual event.
The festival is at the Rodeo Grounds, which is located between milepost 393 & 394 on Hwy 264 East. The weekend will consist of American Indian arts and craft booths, as well as food booths. The highlight will be the social dances that occur throughout each day.
Lodging is available at the Hopi Cultural Center Motel (928) 734-2401 and at the Moencopi Legacy Inn & Suites in Moencopi (928) 283-5400.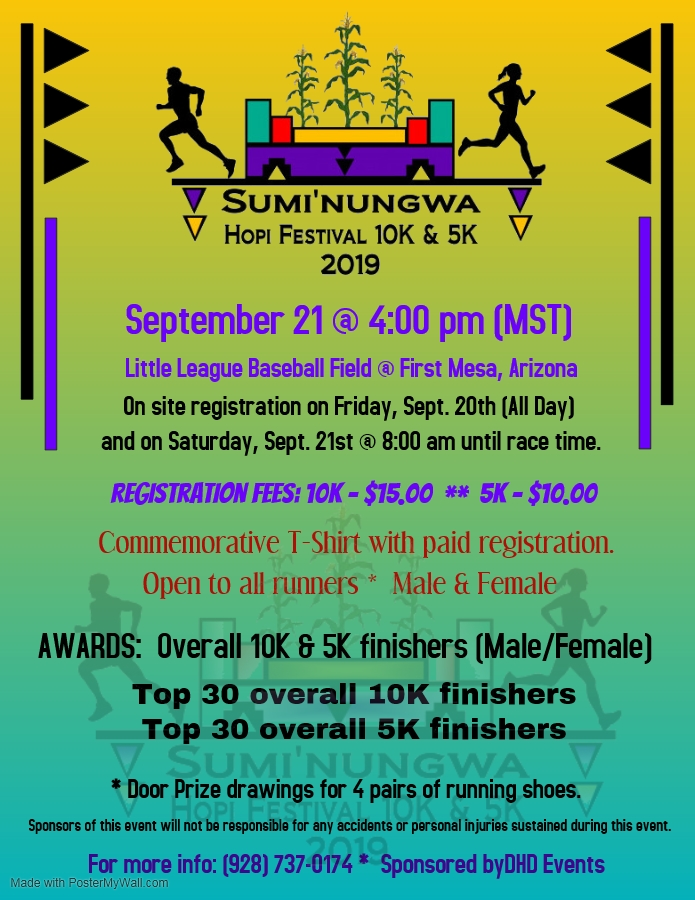 Date:
Sep 21, 2019 - Sep 22, 2019
Location:
First Mesa Rodeo Grounds
Between Milepost 393 and 394 on Hwy 264
Polacca AZ
Similar Events
Aug 1

stateside-test-oma250-4

Nov 24 - Nov 25

Roy Track Memorial Mesa Pow Wow