We previously took a look at 13 experiences that were uniquely Arizonan—from feeling the energy of Sedona's vortexes to roadside attractions that defy explanation. Now, we bring you even more ways to discover the state in uncommon and unique ways.
1. Explore the Grand Canyon in winter
No matter how many photos you've seen, nothing compares to actually perching on the rim of the Grand Canyon and taking in the immense view before you.
Summer crowds can be formidable, but during winter from December through February, fewer visitors, snow-covered trees and the quieting hush that falls over the canyon make the trip downright magical.
2. Ski above the saguaros
Snow-skiing in Arizona? Yep, down south and up north.
Tucson's Mt. Lemmon in the Santa Catalina Mountains is home to the southernmost ski runs in the U.S. And just outside Flagstaff—one of the snowiest cities in the country—Arizona Snowbowl offers 700 acres of slopes and runs in the San Francisco Peaks. And in the appropriately named White Mountains lies Greer, home to the Sunrise Park Resort with 65 runs for skiers of all levels.
3. Gaze at the Milky Way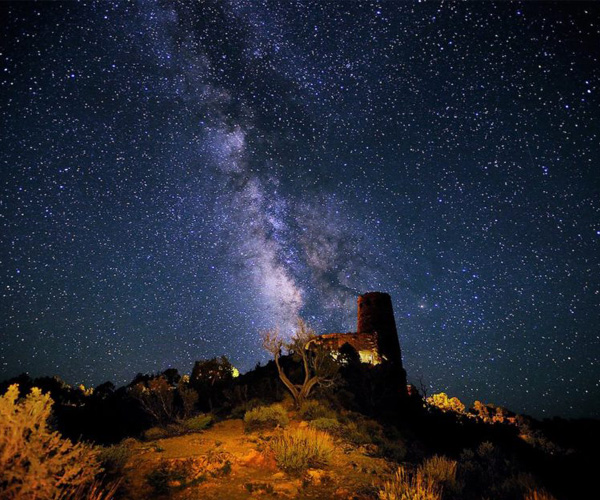 Photo: U.S. Department of the Interior

Arizona is a premier destination for studying the skies. The International Dark-Sky Association has its worldwide headquarters in Tucson for good reason. Clear air and low light pollution provide out-of-this-world (no pun intended) stargazing. See the celestial sights from the state's certified Dark-Sky Parks, such as Kartchner Caverns, Sunset Crater or Petrified Forest.
4. Tour ancient ruins with a tribal guide
In Canyon De Chelly National Monument, cottonwoods grow tall and horses roam free. One of the longest continuously inhabited places in North America, this stunning network of gorges, sandstone cliffs pre-Columbian petroglyphs and ancient cliff dwellings has been called home to generations of Navajo, Hopi and others. There are numerous trails in and out of the canyon, but to access the deeper reaches of the monument's 83,840 acres, join a tour with a Navajo guide.
5. Cross the London Bridge
The London Bridge found a new home in the American Southwest in the 1970s when it was shipped brick-by-brick from the U.K. through the Panama Canal. Visit this authentic piece of European history in Lake Havasu City on a 90-minute walking tour conducted by Lake Havasu City Visitor Center guides.
6. Taste a James Beard-award-winning hot dog
Photo: Courtesy of Visit Tucson

Foodie destination Tucson holds the honor of being UNESCO's first World City of Gastronomy. Celebrate with a visit to El Güero Canelo, a Mexican joint awarded with a James Beard nod for its bacon-wrapped Sonoran hot dog dressed with beans and taco toppings and nestled in a handmade bun.
More Tucson restaurants worth visiting: Eat Like a Tourist: Tucson.
7. Witness a shootout at the O.K. Corral
We talked about holding a seance at Tombstone's Bird Cage Theater in our earlier story. But a visit to this National Historic Landmark wouldn't be complete without watching a heart-racing, Wild West shootout at the O.K. Corral. The Streets of Tombstone Theater offers daily reenactments of the famous 30-second gunfight. Afterward, take pictures with the gunfighters, visit haunted landmarks or try your hand at gemstone mining.
8. Raft the Colorado River
See the world-famous Grand Canyon from a new perspective as you float along the Colorado River. On a one-day rafting tour or a two-day paddle-rafting trip with the Hualapai River Runners, enjoy a waterfall hike and riverside lunch while taking in the scenery, wildlife and history of the canyon.