Riordan Mansion State Historic Park
Visit the Riordan Mansion State Historic Park in Flagstaff, AZ. Take a guided tour and learn about the two connected mansions built by two influential brothers.
An American Arts & Crafts-style Historical Treasure

Brothers Timothy and Michael Riordan, sons of Irish immigrants, were part of a prominent Arizona Territory family, involved in lumber, railroads, cattle, banking, and politics. They moved to Flagstaff to run the local lumber mill, which was established to provide wood for the Transcontinental Railroad. Working together, the brothers built two nearly identical Arts and Crafts style mansions, connected by a large billiards room in the middle for a total of over 13,000 square feet of living area and servants' quarters. This type of architecture uses local materials, such as volcanic basalt and Ponderosa pine trees to blend into the surrounding environment. Charles Whittlesey, who was chief architect for the Santa Fe Railroad and designer of the Grand Canyon's El Tovar Lodge, designed the state-of-the-art home in 1904. They married two sisters, Caroline and Elizabeth Metz, and each family lived in one of the mansions.
The family lived in the mansion until the 1980's when the second generation gifted Arizona State Parks the property. Arizona State Parks received a warranty from the surviving members of the Riordan family, conveying the Riordan homes, most of the contents, such as the east and west wings of the mansion, and five acres of surrounding land for State Park purposes. The state park opened on August 4, 1983, to preserve and share the history of not just the Riordan family, but of the city of Flagstaff.


"While there are wonderful photos and articles online to learn about the park, when you visit in person you are able to truly experience the history, walk in the footsteps of the Riordans, and see what it was like to live here 118 years ago."
- Shannon Benjamin, Park Ranger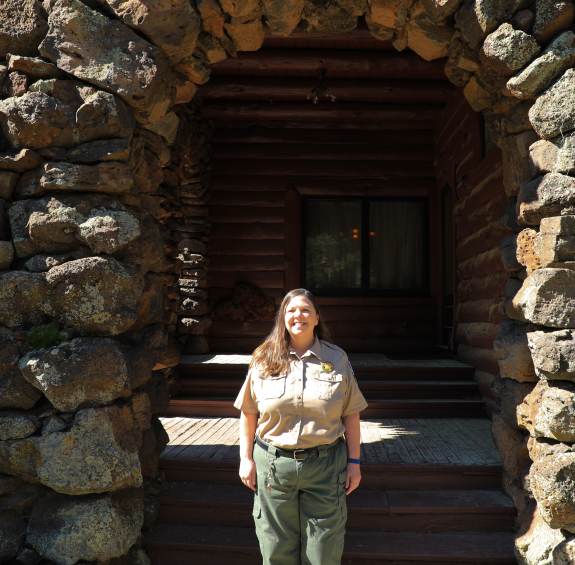 Experience the History

Guided tours are the only way that visitors can get inside the mansion and experience the 118-year-old building up close. Tours are given daily, with a limited size per tour, and are approximately 45 minutes to an hour long. Make a reservation in advance so you're sure to get in. Your tour will lead you through this historic home, filled with original artifacts, handcrafted furniture, and personal items belonging to the Riordan family. The first floor of the West Wing, included on the tour, offers displays about the Riordans, the Arts and Crafts movement, and other local information. A visit to the Riordan Mansion is an opportunity to experience a slice of a wealthy lifestyle in a small territorial logging town.
However, if you do not have a full hour to spend at the mansion, the park also offers a self-guided exterior and visitor center tour. For $2/adult, visitors can pick up an information booklet that gives extensive information on the architecture and history of the family. For kids 6-12 years old, there is an engaging Junior Ranger Program that includes a scavenger hunt.
When the Riordan family occupied the mansion, it was a place of family celebrations and weddings. Today, the state historic park continues to carry on these traditions with special programs and events and still serves as a wedding venue. Some of the more popular ticketed events are their Halloween storytelling tour and the Holiday Twilight tour, both can be reserved well in advance by calling the park


Hotels, Lodging & Camping

Flagstaff has lots of convenient accommodations, from hotels and motels to resorts. Or you might consider a vacation rental, or even camping. Whichever option you choose, you'll find a great place to be your home away from home.
Hours & Pricing
Open daily, 9:30 a.m. – 5 p.m.
Tours begin on the hour from 10 a.m. – 4 p.m.
The park has limited hours on Thanksgiving and Christmas Eve and is closed on Christmas day
* Please verify hours on the website.
Entrance Fee:
Adult (ages14+): $2
Youth (ages 7-13): $2
Child (6 and under): Free
Tour Fee:
Youth (ages 7 – 13): $5
Child (6 and under): Free
Active Duty and AZ Resident Veterans (with up to 3 guests): $11
For More Information
Riordan Mansion State Historic Park
409 W. Riordan Rd.
Flagstaff, AZ 86001
(928) 779-4395
More to Discover Near Riordan Mansion State Historic Park
Cities
Enjoy all four seasons in Northern Arizona's largest city — located along historic Route 66 just 80 miles from the Grand Canyon.