Lake Mead
Play in the water of Lake Mead, Arizona, the United States' largest reservoir. Fishing, water sports, and boating await.
What can you do with 9 trillion gallons of water? Play! Thanks to the Hoover Dam, Lake Mead exists as a desert oasis. With 700 miles of shoreline and all that water, Lake Mead is the largest reservoir in the United States. That gives you plenty of space for boating, swimming, fishing, and soaking up the sunshine.
History & Nature
Archaeologists say the land beneath Lake Mead was occupied by American Indians about 8,000 to 10,000 years ago. This area of the Mojave Desert was known for its wide expanses of flat land interspersed with rocky canyons.
That all changed in 1936 when the Hoover Dam opened. The dam transformed a part of the flowing Colorado River into America's first national recreation area.
Things To Do
You won't run out of things to do at Lake Mead. For starters, there's water activities at the lake: sunbathing on the beach, swimming, boating, skiing, wakeboarding, tubing, and fishing. When you're ready to dry off, the lake is surrounded by ample opportunity for hiking, wildlife viewing, and photography. Or, if you're looking for a sporty adventure, perfect Arizona golf is always an option at one of the nearby courses.
Hotels, Lodging & Camping
There are plenty of places to stay near Lake Mead on Arizona's west coast. You'll discover resorts, as well as tent and RV camping. If you want a different experience, there's always the option to rent a houseboat and stay right on the lake.
Hours & Pricing
Open daily, year-round.
Visitor Center: Open daily, 9 a.m. – 4:30 p.m., closed Thanksgiving, Christmas Day, and New Year's Day
Park Entrance Fees:
Per Vehicle: $25/week
Per Motorcycle: $20/week
Individual/Bicycle: $15/week
Vessel Fees:
For More Information
Lake Mead National Recreation Area
601 Nevada Way
Boulder City, NV 89005
(702) 293-8906
More to Discover Near Lake Mead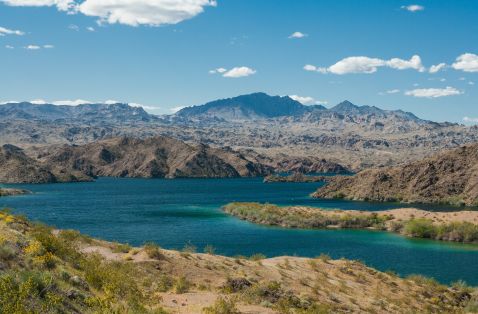 Plan an outdoor adventure on Lake Mohave, which offers watersports, fishing, and camping right on the border of Arizona and Nevada.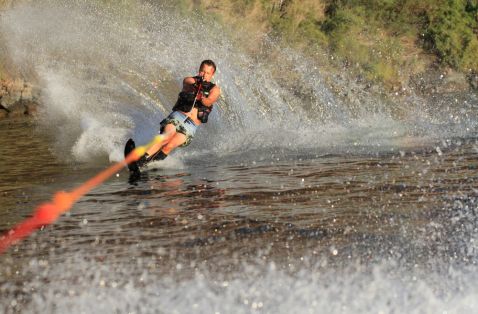 Outdoor Adventure
Arizona has its share of wonderful lakes and rivers—perfect for a day of boating, fishing, water sports, and enjoying the sunshine.