A booming industrial center of the west valley in metropolitan Phoenix, Tolleson has hung onto its small-town feel and is conveniently located for all the best central and western greater Phoenix have to offer.
Get ready for sports and outdoors galore. Sprouting from agricultural roots, bustling Tolleson holds big business – but it is also just a short jaunt from the year-round sports facilities of Glendale and Avondale, two spring training facilities, and outdoor adventure in a mountain park.
Tolleson was founded in 1912, when Walter G. and Alethea H. Tolleson came to Arizona from South Carolina. They purchased a 160-acre ranch at the intersection of 91st Avenue and Van Buren Street, and Mr. Tolleson had big plans for the town. He felt it had great potential as a farming community, so he chartered a train, provided free lunches to prospective buyers, and handed out five dollar gold pieces to a few lucky folks. In one day, 80 lots were sold at $50 per lot. Tolleson, the town, was on its way up.
And it was agriculture that pulled Tolleson out of the Great Depression. By the 1950s, this town was known as the "Vegetable Center of the World." Agriculture declined in the 1960s, but Tolleson reinvented itself as a hub of industrial development, ensuring the town would keep drawing new residents.
Today, residents and visitors revel in what the Tollesons built. Within a 15-mile radius of town you can: trek the hiking trails of Estrella Mountain Regional Park; enjoy the arts and culture of downtown Phoenix; enjoy Cactus League spring training at two stadiums (the March homes of the teams from Chicago, Los Angeles, Cincinnati, and Cleveland); catch a National Football League or National Hockey League game at State Farm Stadium and Gila River Arena, respectively; or see cars zoom around the track of ISM Raceway.
More to Explore Near Tolleson
Sports
Check out our all-star lineup for your ultimate Cactus League Spring Training getaway in Arizona.Lead off with great games between 15 teams...
Cities
Glendale, a booming city just northwest of Phoenix, knows how to honor the past while loving today's thrills.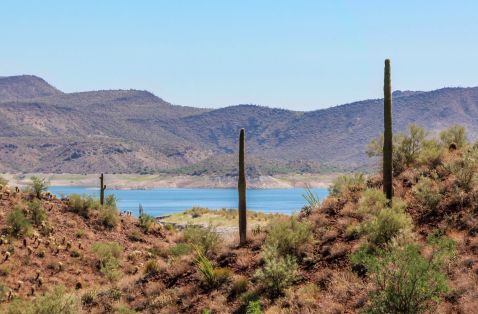 Cities
A pocket suburb that's cozied up next to Glendale and Surprise, Peoria offers fun in the sun as well as the stars.