Walk through historic Florence, where the clapboards of Victorian houses and hardened earth of adobe structures speak volumes about the town's western roots. Veer off the beaten path to discover the adventure and beauty of the Sonoran desert.
Cruise over to one of Arizona's oldest towns if you're an architecture buff or adventure seeker.
Florence's most notable building – the 1891 Second Pinal County Courthouse – is an excellent example of Victorian architecture in America; and it speaks to its town's commitment to preserving the past. Florence's collection of adobe buildings is equally impressive – the oldest adobe structure dates to 1868. The town's historic district is in the National Register of Historic Places, thanks to 140 historic buildings dating from the 19th to mid-20th centuries.
Florence is proud of its western heritage. The Florence Junior Parada, established by local ranchers in 1932 to raise money for needy children, is the world's oldest sanctioned youth rodeo. Ranching and farming have long played a major role in Florence's economy.
Public lands outside of Florence draw off-road enthusiasts, hikers, and those interested in the area's rich botanical, wildlife, and cultural resources.
One inescapable feature of Florence – pardon the pun – is its collection of federal, state, and private prisons. A trip to Florence isn't complete without visiting the Pinal County Historical Museum, where you can see 28 nooses once used in hangings and a double electric chair. The museum also houses a tribute to western movie star Tom Mix, who died south of Florence, as well as historic artifacts.
More to Explore Near Florence
Cities
Plan a trip to Queen Creek to enjoy the comforts of the country with the conveniences of the city.
Cities
Chandler has long been an attractive outpost for relaxation and a hotspot for family and cultural activities.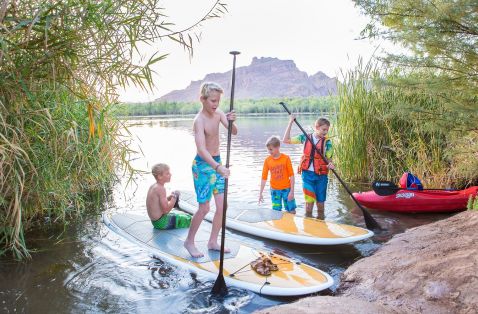 Cities
Look forward to cultivating and celebrating creativity, filling your closet, and soaking up the sun in Arizona's third-largest city.