Stay and play in Casa Grande, Arizona's Relaxation Station.
For a change of pace, try Casa Grande for a relaxing respite from the hustle-and-bustle, halfway between Phoenix and Tucson.
Casa Grande draws golfers year-round, with excellent play at a variety of area courses. Stroll through historic downtown Casa Grande, one of Arizona's Main Street communities, with more than 40 buildings in national and local historic registers. Hike, bike and even take a farm or dairy tour.
Community events include live concerts, car shows, walking tours of historic sites, fine-arts shows, fly-ins, and festivals celebrating local, regional, and Native American cultures. For more information, visit our website or contact the Greater Casa Grande Chamber of Commerce, 800-916-1515.
More to Discover Near Casa Grande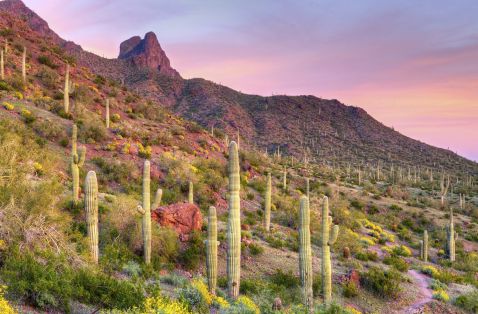 Don't miss Picacho Peak, the most famous summit in the Sonoran Desert, which you can spot on the interstate between Tucson and Phoenix.
At the Casa Grande Ruins National Monument, discover the Ancient Sonoran Desert People's farming community including the preserved "Great...
Cities
Visit Arizona's second-largest city, a UNESCO City of Gastronomy and a year-round outdoor playground. You can be secluded or social in Tucson....