Nestled along the Colorado River gorge, Cameron is more than just a place to stretch your legs: it's a cultural and geological stop.
When driving the expanses of Arizona, you've gotta take some breaks. In northwestern Arizona lies Cameron, a small town on the Navajo Nation, about an hour and a half from the Grand Canyon's South Rim and an hour north of Flagstaff.

Spend some time poking around the historic Cameron Trading Post, established in 1916. In the frontier days, trading posts gathered art, commerce, and community together. Inside these sandstone walls, you'll discover an array of authentic American Indian masterworks in textiles, beads, pottery and baskets. There are antique finds including Navajo rugs and blankets, along with museum-worthy contemporary turquoise and silver jewelry. If you're there at breakfast, the restaurant serves delicious Prickly Pear-Stuffed French Toast. Don't forget to try the Navajo fry bread, too!

Ninety minutes north of Cameron, the Little Colorado River Gorge is another must-see, with several outstanding lookout points. They are all more intimate than the "grander" canyon—and you're likely to have the place to yourself.

In the opposite direction, 90 minutes south of Cameron, are the Grand Falls, sometimes called the "Chocolate Niagara,". If there's been rain, the falls will be roaring; if not, the serene mudstone cliffs and layered rocks stand in dramatic desert contrast to the green oasis below. And keep your eyes fixed on the tall grasses where antelope graze in the summer.
More to Discover Near Cameron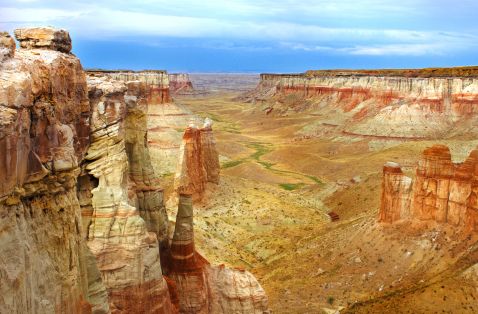 Cities
Located in the Painted Desert, Tuba City is a great base for exploring both ancient and contemporary Hopi and Navajo cultures.
The Navajo Nation encompasses much of the Four Corners area, which includes the famous Monument Valley, Canyon de Chelly, and Antelope Canyon.
Cities
Enjoy all four seasons in Northern Arizona's largest city — located along historic Route 66 just 80 miles from the Grand Canyon.