No matter the season, month or day, the weather is perfect somewhere in Arizona. That's why, wherever and whenever you find yourself in the Grand Canyon State, there's bound to be a culinary celebration going down. Read on for a list of food festivals to suit every taste.

For a taste of the Southwest
Arizona Taco Festival
When: October
Where: Scottsdale
Find out what tacos reign supreme in metro Phoenix. While this event revolves around indulging on tacos (for only $2 apiece), the festivities also include a beauty pageant for Chihuahuas and lucha libre wrestling.
Chile Festival
When: September
Where: Tucson
Held at multiple Heirloom Farmers Markets across the Tucson area, the Chile Festival offers you the opportunity to taste some of the region's best chiles—solo or in specialty dishes.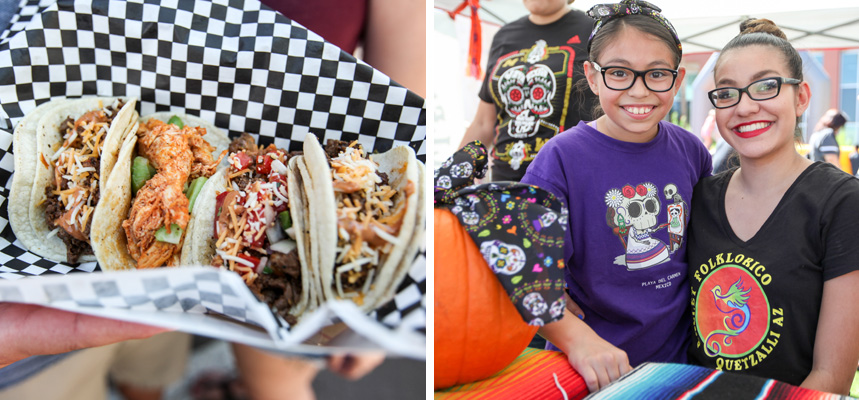 Courtesy of the Rockin' Taco Street Festival in Chandler
Rockin' Taco Street Festival
When: September
Where: Chandler
Downtown Chandler's Mexican Independence Day celebration commemorates the holiday with myriad taco styles, lucha libre wrestling, eating contests, arts and crafts, tequila tastings and live music.
Tamal & Heritage Festival
When: December
Where: Tucson
Tamales can take days to make, which means they can be a hard-to-acquire commodity around the holidays. But at this festival, there's enough of this traditional Mexican food to go around, and in a variety of flavors.
For fresh-picked fare
Medjool Date Festival
When: January
Where: Yuma
Medjool dates are known for being larger, softer and sweeter than your average date. And because the candy-like fruits thrive in Yuma's fertile soil and year-round sun, local farmers come out every year to celebrate Medjools with food, drinks and date-cooking demonstrations.
Spring Heritage Pecan and Wine Festival
When: March
Where: Camp Verde
Camp Verde's celebration of spring takes place along—and in if you choose to participate in the kayak races—the Verde River. Vendors sell locally grown pecans and delicacies like pecan pie.
Pine-Strawberry Festival
When: June
Where: Pine
The small mountain towns of Pine and Strawberry, in north-central Arizona, host this annual event to showcase the towns' locally grown strawberries. Vendors sell strawberry snacks and desserts for guests to sample and buy.
For comfort food
Arizona State Championship Chili Cook-Off
When: June
Where: Flagstaff
This event brings together chefs from all over the Southwest to compete for a spot in the World Championship competitions for chili and salsa. If you can't cook world-class chili—or just don't want to—then show up for the $5 tastings.
Brews and Brats Oktoberfest
When: October
Where: Kingman
Kingman's annual Oktoberfest recreates a miniature version of Munich's biggest celebration with live music, games, beer, pretzels and, of course, bratwursts.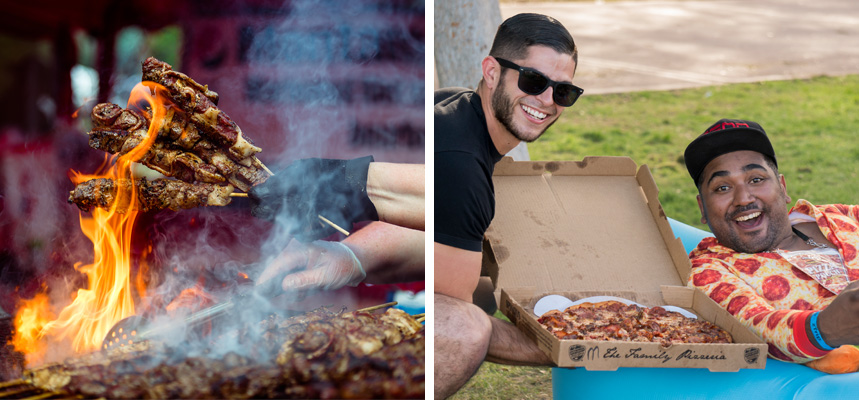 Left: Courtesy of The Great American Barbeque and Beer Festival / Right: The Phoenix Pizza Festival (Credit: Flargus)
The Great American Barbeque and Beer Festival
When: March
Where: Chandler
From traditional dishes like ribs and brisket to fun twists like a cornbread waffle topped with pulled pork, this festival serves everything and anything barbecue-related. When you've had your fill, check out the eating competitions and live country music.
Phoenix Pizza Festival
When: November
Where: Phoenix
This festival rounds up the best local pizza restaurants and food trucks all in one spot. Local breweries and dessert vendors provide the perfect pizza pairings while guests play lawn games and listen to live music.
For boozy beverages
Arizona Cocktail Weekend
When: February
Where: Phoenix
This festival takes mixology fans on an adventure with cocktail samplings, dinner pairings, bartending competitions, even workshops and seminars to enhance your mixology knowledge.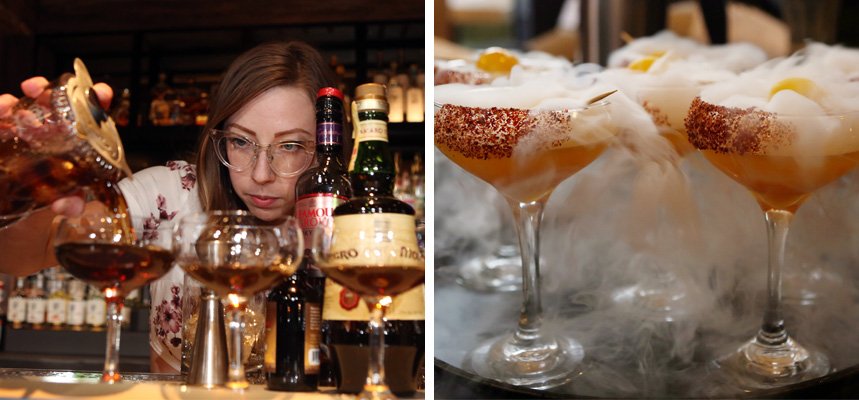 Courtesy of Arizona Cocktail Weekend in Phoenix
Made in the Shade Beer Tasting Festival
When: June
Where: Flagstaff
Cracking open a cold one doesn't get any better than this. With more than 100 breweries to sample from and DJ'd party areas for dancing, Made in the Shade might just be the ultimate summer kickoff. That it's held in the cool pines of Flagstaff doesn't hurt either.
Sedona Winefest
When: September
Where: Sedona
With seminars on topics like wine-tasting techniques and wine experts on hand to answer questions and make recommendations, this weekend-long event will turn casual wine drinkers into connoisseurs.
Willcox Wine Country Festival
When: May
Where: Willcox
Located in the heart of Southern Arizona's wine country, this festival caters to thousands of vino fans with wine tastings, live music and food, plus arts and crafts vendors.
For a little bit of everything
Devour Culinary Classic Weekend
When: February
Where: Phoenix
Devour Culinary Classic is frequently named one of the best food festivals in the nation. The two-day event brings together some of Arizona's most acclaimed restauranteurs and chefs for a weekend of cooking demonstrations and food-and-drink samples from local restaurants.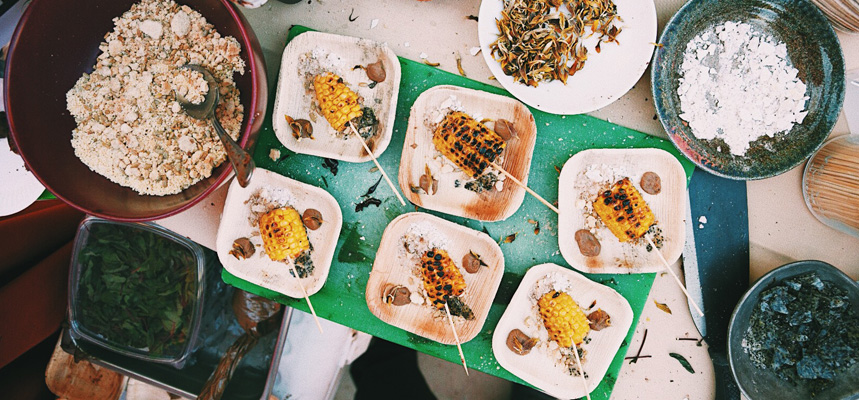 Courtesy of Devour Culinary Classic in Phoenix
Phoenix Vegan Festival
When: February
Where: Phoenix
It's often difficult to find variety in vegan offerings, but at this event, chef-crafted meals range from the sweet to the savory, such as acai bowls and plant-based buffalo wings.
Scottsdale Culinary Festival
When: April
Where: Scottsdale
Launched in 1978, the Scottsdale Culinary Festival is the longest-running festival of its type in the nation. The admission grants you access to wine and spirits, tastings, live bands and food from more than 30 Arizona restaurants.
Street Eats Food Truck Festival
When: February
Where: Scottsdale
Some of the best food trucks in Arizona—and from around the nation—serve a variety of mobile meals. Dishes range from the typical to the bizarre, with $2 samplings from every food truck in attendance.