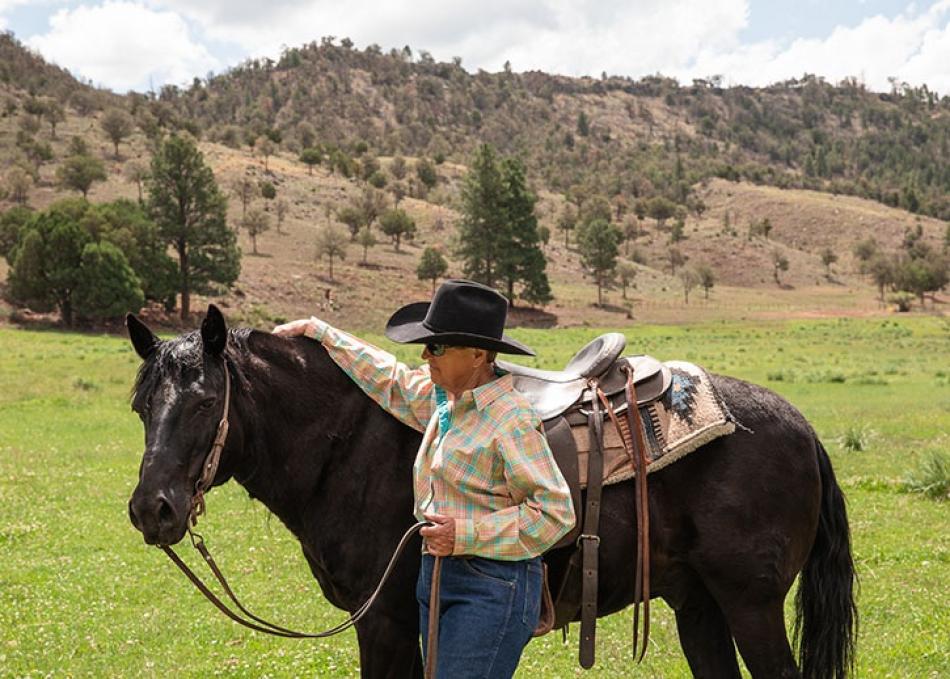 Meet the Makers
Wink Crigler of X Diamond Ranch
A glimpse into the life of third-generation Greer rancher and innkeeper Wink Crigler, who owns and manages the X Diamond Ranch. Wink's family has lived in Arizona's White Mountains since the late 1800s, and this local legend shares some insight on her favorite spots in the area.
The following blog was written in partnership with Visit Arizona and Elisabeth Brentano.
It was my mother who first suggested visiting Greer, Arizona, noting that it was a perfect escape from the searing summer heat. As I headed south on State Route 260 from Pinetop-Lakeside, I was blown away by the verdant meadows and tall pine trees along the road. I've traveled all over Arizona, but the lush, forested landscape was dramatically different from the deep canyons and red rocks I had visited elsewhere in the state. My cell service disappeared shortly after I turned down the dirt road to the X Diamond Ranch, but this was just what I was looking for. And it's why rancher and innkeeper Wink Crigler has so many repeat visitors each year.
Wink Crigler takes a hands-on approach with all aspects of her beloved ranch.
While she has help with day-to-day duties like housekeeping and keeping tabs on her cattle, make no mistake: Wink is the boss. She's up at the crack of dawn to make the rounds on her sprawling property, which is a multi-ownership ranch on private, state and federal land. I was lucky enough to spend two hours chatting with her on the porch of the Ranch Market building, and during our conversation, a young family stopped by to say hello. The woman revealed she's been coming to Greer since she was a kid, and this was an experience she wanted her sons to have, too. "We come up here to get a little bit lost," she said with a smile, before the group headed up the hill behind Wink's office for a hike.
The courtyard at the X Diamond Ranch, just behind Wink's residence and office.
Wink's grandmother, Molly Butler, founded Arizona's oldest running lodge, the namesake Molly Butler Lodge and Restaurant, in 1910. The family ranch, which is about 15 minutes down the road from the historic inn and restaurant, was later passed on to Wink's father, Vince Butler. In her early years, Wink worked as a teacher while earning her master's degree from the University of Arizona, and she eventually returned to the family ranch in the 1980s. But it wasn't until the mid-1990s that she turned X Diamond into a guest ranch, after launching a private fishery that doubled as a habitat restoration project. "This was an opportunity to expose people to the preservation of landscapes, habits and water through ranching," Wink explained, adding that one guest cabin eventually turned into half a dozen.
When she's not making the rounds at X Diamond, you can find Wink in her office or chatting with guests.
Wink has created a peaceful space for folks to disconnect, but she notes that perhaps this is actually the act of reconnecting to the real world, i.e., Mother Nature. "My end goal is to create a connection among people who aren't necessarily connected to the land, and show them this land is what provides sustenance for us," she said. "If you don't take care of the resources, they won't take care of you." Wink also takes care of her guests, stocking their fridges with farm-fresh eggs, pastries, and other goodies, and offering them tips on her favorite trails and campgrounds. Reservations at X Diamond are made by phone only, as Wink likes to talk with prospective guests before they arrive to make sure the ranch is the right fit.
A peek inside the Hedges Cabin, a guest favorite.
When I called in the spring to make a reservation for July, Wink was almost fully booked. I lucked out with two nights at the Hedges cabin, which has two bedrooms, a full kitchen, a clawfoot bathtub and a large outdoor hot tub, among other perks. Wink was adamant that my friend and I grab dinner at Molly Butler's, and as soon as we checked in, she phoned the restaurant and made a reservation for us. We were tickled to see the "Wink Burger" on the menu, which is made from X Diamond beef, but we settled on the spinach artichoke dip as an appetizer and filet mignon for our entrees. We didn't save room for dessert, so when we returned the following evening, we made a point to order the peach cobbler a la mode. I don't often ramble on about restaurants, but this is easily one of my favorite eateries in Arizona, and it's also been selected as a top pick by Arizona Highways for several years running. If you're headed to Greer and you don't eat here, you're seriously missing out.
If you visit in the summer, the first mile of the East Baldy Trail is surrounded by a meadow of wildflowers.
My friend and I attempted to hike the East Baldy Trail the next morning, but a severe thunderstorm turned us around at the two-mile mark. When I caught up with Wink that afternoon, she suggested returning in the fall, not only to escape the monsoons but to catch fall colors. She mentioned the Pole Knoll Recreation Area, which features a small network of easy to moderate trails next to aspen groves and ponderosa pines. Though Big Lake is one of the more popular places to camp, Wink raved about the Winn Campground. "It's much quieter there, and a great way to escape the crowds," she said. I told Wink I'd be back in mid-October, and when I called to confirm my reservation a few weeks out, she informed me that it had recently snowed on the mountains and hills above the ranch. "Don't worry, most of it should be melted by the time you get here," she said with a chuckle, sensing the trepidation in my voice.
Views from the East Baldy Trail in mid-October, which is prime leaf-peeping time.
When I returned, the air was crisp and golden aspens dotted the hills everywhere around Greer. The meadow surrounding the first mile of the East Baldy Trail had turned into a sea of golden grass, and my friend and I were the only hikers on the trail. Around the halfway mark we were treated to a vista from the top of some otherworldly rock formations, and though we ran into patches of snow and a handful of fallen trees near the top, the trail is otherwise well maintained and easy to follow. The East Baldy Trail is around 12 miles round trip with 1,700 feet of gain, and if you're interested in a longer trek, consider the West Baldy Trail (approximately 15 miles, 2,100 feet of gain) or adding the Baldy Crossover route to link the East and West Trails (approximately 16.5 miles, 2,500 feet of gain). It's important to note that the summit of Mount Baldy is closed to the public, as it is managed by the White Mountain Apache Tribe. The point where the east and west trails meet marks the end of the hike, and the map posted at the trailhead clearly shows this.
A grove of golden aspens in the Pole Knoll Recreation Area.
The next day, my friend and I followed Wink's tip and explored the aspen groves in the Pole Knoll Recreation Area, opting for the Pole Knoll and Raven Loop, a flat, wide, three-mile path. We only saw two other vehicles at the trailhead, and we had the entire short loop to ourselves. It was a wonderful way to wrap up our fall adventure in the White Mountains, and as always, it left me eager to explore more of Arizona's wildly diverse landscapes.