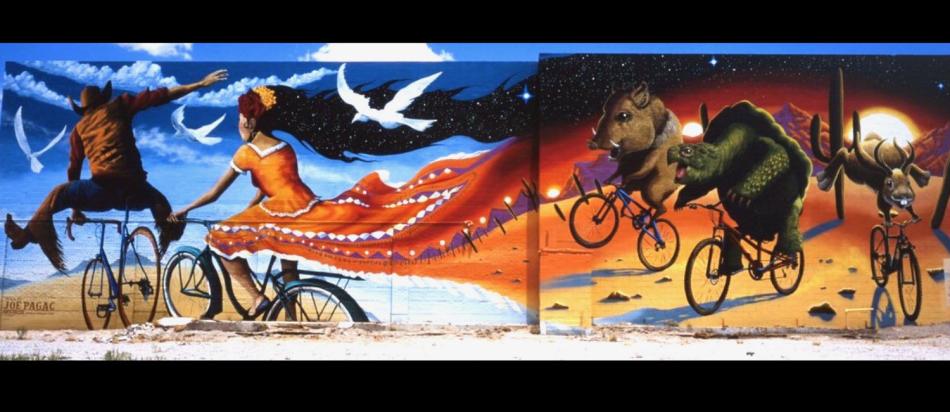 Walls That Talk
Arizona's public murals reflect their communities with artistry, heart and sometimes humor.
With walls as their canvas, Arizona's artists and storytellers share their history and reflect the culture around them. The murals they create are a mirror of their communities, often inspired by the people and legends native to them. Here are just a few places around Arizona where you can see these most public art pieces.
Calle 16 Mural Project, Phoenix
In 2009 James Beard Award-nominated chef Silvana Salcido Esparza commissioned artist El Moises to spruce up her Barrio Café restaurant in downtown Phoenix with an exterior mural. The project blossomed into the Calle 16 Mural Project when she realized that murals could reflect the pride of the neighborhood's Latino and American Indian communities.
After personally sponsoring some 15 of the murals, Salcido Esparza estimates there are now dozens of murals on buildings and walls along 16th Street, roughly between Thomas Road and Van Buren Street, painted by numerous artists and volunteers. Despite being in their own unique style, the murals are united in their mission to tell the stories of the communities' history, culture and politics.
The Sound of Flight, Flagstaff
The largest contemporary mural in the state - covering some 4,500 square feet - can be seen on the wall of the 1917 Orpheum Theater in downtown Flagstaff's historic district. The Sound of Flight, funded by crowdsourcing campaigns, 100 local businesses, grants from the city of Flagstaff and other entities, was conceived by artist Sky Black and executed with help by R.E. Wall and Margaret Dewar of Mural Mice Universal.
The surrealistic scene, which took about two years of planning and painting before its completion in 2015, includes images of birds in flight, Apollo's piano, Michelangelo's David, the San Francisco Peaks, a lone wolf and Rodin's The Thinker at the Grand Canyon. The artists admit the mural's full meaning is a mystery best left to the viewer, but havesaid their intention was "to depict the infinite potential of human imagination, inspiration and bravery."
Art for All, Prescott
Artists Wall and Dewar, who founded their mural partnership Mural Mice Universal in 2005, are also the creative forces behind some 20 other murals around Arizona, including Art for All. This 1,400-square-foot mural on a wall adjacent to the city's downtown parking garage, and behind Whiskey Row, pays tribute to Prescott's arts and culture.
The exquisitely detailed mural, painted with the help of many volunteers, depicts everything from quilters and violinmakers to historical figures, parades and the 1905 Prescott Elks Theatre. At its center, Dewar and Wall invited Prescott artist Mary Schulte to create a jewel-encrusted mosaic entitled Heart of the Arts. It depicts a blue heron standing in the center of a compass rose.
Epic Rides Mural, Tucson
In Tucson, artist Joe Pagac used crowdsourcing to fund his 4,000-square-foot ode to bicycling on the side of Epic Rides' building in the city's downtown. Completed in 2017, the vividly hued mural depicts a javelina, desert tortoise and mythical jackalope on bikes, following a Mexican folklorico dancer and a cowboy as they pedal across the landscape.
Pagac, who has completed hundreds of murals for commercial and private clients, notes that the two-story mural is large enough to be visible from the top of nearby landmark "A" Mountain.
Benson Beautification Murals, Benson
In Southern Arizona, nonprofit Benson Beautification Inc. started in 2013 as a way to spruce up Benson with a series of murals that illustrate the town's history, culture and desert life.
Artist Doug Quarles relocated from New Mexico to work on the project, completing 34 murals to date, which adorn everything from the Benson Visitor Center to private businesses throughout town. Quarles' detailed murals depict such images as a mule train bringing copper to a Benson smelter, a galloping Pony Express rider and the splendors of Kartchner Caverns.
Dreams Without Borders Murals, Douglas
Along the border, the Mexican Consulate, as well as the southern cities of Douglas, Arizona, and Agua Prieta, Sonora, sponsored "Dreams Without Borders," a series of murals painted in 2015 on the Mexican side of the border wall and on a building in Douglas that emphasize similarities and cooperation between the two countries.
In collaboration with the Mexican architectural collective Indigo Colectivo, as well as numerous U.S. and Mexican volunteers, Mexican artist Hugo Schwarzbeck painted imagery on the wall that includes migrating monarch butterflies and, on the Douglas building, two women's profiles - each the same, but interpreted with different colors.
MOMO Mural, Yuma
One of Arizona's newest public murals was painted in February 2018 in Yuma by MOMO, an internationally recognized muralist best known for his work at the Miami Dolphins Stadium and Facebook headquarters.
The privately funded mural is painted on the exterior of the Yuma Art Center, facing the parking lot to enhance the visitor experience. The mononymous artist calls his inspiration for the abstract image "practical geometry." It features a series of parallel lines traveling across bright colors, reflecting the building's modern architecture. MOMO also completed several smaller murals as part of a temporary mural exhibition throughout Yuma's historic downtown district.