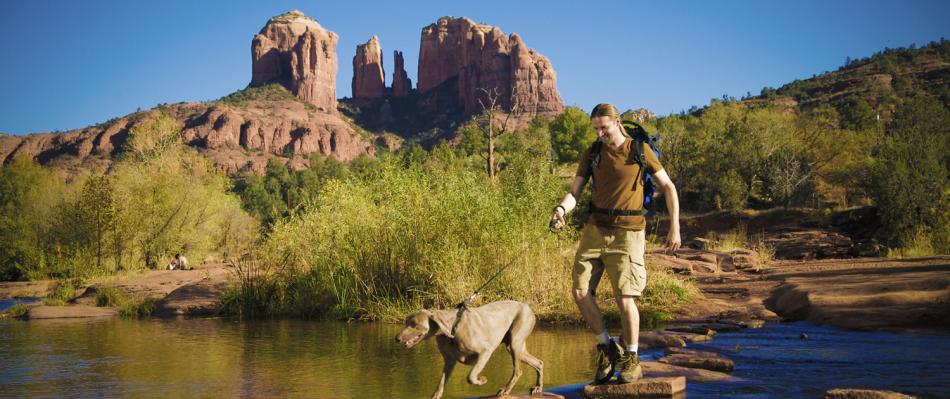 Two Paws Up for These Arizona Attractions
Find things to do with your four-legged friend in tow.
If traveling through Arizona with your dog, you needn't limit yourself to traditional sniffing grounds. From wine tasting to house boating, you'll find a surprising range of pet-friendly activities around the state.

Some tips:

Arizona's leash law requires that your dog be securely leashed at all times when outside.
Bring along plenty of water and a portable bowl. It's a dry heat, and your pup may get thirstier, faster.
Be aware of the weather, especially during the (ahem) dog days of summer. Some cities, like Phoenix, prohibit dogs on trails when temps exceed 100 degrees.
For the history-loving hound
Your dog might not understand the historic significance of Pima Air & Space Museum's more than 350 aircraft and spacecraft, but he will nevertheless enjoy the walk around this vast (80-acre) Tucson-based facility. Showcasing one of the world's largest private collections, the museum includes several exhibits in hangars so there's plenty of shade.
The Saunders family with their dogs at Pima Air and Space Museum / Courtesy of John Saunders (2013)
Take Rover on a red rocks tour
Sedona is famed for its dramatic red rocks poised against deep green thickets of forest, and jeep tours are a popular way to get up close and personal with the scenery.

Several tour operators in Sedona allow you to take your dog along on a guided or self-guided excursion. Sedona Red Rock Adventures takes pet-friendliness one step further, offering a discount (through March 2019) to those accompanied by a four-legged friend.
Explore desert flora and fauna with Fido
Boyce Thompson Arboretum State Park has many paths on which to stretch your and your pet's legs, with stunning scenery at every angle. Credit: AOT
Boyce Thompson Arboretum, the oldest and largest desert botanical garden (323 acres) in the state, displays rare specimens from arid regions around the world for humans and their pet companions to enjoy, including the boojum tree immortalized in Lewis Carroll's "The Hunting of the Snark."

Although there are no snarks to pursue here, this serene spot attracts lots of birds and butterflies. If your dog likes to bark at small flitting critters, this might not be your best pick. There's still plenty of nature around the park to explore, or head into the nearby town of Superior for a peek into Arizona's mining past.
Tasting rooms for the cultured canine
A day in the high grass and oak-studded hills of southeastern Arizona, sipping wine with your dog by your side - what's not to like? Start your tasting room tour by downloading a map of Sonoita and Elgin's tasting rooms or pick one up at your first stop. You can also purchase a souvenir glass that'll get you discounts at participating tasting rooms.

Dogs are allowed in most of the tasting rooms. Where they aren't, you'll find picnic tables out back where you and your pup can sip, relax and enjoy the views.
Get to tail-wagging on the water
Credit: City of Page
For those who consider a home away from home incomplete without all their family members on board, renting a houseboat on Lake Powell in Northern Arizona is a great option. You'll glide past soaring sandstone formations, and find plenty of scenic (and sniff-worthy) hiking spots along the shore.

Most of the houseboats in the economy to deluxe categories at Wahweap Marina are pet-friendly, charging small extra fees per dog per day.

Note: it's a good idea to invest in a brightly colored doggy life vest if you go.