Spot Fall Colors in Arizona
Yes, there are fall colors in Arizona. Owing to its dramatic desert landscape with ribbons of color amongst sheer canyon walls, Arizona offers plenty of hikes, drives and picnic options for those who want to surround themselves in autumnal hues.
If one is willing to put forth a bit of effort, or doesn't mind getting feet wet, venturing into Arizona's wilderness in November or December can be as rewarding as wandering a New England hillside in early October.
Timing Arizona's fall foliage
Generally, look for Arizona fall color as early as mid-September in mountainous elevations and lasting well into early December at high-desert spots.
Late September to late October brings rich yellows and reds to the high-desert creeks near Sedona, Cottonwood and Camp Verde. By late November, the colors move lower in elevation and farther south. This is an exciting time of year for desert-dwelling nature photographers, as autumn in the Sonoran Desert equates to images of yellow cottonwoods framed with Saguaro cacti. Through early to mid-December, colors continue to permeate the Sonoran Desert, lighting up all of the canyons, such as Araviapa Canyon.
Northern Arizona's aspens and the pines of the White Mountains
Flagstaff's San Francisco Peaks are the epicenter of fall's brilliance—particularly the shimmery, golden-hued aspens, which drift down mountain slopes into meadows. If you're ambitious and have a high clearance vehicle, try the Around the Peaks Loop, a 44-mile scenic drive on forest service roads around the mountains and through aspen groves. You'll pass Lockett Meadow, where the Inner Basin trail leads to the midst of an ancient volcano. Nearby, Arizona Snowbowl ski resort offers scenic chairlift rides through late October.
Also in northern Arizona, State Highway 260 passes through the White Mountains near the towns of Pinetop-Lakeside. This sure-fire roadway for fall color is flanked by small lakes where you can pull off for impromptu picnics beside one of the largest contiguous ponderosa pine forests in the Americas.
The red rocks and yellow leaves of the Verde Valley and Sedona
The classic hotspot in this north-central region is Sedona's Red Rock Crossing, where small waterfalls and yellow foliage along Oak Creek stand out against the red sandstone of Cathedral Rock, inspiring photographers from around the world.
Avoid the crowds for Sycamore Creek, a moderate hike accessible via the Parsons Trail near the town of Cottonwood. After a quick hike that drops about 180 feet from the rim of the canyon, one is greeted with a lush, perennial creek lined with trees, all in various stages of autumn transformation. This trail continues for another 3.5 miles until it reaches Parsons Spring. The spring makes a perfect turnaround point for casual day hikers. Or continue on deeper into the Sycamore Creek Wilderness, where soaring sandstone walls, extreme solitude and historic cabins await.
Other fall color destinations in the Verde Valley include West Clear Creek Trail #17 and Bell Trail #13 to Wet Beaver Creek. These are both moderate day hikes that follow the brilliantly lush creeks.
Further southeast near Payson, Tonto Natural Bridge State Park and its dramatic travertine arch, a geological wonder that spans Pine Creek. Short trails lead you down to get up close and personal with the formation, its waterfall and the surrounding trees that signal fall weather.
Southern Arizona's fall-colored mountains and canyons
The aforementioned Aravaipa Canyon is a prime autumn viewing destination. (Don't forget your permits.) From the trailhead, it's a quick jaunt down to the creek where hikers are soon greeted with a wet creek crossing.
Don't bother to keep your feet dry here—the route follows a shallow creek the entire time. The hike through Aravaipa Creek spans 12 gorgeous miles during which you'll see soaring canyons, large pools, small rapids and amazing, bright yellow cottonwood groves. It's possible to enjoy this canyon as a full-day hike; however, we recommend spending at least one night at one of the many campsites along the creek. Bonus tip: Early morning and late evening hours along the creek will allow for prime viewing of deer, javelina and coatimundi.
Heading south towards Tucson, you'll find Mt. Lemmon, part of the Santa Catalina Mountains. At its height, it reaches an elevation of more than 9,000 feet and sports numerous trailheads, picnic sites, campgrounds, a lake and forests dense with not only pines but also colorful aspen, maple and walnut trees. Drive the mountain's Catalina Highway as it zigzags up the slopes, or pull off near a trailhead and explore the changing landscape on foot.
Farther south still are Madera Canyon in the Santa Rita Mountains, and the Nature Conservancy's Ramsey Canyon Preserve, both popular birdwatching spots. In the fall, these areas' lush greenery turns golden and orange as their creek beds and sycamore trees display their fall finery. Ramsey Canyon also offers guided nature walks several times a week through November.
Know before you go
While the hikes mentioned are all rated easy to moderate, it is still important that hikers exercise caution and use good judgment. Always bring a map. GPS units are extremely helpful, but shouldn't be solely relied upon to get you in and out of a hike. Always watch the weather forecast before entering canyons, as flash floods do happen and can be dangerous. If backpacking, keep in mind that none of the camping destinations described have established campgrounds with amenities. There are no bathrooms, toilets, drinking water or pay stations. Always exercise Appreciate AZ principles and pack out whatever you pack in. Lastly, have fun and happy trails!
Editor's note: Author Nora Burba Trulsson contributed portions of this story.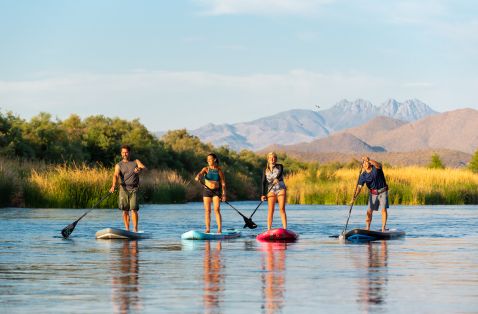 Must Do
Venturing into the great outdoors can seem a bit daunting at first. Here are some beginner-friendly suggestions to get you started and have you...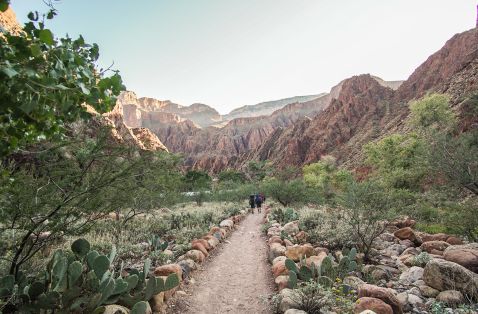 REI and Arizona
Arizona is a destination for travelers. One-of-a-kind excursions and bucket-list experiences beckon from every corner of the Grand Canyon State.
Sustainability
The Arizona Office of Tourism and the Leave No Trace Center for Outdoor Ethics© forged a partnership to promote sustainable tourism practices...