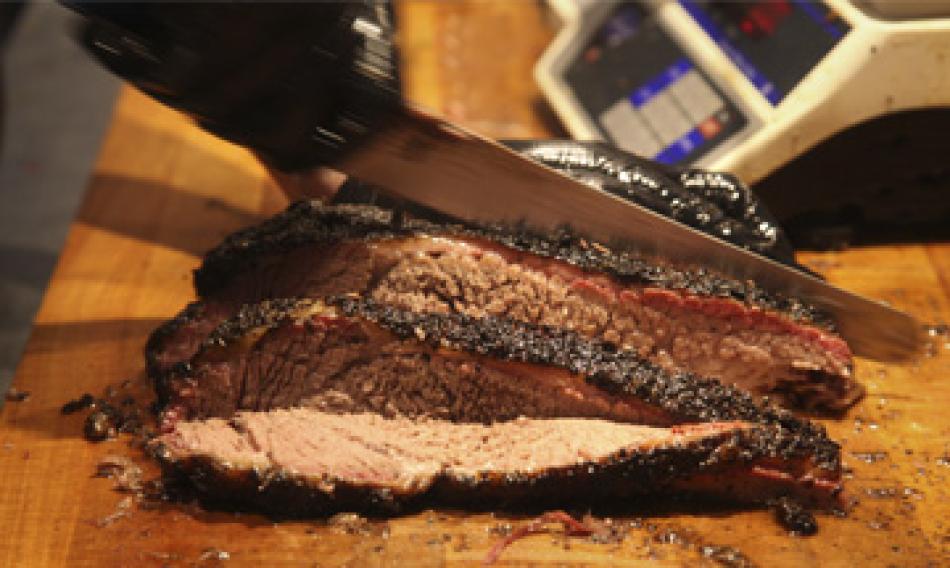 Eat & Drink
Smoke a Brisket in Arizona
Little Miss BBQ owner and pitmaster Scott Holmes shows us how to perfectly smoke a tender, juicy brisket.
Expedition Foodie's "How To" series is just what it sounds like. A look into how Arizona's epicurean masters create some of our state's most delicious fare. This edition puts Little Miss BBQ in Phoenix front and center.
Let me tell you about the best barbecue in Arizona, if not, perhaps, the country. Yes. The whole dang country.
Gayot named it one of the top 10 barbecue spots in the U.S., alongside 'cue legends from Kansas City and Austin. Since 2016, Yelp reviewers have listed it No. 1 or No. 2 on the "Best Places to Eat in the U.S." list.
We're talking about Little Miss BBQ. Owner and pitmaster Scott Holmes brought Central Texas-style barbecue to Phoenix, and people are crazy for it. Patrons stand in line for hours – even in Phoenix's summer heat – to get a plate of Holmes' exquisitely smoked meat. And that meat sells out by midafternoon every day.
Holmes says his passion for barbecue struck while visiting his wife's family in Austin. As they sat outside at one of the city's barbecue joints, breathing in the smoky aroma, Holmes knew this was a food experience he wanted to bring back to Arizona.
While barbecue joints in other regions often highlight pork, Holmes' distinctive Texas-style cooking focuses on beef, specifically brisket.
What is brisket?
Brisket is a large cut of meat, weighing about 20 pounds, and to smoke it properly requires hours. It also requires using high-quality beef. There are three well-known grades of beef. From highest to lowest: Prime, Choice and Select.
Holmes orders Prime brisket for Little Miss. How can you tell it's Prime grade? The meat should be thick all the way across, and flat.
Using Prime beef is the most expensive option, yes, but the quality makes up for the cost. It's remarkably tender – mostly due to the rich marbling of fat throughout. That marbling will, over many hours in the smoker, slowly tenderize the meat.
Credit: Rebecca Ross
The smoker
To smoke a 20-pound brisket, you need something big and something well crafted. Little Miss BBQ has three smokers, two of which Holmes built from 1,000-gallon propane tanks. The third smoker, and the restaurant's original, is an R&O Smoker custom-made for Little Miss by a man in Granbury, Texas.
In these babies, Holmes can load up 25 briskets at once. But first, he's got to prep them.
With skilled precision, Holmes delicately trims each brisket. He removes almost all of the exterior fat, carefully leaving a thin layer about an eighth of an inch. He then seasons the surface with a simple rub of salt, pepper and cayenne, which will form the spicy dark surface barbecue fanatics refer to as "bark," the holy grail of a perfect brisket.
Then there's the wood, perhaps the most important aspect of smoking brisket.
All of the smokers at Little Miss BBQ run by using only the heat of a wood fire, and nothing else. Holmes sticks to white oak and pecan wood. He fires up the smokers to 250–275 degrees and lines the interior with row after row of brisket. Then he shuts the smoker doors and doesn't open them again for six hours.
For a pitmaster, this act is an exercise of patience and zen-like detachment. You have to leave the meat alone and let the smoke and low heat work their magic. Each hour in the smoker allows the meat to transform from tough to tender, from chewy to succulent. During this time, the entire brisket softens and relaxes, slowly absorbing the smoke and spice flavors.
Is it ready yet?
After six hours, Holmes peeks into the smokers and, with the touch of his finger, determines if it's time for the important next step: the wrapping of the brisket.
He pulls out each brisket and gently places it on a large sheet of pink butcher paper. Wrapping up the brisket with turn after turn of paper, Holmes then returns the meat to the smoker for an even longer amount of time – about 10 to 14 more hours of low heat.
After this – we're in Day Two, for those of you doing the math – Holmes removes the briskets, tucked snugly in their paper jackets, and begins to ready the now-juicy meat for the crowds waiting outside for lunch. They know great brisket takes time, and, like Holmes, they know patience brings big rewards when it comes to barbecue.
How to eat it
At Little Miss, order the brisket in a sandwich or on a combination plate paired with Holmes' house-made sausage, pulled pork or maybe a slice of turkey. Holmes recommends siding the brisket with his jalapeño grits and beans. Make it the perfect meal with a bottle of grape soda and a slice of pecan pie.
Hit up Little Miss BBQ's original location in south Phoenix, or the recently opened second location on 7th Street and Dunlap Avenue in north central Phoenix.