Heritage & Culture
Not Your Grandpa's Rodeo
10 rodeos that shaped Arizona history and culture
If you're going to travel to experience a rodeo, Arizona's the place to do it: The state's home to both the World's Oldest Rodeo (Prescott Frontier Days) and the World's Oldest Continuous Rodeo, in Payson. While the larger, centuries-established rodeos can be relied on for everything everyone loves about rodeos and their traditions, there are a handful of smaller, community-specific rodeos that tell a deeper tale about Arizona's competitive rodeo history—and the Arizona of today.

Historians estimate that as many as one in four of the cowboys riding the range in the late 1880s was Black, but Jim Crow laws kept Black cowboys out of white-run professional rodeos. So some 130 years later, they created their own. Since 2011, the Arizona Black Rodeo has drawn thousands of spectators to Scottsdale every year to cheer on the riding, roping and racing skills of competitors.

The Arizona Black Rodeo's popular children's rodeo gives kids a chance to get close to horses, ask questions and learn more about riding and rodeo events, and a calf scramble gets them in on the action as they try to get a ribbon tied on a young calf. Spectators can view displays about the Indian War-era Buffalo Soldiers, and enjoy food and clothing vendors, and line-dancing entertainment.

In Laveen, the Arizona Gay Rodeo benefits local LGBTQ+ charities with rodeo events that you'd expect, like bull riding, chute dogging, on-foot calf roping and barrel racing. Then there's others that just add to the fun, like wild drag racing, where three-person teams comprising a male, a female and a drag queen dressed in an outfit created from secondhand store finds, try to get the drag queen atop an energetic steer and ride it across a finish line.

The thing to know about the Arizona Gay Rodeo is that a big part of the fun is actually arriving—party buses take off from Charlie's, a gay honky tonk in Scottsdale, and amp up rodeo attendees with entertaining drag queens and kings, and lots of libations. Unofficial pop-up parties at the rodeo's RV park add to the amusement.

It feels misleading to call Art of the Cowgirl just a rodeo. The Queen Creek-based event aims to honor and preserve the contributions cowgirls have made to the Western lifestyle through creative workshops (like silversmithing and rawhide braiding), an elite horse and cowdog sale, an art auction and trade show—and, yes, a rodeo. Competitions at Art of the Cowgirl's All Women's Ranch Rodeo presented by COWGIRL Magazine include ranch roping, cowdog rodear and the Kimes Ranch World's Greatest Horsewoman, which showcases skills in fence and herd work, reining and steer stopping.

Arizona American Indians have worked with horses since their introduction by 16th-century Spaniards. The all-Indian rodeos, in which all contestants are tribal members, expand on the familiar professional format. In addition to the roping and riding events common to most rodeos, all-Indian rodeos celebrate their individual cultures with tribal nations presenting parades, powwows, frybread contests and contemporary music.
Watch Miss Navajo Nation contestants show off traditional tribal skills during the largest American Indian fair and rodeo in the Southwest: the Navajo Nation Fair in Window Rock.
Celebrate Fort McDowell Yavapai Nation's Orme Dam Victory Days, which features ladies, junior and senior categories.
The Tohono O'odham Nation's O'Odham Wapkial Ha-Tas Rodeo in Sells includes a wild horse race in which teams rope an unbroken horse from a herd, saddle it and ride it to a finish line
You needn't be a tribal member to attend any of the all-Indian rodeos; however, be aware when you're snapping pics as some ceremonial performances prohibit photography.

Arizona's All Indian Rodeo, which is part of the Arizona State Fair in Phoenix, showcases bareback, saddle bronc and bull riding, as well as roping and racing. In 2022, the AZ Native American Rodeo (AZNAR) Committee was formed to better the partnership between the Arizona State Fair and Arizona's 22 Native American tribes.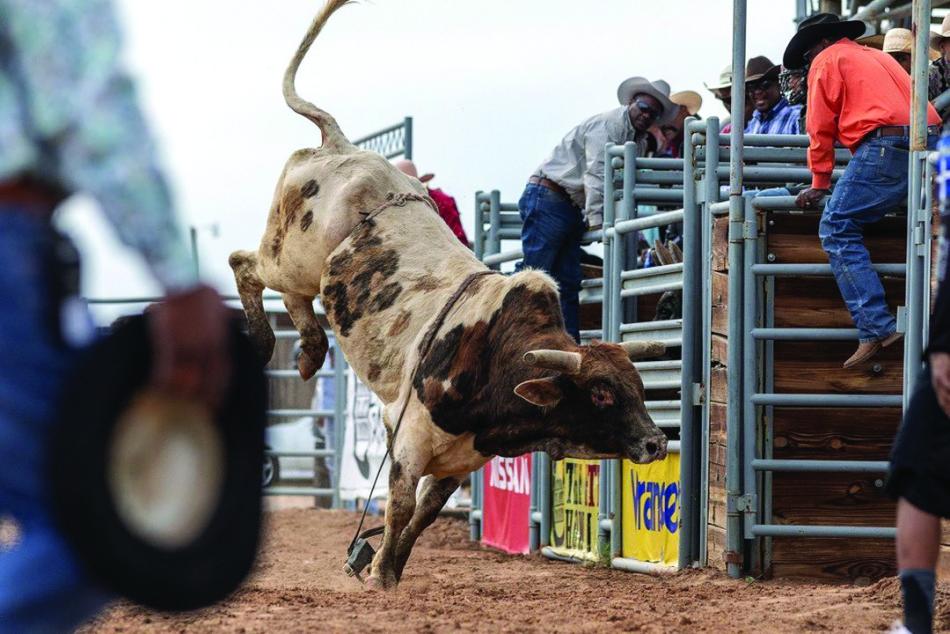 The Legacy of Louis Sherpa
Tucson's La Fiesta de Los Vaqueros—or simply the Tucson Rodeo—has been taking place every February since 1925. It's an annual nine-day celebration of the cowboy, often touted as one of the top 25 rodeos in the Professional Rodeo Cowboy's Association's (PRCA) lineup. For nearly 50 years of Tucson's Rodeo span, the wild, live-wire action was photographed by Louise Sherpa. The New York City debutante turned Western pioneer, Sherpa shot the rodeo every year from 1963 to 2011. As the first woman to be PRCA-sanctioned to shoot inside the arena, Sherpa was also the only woman allowed to do so for decades. Her powerful images are inextricably linked with the Tucson Rodeo and many consider Sherpa's work to have helped captured and defined the very character of rodeo.
If You Go
All Indian Rodeo Presented By AZNAR
Where: Phoenix
When: October 19–21, 2023
aznativeamericanrodeo.org
Arizona Black Rodeo
Where: Scottsdale
When: September 1–2, 2023
azblackrodeo.wixsite.com/azbr
Arizona Gay Rodeo
Where: Laveen
When: February 17–19, 2023
agra-phx.com
Art of the Cowgirl/All Women's Ranch Rodeo
Where: Queen Creek
When: January 18–22, 2023
artofthecowgirl.com
La Fiesta de Los Vaqueros
Where: Tucson
When: February 18-26, 2023
www.tucsonrodeo.com
O'Odham Wapkial Ha-Tas Rodeo
Where: Sells
When: February 3–5, 2023
tonation-nsn.gov/84th-annual-rodeo
Orme Dam Victory Days
Where: Payson
When: August 18–19, 2023
paysonprorodeo.com
World's Oldest Continuous Rodeo
Where: Queen Creek
When: January 18–22, 2023
artofthecowgirl.com
World's Oldest Rodeo/Prescott Frontier Days
Where: Prescott
When: June 28–July 4, 2023
worldsoldestrodeo.com